Flooring is one of the most important features of your kitchen. Unlike the cabinets, it may not be the first thing your friends notice when they walk into your new kitchen, but it will be something you notice everyday as you spend time cooking in your kitchen.
The right type of kitchen flooring can change the whole look of your kitchen. For example, certain patterns in your flooring can highlight your kitchen's decorative accessories, or a small pop of color in the flooring can help pull together the metallic variants in your countertop. Today, we'll show you the 5 most common types of kitchen flooring and give you some helpful insight regarding each one, so that you can make the best flooring decision for your new kitchen.
1. Tile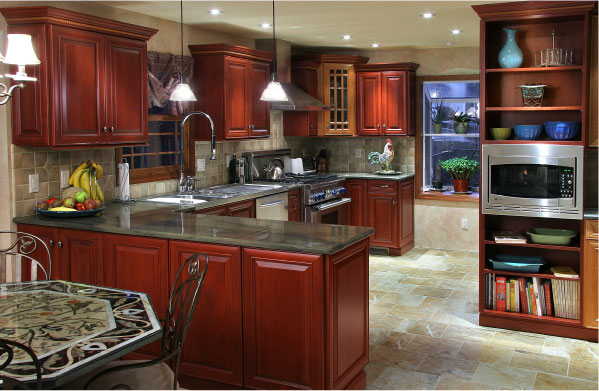 Tile has been a popular choice for years because it boasts strong materials that won't absorb excess moisture. But stand with caution--strong tiles can be hard on your feet, so work on a cushioned mat if you plan on cooking for a while. Also, be sure to properly seal and re grout your tile floors to keep them clean and bacteria-free. Available in ceramic, porcelain or stone, tile flooring can be arranged in a variety of custom patterns for a truly unique kitchen.
2. Hardwood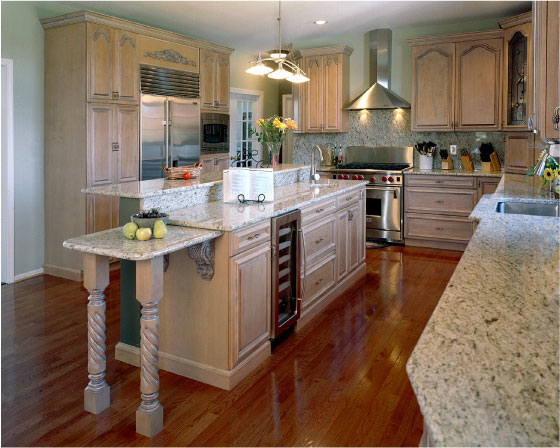 Hardwood flooring can last a lifetime when treated correctly. Make sure to clean up spills immediately, and never leave puddles of water standing for long periods of time. Think about the different species of wood when picking your hardwood flooring; different species offer different benefits. Popular choices for hardwood floors are oak, cherry and maple.
3. Laminates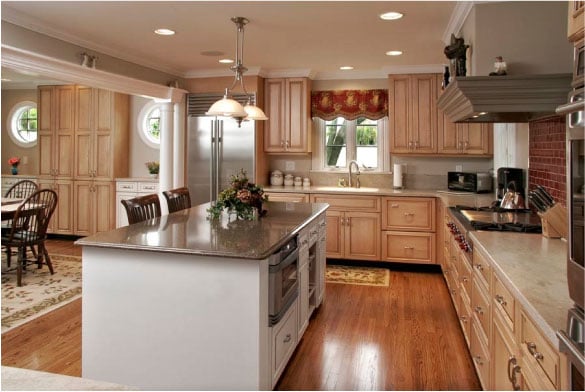 Once considered the 'cheap' option, laminate flooring is still a cost-effective solution, but now offers similar beauty to hardwood floors. Extremely durable, easy to clean and maintenance-free, this is a wonderful option for budget-conscious homeowners who want the look of hardwood without the cost. When purchasing laminates, consider color, texture, shape and finish.
4. Vinyl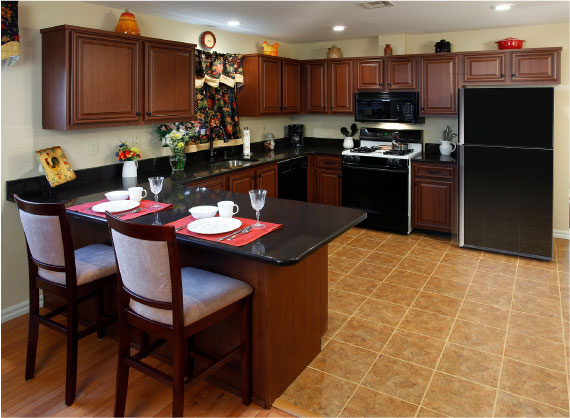 Vinyl flooring comes in a wide variety of colors, textures and styles, including patterns that mimic hardwood, ceramics and stones. It is easy to clean, resists scratches and stains and many come with antimicrobial protection to fight mold and bacteria.
5. Linoleum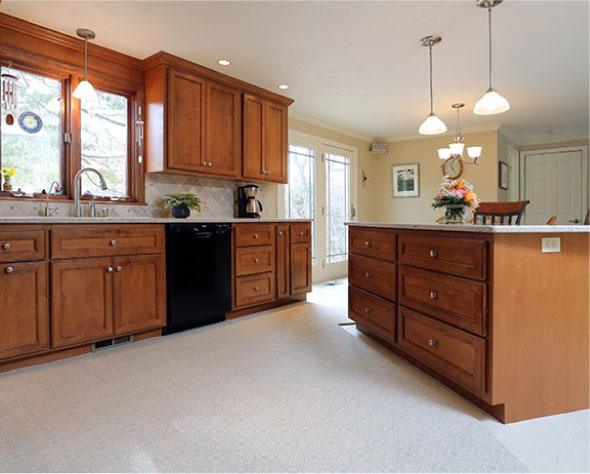 Linoleum flooring is the best choice for busy spaces, because it provides scratch and stain resistant surfaces that are both antibacterial and anti static. Unlike popular options like stone and hardwood, linoleum is soft and remains comfortable for hours of cooking. Also, it's available in many colors and patterns, which can be mixed and matched for a custom flooring style.