If you have opted for an all white kitchen design, the world of quartz kitchen countertops is your oyster - more or less. There are three basic styles you can aim for: white on white, a neutral blend, or you can make a dramatic statement.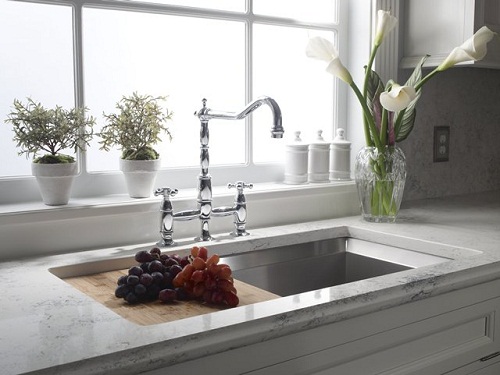 White on White For the Purist
This look is good for a clean, pure, finish where your own kitchen ornaments will create the color accents. In this case you have a handful of white quartz countertop options. Examples include: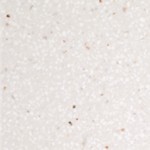 Silestone Mont Blanc - This quartz pattern does have the barest hints of earth tone flecks but they will not be enough to detract from your overall white kitchen theme.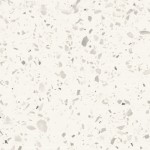 Cloud White Zodiaq - Ha! Apparently Zodiaq's design team is psychic because they are a step ahead of you. If you are 100% committed to the look of a cloud white kitchen, they designed a countertop just for you!
White on White for the Non Purists
If you don't mind a little bit of color, shading, or earthy accent in your white quartz countertops, there are a couple more suggestions we would make:
Zodiaq Okite Bianco Carrara - This cloud white kitchen might have a chance of rain. We love the pale grey to off-black accents that are infused into this Zodiaq quartz kitchen countertop.

Silestone Stellar Snow - Admittedly, this is slightly more grey than white, but we still think it fits into the "non-purist" white kitchen countertop design.
Neutral Blends for a Cloud White Kitchen
Honestly, almost anything goes with white. But if you want to stick to more rigid design standards, then you want your neutral blend quartz countertop to have some kind of white flecks, or tones, infused into the pattern. Some of the earth tones have more cream or off white, which might not blend as well.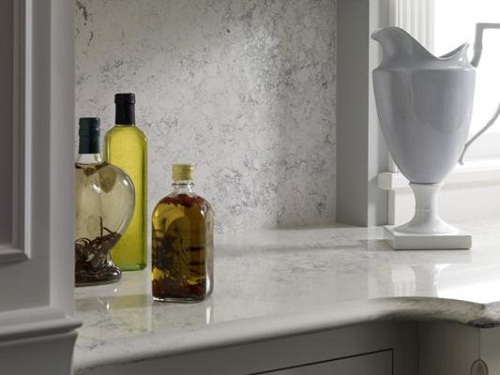 Quartz Countertops - Make a Dramatic Statement
We won't even try to entice you with descriptions or reasons. If you're ready to make a bold statement, you'll know your quartz countertop when you see it. Might we suggest:
Good luck with your quartz countertops selection. We are here anytime you need us. Just give us a call toll-free at (855) 5-REFACE!