Who would have thought that a little strip of wood (or composite), applied to the top portion of a wall, would make a room look classier? But it does. And thus, crown molding is one of those upgrades that many of our customers implement when they're building a house, or doing a kitchen remodel. There are a few ways crown molding can be added to enhance the overall look of your kitchen.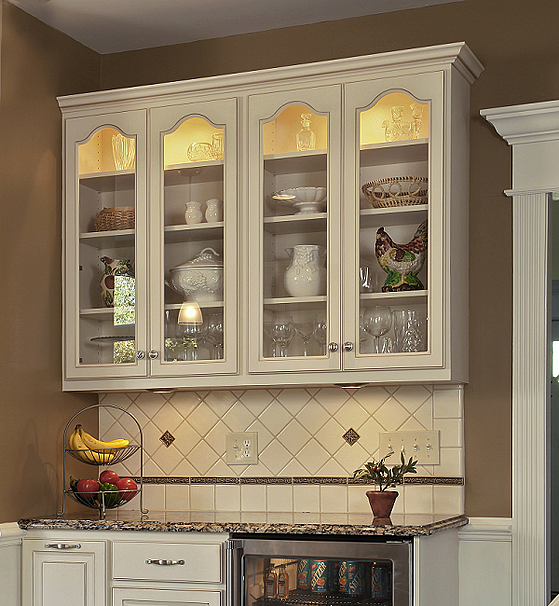 Kitchen Cabinets Meet Crown Molding
This is the best option for anyone whose ceiling height is on the shorter side. Those of you who live in houses built from the 1940s - 1980s probably have 8' kitchen ceilings. In this case, you don't want to have any space between the crown molding and the cabinets as it will make your kitchen appear smaller. Even customers with higher ceilings often choose this look as the crown molding becomes a part of the cabinetry and can make it look that much more rich.
Sometimes the molding is a different depth than the cabinets, which creates space between the cabinet and the ceiling. Other times, custom crown molding can be made so the cabinets appear flush with the ceiling.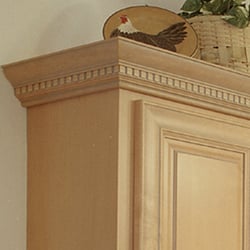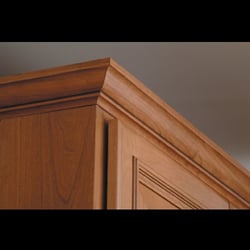 Icing on the...Cabinets
We usually think of crown molding as a decorative piece that spans the perimeter of a room. But in the world of kitchen cabinets, it can be used as a decorative piece to put a classy finishing touch on kitchen cabinets, without even touching the wall. You can browse our photo gallery to view the difference between cabinets that have crown molding as trim and those that don't to see which style you prefer for your kitchen.
Leave a Small Space
It can also be attractive to leave space between the cabinet top and the molding piece. You may want to consider that if you have items you like to display on to tops of your cabinets, or if you want your paint color to be exposed between the cabinets and ceiling for added flair. It can also be a way to highlight the crown molding. Sometimes a kitchen requires it because existing soffits have been used for venting, pipe work, etc. In these cases, crown molding is attached to the top of the soffit between the cabinets and the ceiling.
Crown molding is a rich addition to any home. Come in, or fill out an online contact form, and we can help you decide the best way to use crown molding to enhance your kitchen.