As you make final decisions for your kitchen project, consider these different types of cabinet doors: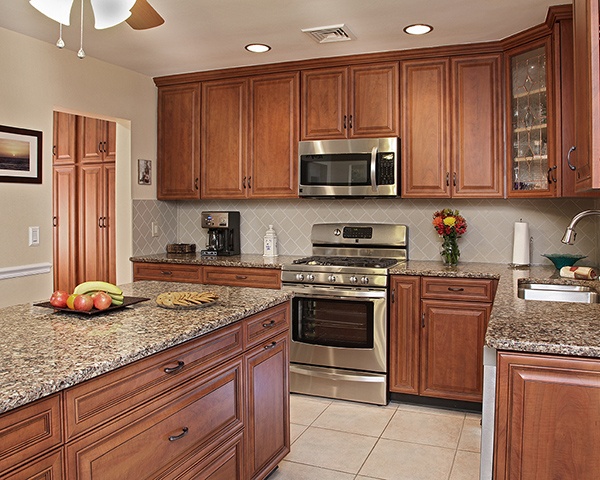 Swing
Often considered the "standard" door, a swing door swings out to the right or left when opened. It works well with framed and frameless cabinets and a variety of hinges including barrel, strap, mortise, pivot, butterfly, H, HL and European.
Flip Lift
A flip door flips up, or out and sideways, when you open it. Special hydraulic hinges assist with the movement and hold the door in place at an angle for ease of access. A lift door serves a similar function, but it pulls out and lifts up with the door facing forward instead of at an angle.
Bi-Fold
These types of cabinet doors have two horizontal or vertical panels in the same or different style connected with extra hinges that allow them to fold at the middle. With a horizontal bi-fold, the door pulls out and up, folds and stays in place via hydraulic hinges. With a vertical bi-fold, the door opens out and then folds left or right; or slides open and folds left or right within tracks.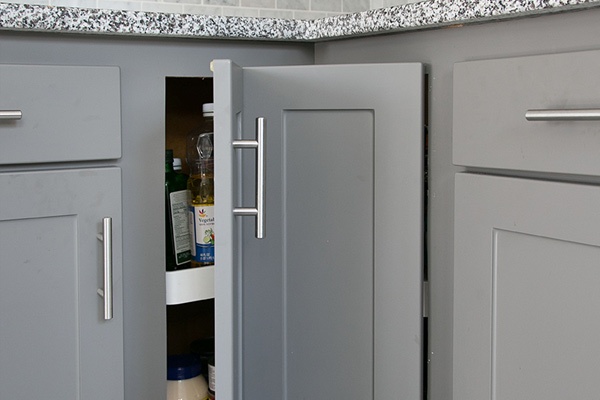 Track
A track door has one or more horizontal or vertical panels that slide via rollers within tracks located at the interior top, bottom, or top and bottom of the cabinet opening. An exterior barn door set up is also common in which the door hangs from bars attached to rollers that move along the top of a horizontal track installed above the cabinet opening on the face frame or wall.
Tambour
A tambour door is a rolling track door with thin flexible slats designed to allow you to slide and roll it back into a cabinet box like a garage or antique desk door. Typically, homeowners install a tambour on vertical side tracks in countertop or upper wall cabinets to hide small appliances or breadbox. A horizontal side-to-side layout for countertop and lower wall cabinets is also popular.
Pocket
A pocket door combines the features of swing and tambour doors. You open the door like a standard door, but continue opening it to a 90-degree angle perpendicular to the cabinet face. You then slide it back into a pocket custom-built along the exterior of the cabinet box; or into the cabinet along the inside wall.
A Kitchen Magic specialist can help you select one of these or other types of cabinet doors.