Gray has been the "it" color in kitchen cabinet designs for quite a few years now. But that doesn't mean you can just pick any color labeled 'gray'. Believe it or not there are dozens of hues and tones of gray. Choosing the right color combinations and palette takes planning and thought. You'll want to consider the overall style and look you're envisioning for your new kitchen before making a final decision.
Are you looking for the best gray paints for your home? Read on to find out what kind of gray hues won't disappoint you during your kitchen remodel.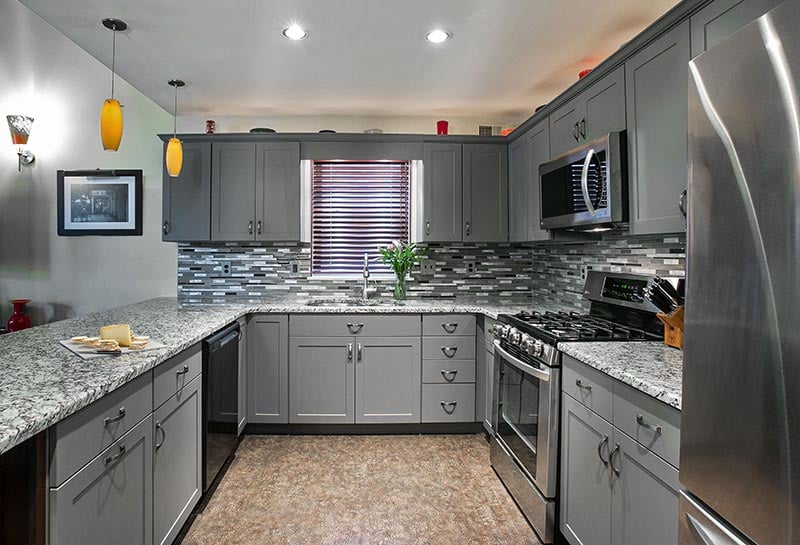 Which gray is best for kitchen cabinets?
A distinctive neutral gray is a black and white mix, but we aren't really seeing a true neutral gray as a common choice these days. What we do see are infinite shades of grays that run the gamut of warm to cool and everything in between.
Warm grays have yellow or brown undertones while cool grays have hushed hues of blue. Distressed gray includes grain or veining of different gray hues that create a rustic appearance. The latest color trend of greige is a very warm gray that can look almost beige—hence the name 'gray+beige'.
Here, we assess three diverse gray kitchen shades which resulted in three different kitchen design styles.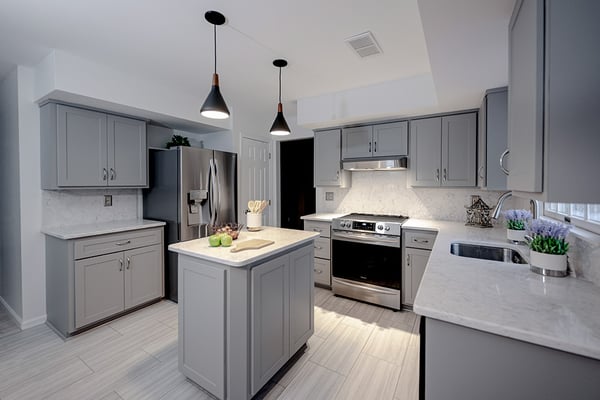 Opulent dark gray kitchen cabinets
When remodeling a kitchen with dark gray cabinets, you'll most likely be looking to warm the space up for some balance. That said, consider light charcoal for the wall color or appliances which will instill a stately, traditional vibe.
Dark grays have been used in kitchens for years and we see why—they pair well with raised panels, flat panels and especially shaker-style doors. To that end, a darker gray will provide a timeless kitchen design, so you won't feel the urge to undertake another update for far into the future.
Displayed below are Suede Gray cabinets which incorporate subtle hints of brown. Our take on this shade is that it exudes a cultured, even regal effect. It's the ideal choice for departing from wood grain styles, yet still wanting to maintain warmth in the design.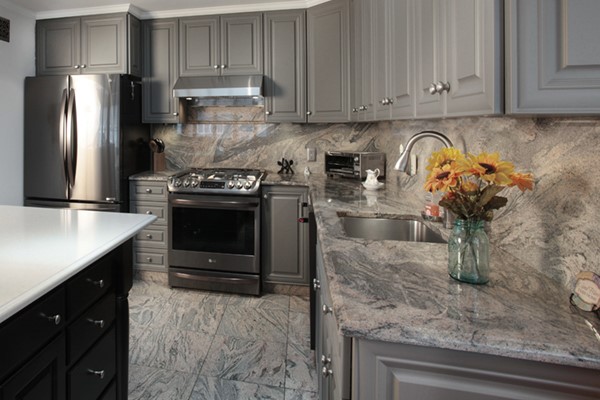 Minimalist cool gray kitchen cabinets
If you desire a lighter cabinet color, but aren't looking for a sterile white kitchen, light gray is your new best friend. Think steel colored—a slight offshoot from white. It's just enough to liven up the space without overpowering it. Light gray provides you with a contemporary design and pairs well with a flat panel door style.
Contemporary or modern styling leans toward the neutral side of the color spectrum, creating an air of sophistication. Keep the lines and details to a minimum with this color. Let the clean and crisp gray make its own strong statement in the space.
When introducing metal finishes such as knobs or appliances, consider stainless steel or nickel to maintain uniformity for a sleek look. Accent with sleek dark countertops or shelving for contrast and texture to top off the design.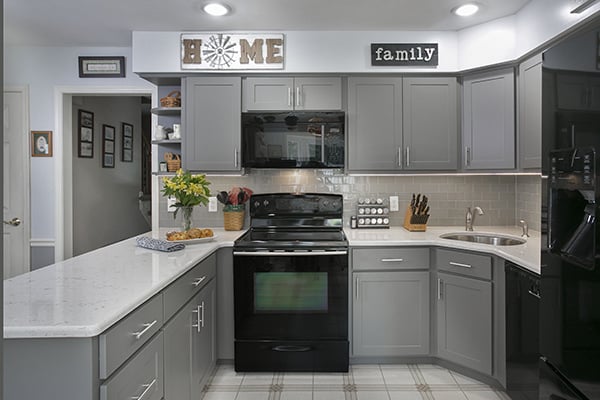 Distressed gray cabinets
Barnwood or distressed gray will intentionally create a farmhouse theme, so if you decide on this option, own it! Roughing it up with a gray wood grain shows courage and yes, a little bit of the hippie side in all of us. Feel free to punctuate the design with thoughtful details. Think barn-styled lantern fixtures or wrought iron knobs for a fun, whimsical décor.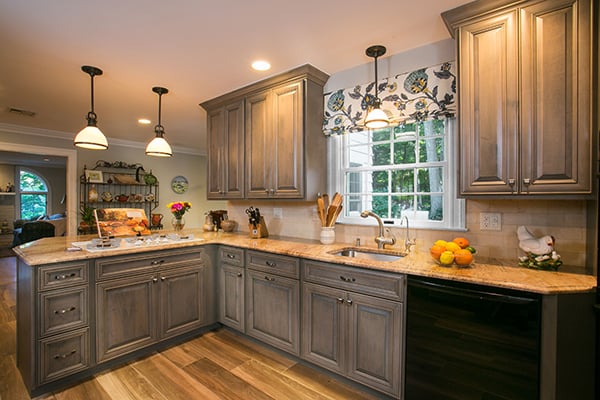 Choose a timeless shade for your kitchen
As you now know, shade matters when choosing gray for your kitchen cabinet color. If you're the traditional type, darken it up with a smoky gray. Go light for a contemporary, chic style or a distressed barn wood to unleash your chic side. Unlike some other cabinet colors, grays will offer the perfect balance of warmth and neutrality, working well for any size kitchen and style. Whatever you choose, make it work for your space to create a timeless look of your own. Happy remodeling!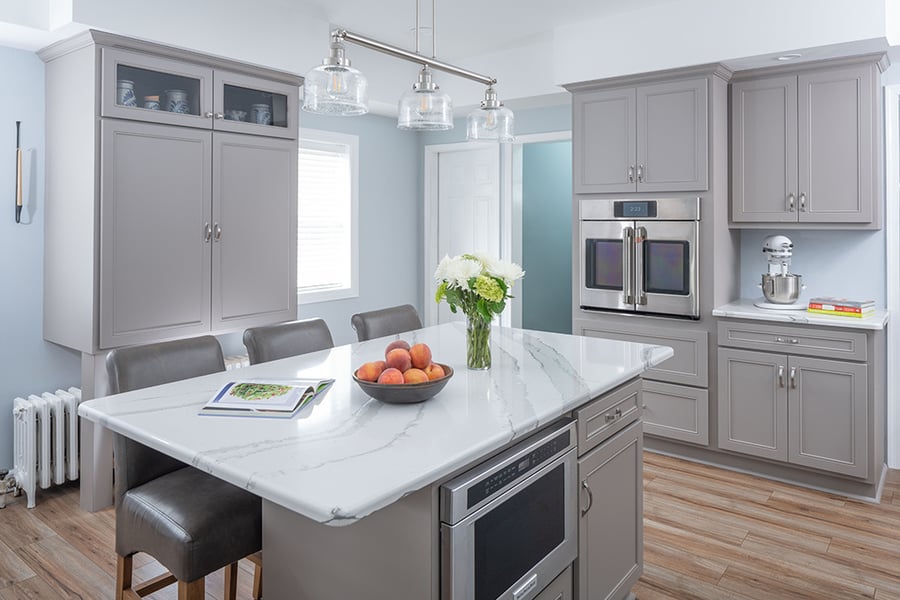 Where can I find reliable kitchen remodel professionals in Lehigh Valley?
Wondering how to choose the right hue for your home? Want to know how each unique tone influences a space? No worries, you're never alone. With Kitchen Magic by your side, you can create custom kitchen solutions to fit your needs.
Looking for more ideas, read our Fashion Meets Interior Design or schedule a free in-home consultation online. No matter if you're located in Lehigh Valley or elsewhere in the area, we're looking forward to improving the appearance and functionality of your kitchen.