The modern farmhouse trend has remained strong throughout the years and is still one of the most popular design styles among homeowners. With a focus on family and livability, it's easy to see how this design look has stood the test of time—especially in the kitchen.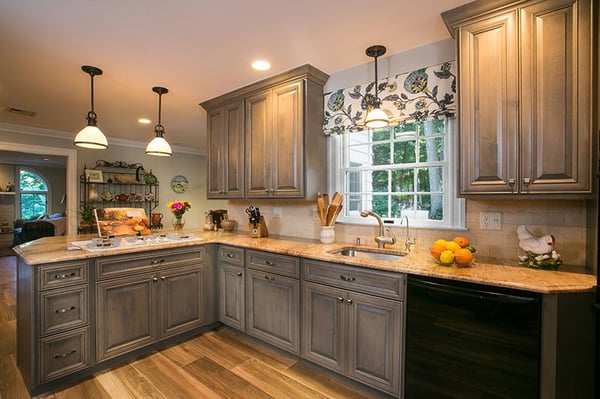 Get the Farmhouse Style Kitchen You've Been Wanting
Achieving this look in your new kitchen design is easier than ever with our 5 steps to a farmhouse kitchen.
1. An Eclectic Mix
Farmhouse kitchens began taking the design world by storm around 2014, with major help from Joanna Gaines and HGTV. The modern farmhouse style features an elevated level of elegance with reverence for historical charm and an inviting unassuming feel. This certainly isn't your grandma's country kitchen!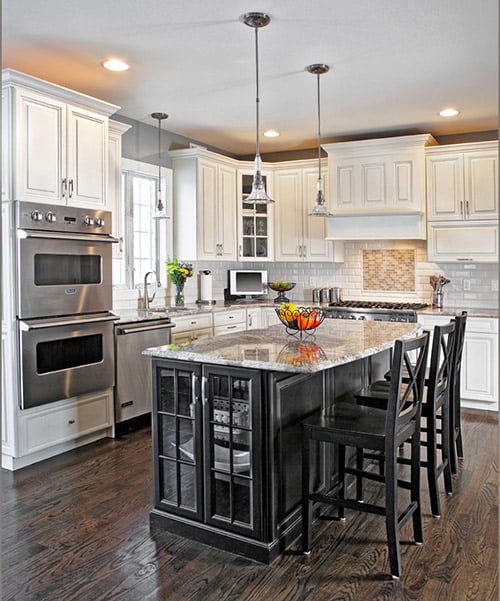 To create a space that looks as if it has been cultivated over the years, mix up eclectic, unlikely pieces. This works best when using old and new pieces together in one space. Think mid-century modern stool with a large Victorian light fixture!
To give your new farmhouse kitchen a more spacious and comfortable feel, incorporate open shelving into the plans. This can be done by removing some of the doors to existing cabinets or installing new open shelving if the space allows. If you aren't too keen on completely open shelving, existing doors can be replaced with glass cabinets.
The original farmhouse kitchens typically needed extra storage apart from the existing cabinets. Who couldn't use more storage! Add free-standing cabinetry, like a butler's bar, for an authentic farmhouse feel. This is a great opportunity to use pieces that speak to you—letting you create a farmhouse kitchen that is uniquely personal and suits your specific needs.
2. Signature Neutral Palette
The signature farmhouse kitchen incorporates vintage elements combined with distressed finishes—bringing the old world into the 21st century. To carry this look throughout your new space, start by adding glazed or rustic wood-finished cabinets.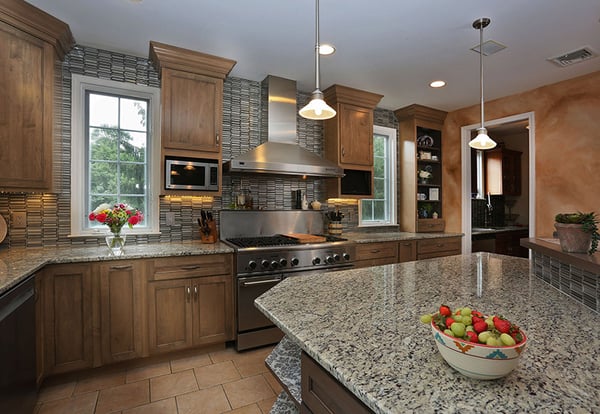 This muted color palette helps to create a timeless look filled with pops of color like robin's egg blue or a gorgeous mint. Our Barnwood cabinet color makes a great choice for farmhouse kitchen designs!
3. Natural Meets Industrial
With Farmhouse style, you don't have to shy-away from the blending of old and new. Mixing various materials and finishes will give the space a cultured, collected-over-time feel. This can include materials like shiplap, barn doors, wrought iron fixtures, and hardware—just to name a few!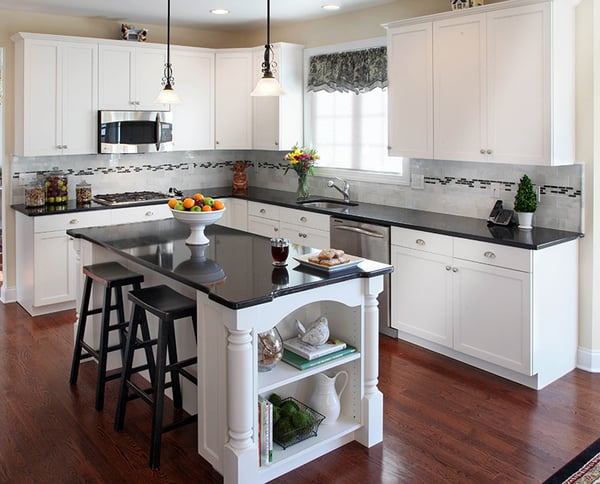 4. It's All in the Details
Details are simply everything when it comes to design, so it's important to add them to your new farmhouse kitchen as well! Consider adding decorative millwork or traditional style moldings, casing, and trim throughout the space to give it the appeal and charm of a bygone era. Incorporating vintage elements, like a reclaimed wood sign or embroidered lace window treatments, are the perfect elements to bring the entire design together.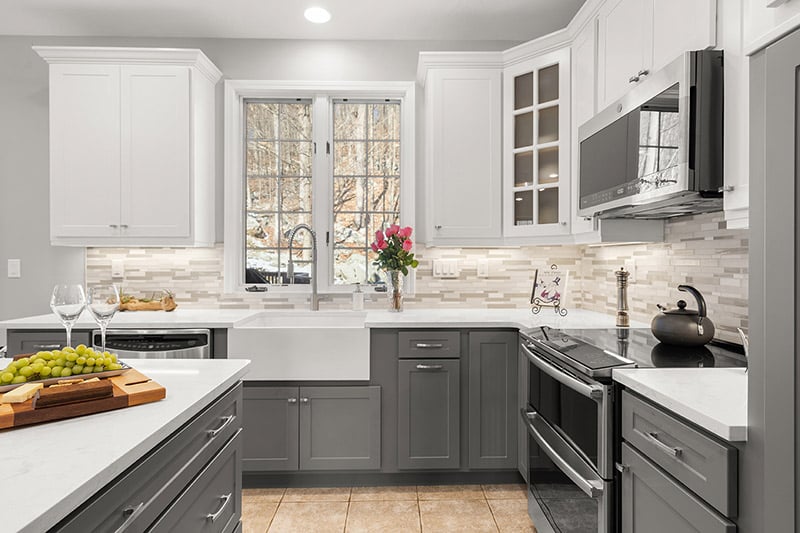 The gathering place is the central focal point of a farmhouse kitchen and one of our favorite elements of this design. Traditionally this gathering place is centered in the kitchen and can consist of a large island or table if there's enough space. That's why the kitchen is the heart of the home.
5. Incorporate Rustic and/or Antique Decor
To really get the feel of the farmhouse style, it's important to incorporate some rustic decor to your design. Peruse local yard sales, antique stores, and flea markets to find the perfect vintage pieces to add to your space. From a southern-inspired sign to family heirlooms that have been passed down through the generations, these accents are what really bring the farmhouse style together and make it uniquely yours.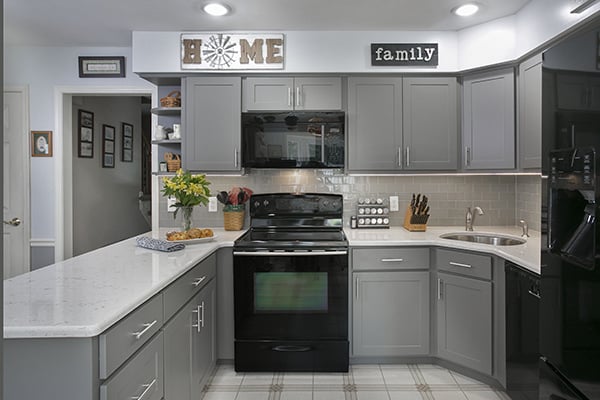 If you would like to know more about creating a farmhouse feel for your new kitchen design, or are ready to get started on your kitchen transformation, we can help! Simply fill out our convenient online form to request your FREE in-home estimate and discover how we can help you turn your dream space into a reality!