Window dressings are your kitchen's clothing - promoting your style to the world. And, just as clothes keep you warmer or cooler, hidden or exposed, window treatments have a functional job to do, too.
Not sure which window treatments are the right choice for your kitchen style? No problem. We'll lend a hand.
Which Window Treatments Treat Your Kitchen Best?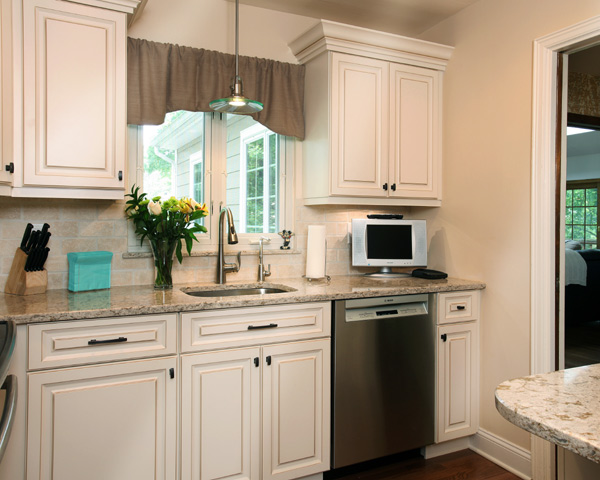 First, let's throw a bullet list out there to track all the things window treatments offer your kitchen:
Style
Color
Pattern
Privacy
Light quality
Insulation/energy efficiency
Keep these in mind when selecting window treatments that coordinate with your style and design.
Blinds are a staple for privacy and light control
Blinds are often a staple window treatment. As the result of their varied styles and colors, blinds can stand alone or serve as the foundation upon which material curtains or valences are displayed. You can see how this kitchen topped their functional blinds with a more delicate, elegant lace valence for softer effect.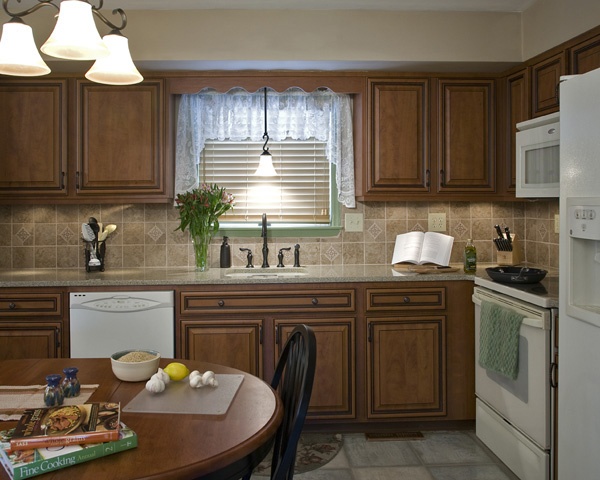 Vertical or horizontal, the choice is yours. If the kitchen window faces a neighbor's window, we recommend horizontal blinds that can be lowered from the top - so you don't have to sacrifice privacy for daylighting. Shutter-style window treatments are also a nice way to gain style, privacy and lighting control.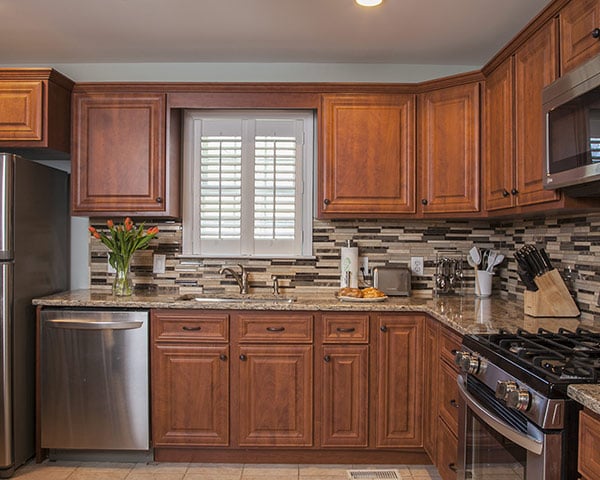 Shades are still an option
While less common, designer shades are beautiful. We recommend them in traditional kitchens and kitchens that are well-lit, since drawn shades can be pretty dark. Invest in high-quality shades to ensure they pull-down and roll-up easily and consistently.
Standard curtains offer color and/or pattern
While standard curtains can be opened or closed, they're used more often to add color, pattern and texture. They can also help to transition the view between indoors and out, like the vine-and-leaf patterned curtains that frame the large patio-door window in this Los Angeles kitchen.
Dapper drapes
What's the difference between drapes and curtains? Drapes are made from thicker, heavier material - and they can add a more formal visual effect. That thicker material also means better insulation value, meaning greater energy efficiency. We love the way these red/white checked drapes look swanky but keep the down-home vibe of a farmhouse kitchen - plus they'll help insulate all those windows come winter.
Cafe-style curtains
These cute, half-height curtains are the way to go when you want a bit of privacy and a whole lot of charm. In this West Coast kitchen, the lacy options are in keeping with its vintage accents.
Elegant cascade curtains
On the other side of the coin are cascade curtains, which almost always create a formal touch to the window display. These are typically added in traditional kitchen designs.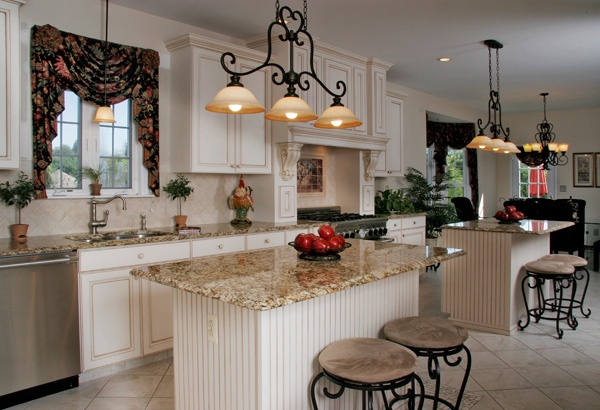 Versatile valence curtains
Valence curtains are versatile. They can stand alone as a little icing on the window cake, or they add elegance to longer curtains. They can also create continuity, like the ones used in this kitchen and adjacent living area.
The Kitchen Magic Crew looks forward to treating your kitchen windows with the perfect finishing touches.