Natural light is always the preferred choice during daylight hours. Your kitchen's colors, accents and design details will look the most vibrant and energized under the natural rays of the sun. Plus, the more daylight available to you, the less energy your home is forced to consume via electric lighting. This is especially true in homes with open floor plans as natural light in one area of the house can be directed and refracted into others.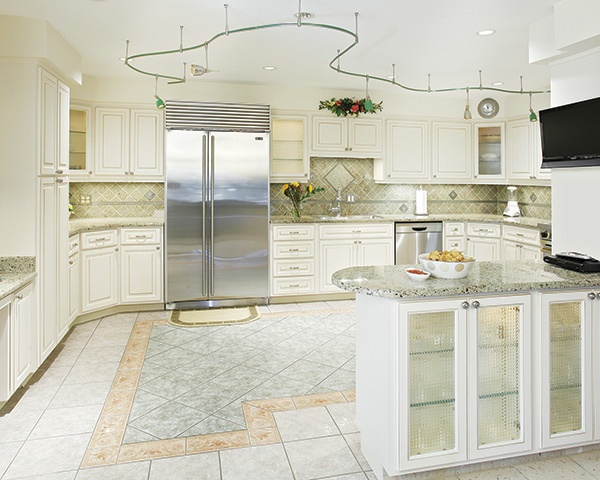 Add Skylights, Windows and Solar Tubes to Increase Natural Lighting in Your Kitchen Remodel
As if that weren't enough, natural light is also proven to have a more positive effect on human psychology than florescent or LED options. Recent studies have shown that those who work in naturally lit areas have better moods, are more productive and even enjoy healthier sleep patterns.
Here are some ideas of how you can increase natural light - and productivity - in your upcoming kitchen remodel.
Add or expand your windows
Everyone loves that typical picture window over the kitchen sink - and, often, this is the only window in the entire kitchen. Maximized kitchen storage is one of the main reasons for this since upper cabinets typically use up the wall space that would be consumed by a window. However, with the advent of modern cabinet organization tools, there is more than enough room for most homeowners to add or expand existing window space without crimping their storage style at all.
One way to increase window exposure is to take them all the way to the ceiling. As home building techniques become more efficient, we encourage homeowners to ditch unnecessary soffits, extend upper cabinets to the ceiling line (giving you considerably more storage space) and then using that same approach with windows - often yielding anywhere from six to 18 extra inches of glass.
Add a skylight
Skylights work wonders in a kitchen. Not only to you benefit from more sunlight during the day, you can enjoy the addition of moon and starlight by night. Modern skylights are very energy-efficient and shading options mean you can control the amount of sunlight that streams through. In the summer months, more shade means a cooler kitchen while still benefiting from natural daylighting. During the winter months, less shading means you can benefit from solar heat gain, which reduces your overall heating bills. A skylight also makes your kitchen feel more spacious, a definite bonus for smaller kitchen spaces.
Consider the benefits of a solar tube
Not sure you want to give up enough roof/ceiling space for a skylight? Then consider the benefits of solar tubes. These have the appearance of recessed cans - making them very unobtrusive - but are a beautiful lighting addition. The tubes are like mini-skylights in a sense, with hollow cores that are lined with a reflective material to amplify the light. They make savvy additions to any kitchen and can be specifically placed for task lighting. Consider adding them above your kitchen island, in the corners of the kitchen for general light, in a more shadowed area or above your built-in office space to assist as you read or work on the computer.
Ready to let the light shine in on your new kitchen remodel? Schedule a free in-home consultation with Kitchen Magic and we'll be happy to help.