How often do you use your formal dining room? The answer to this question can significantly impact your options when it comes to remodeling the kitchen.
If your family is like the majority of Americans - the formal dining room is used only two or three times a year for actual dining, and the rest of the year it's use as a drop-in storage unit.
Sound familiar? Then it might be time to bid it farewell.
Eliminating the Formal Dining Room: Yes or No?
It can be hard to say goodbye to a room that is built into the very fiber of Americana - the stuff Normal Rockwell paintings are made of. The reality, however, is that it just doesn't make sense to preserve a room that isn't used on a regular basis.
If you don't entertain in your dining room more than a handful of times per year, consider the benefits of opening your kitchen up for ultimate function and flow.
Are you interested in a more open floor plan?
The open floor plan continues to be the most popular home design option. It is the ultimate floor plan for busy families and entertainers alike because it connects the cook and the assistants connected to the goings-on in the adjacent living areas. It also enhances flow and makes it easy for everyone to circulate through the kitchen, eating areas and living spaces without getting in each others' way.
Eliminating your formal dining room area is a smart way to gain the extra square footage you need to add everything you want to your new kitchen design. In most cases, you'll still have enough room for the dining area to be completely separate from everything else.
You can still have a beautiful dining area
Eliminating the dining room doesn't mean you have to sacrifice a beautiful dining area. In your newly expanded floor plan, you'll still have room for a gorgeous dining room set.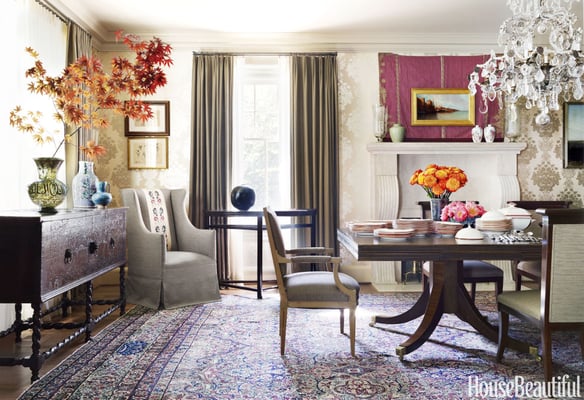 Photo by: HouseBeautiful
Your selection of a high-quality area rug to define the space, art on the walls and a stunning chandelier or swanky suspended light fixture will set a classier tone. You can keep raised bar or extended island options for more casual, everyday dining.
Smart storage options will eliminate dining table clutter
Using your dining room table as a storage surface for paperwork, serving platters or other miscellaneous stuff is not a good enough reason to preserve a separate dining room space. Instead, talk to your kitchen design and build team about storage options.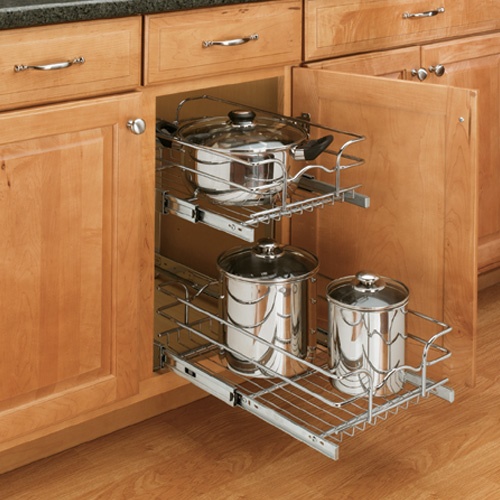 Odds are you'll find that today's innovative storage solutions provide ample opportunity to store all that dining table clutter elsewhere. For example:
Take cabinetry to the ceiling (perhaps even remove unnecessary soffits) so lesser-used platters and seasonal kitchen/dining decor can live up top.
Adding a message center or small home office to your new open floor plan will give you a place to store/file paperwork, to catch up on computer work and provide a gadget charging station for the whole family.
Your open concept kitchen may now have plenty of room for an extended island and other work surfaces that can be used for crafting as well as dining - with room for materials storage below.
Aren't sure you want to bid a complete farewell?
If you aren't completely set on eliminating the formal dining room area, there are partial possibilities.
Many homeowners with smaller or galley kitchen layouts find that expanding the access between the two spaces makes the kitchen feel more spacious. Knocking out part of the wall, or leaving a pony wall is another way to create a clear division between the two while adding more visual space. You can knock out a section of the wall to expand the view and then design a gorgeous pass through countertop-slash-buffet area.
There are all kinds of possibilities. The key is to share all of your ideas, needs and wants with your design team so they can come up with customized solutions. Here at Kitchen Magic, our team is chock full of solutions for creating the kitchen and dining areas of your dreams. Come and by and we'll be happy to help you make decisions regarding the best options for your household.