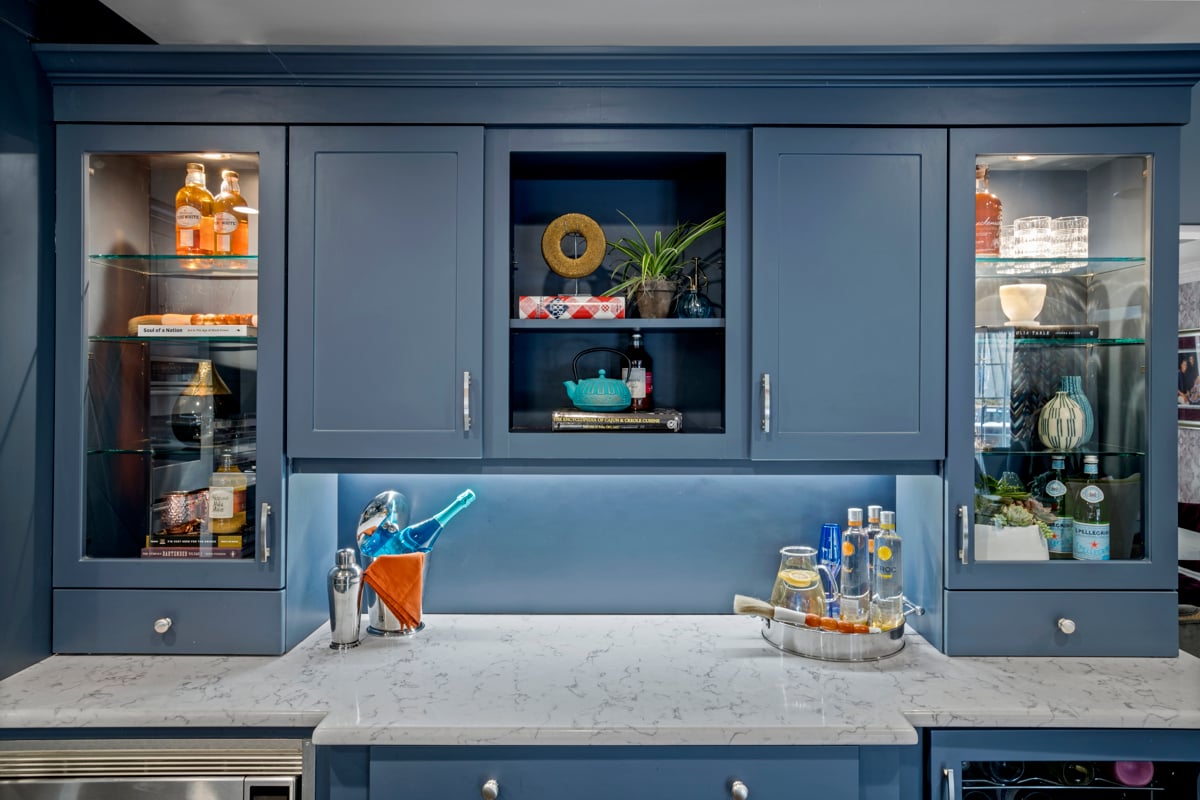 Glass-front cabinets are a welcome addition to any kitchen design. Not only can they break up the monotony of repetitive solid cabinet faces, but glass doors also add both form and functional appeal. What's more, this will create the impression of an open and airy kitchen space.
In case you're thinking about kitchen cabinet remodel, now might be a good time to think about what they can do for your cooking area in Milford, CT. Let's take a look at some glass-front door uses to help you incorporate them in a way that makes sense for your kitchen layout and style.
Why should you have glass cabinets in the kitchen?
As of late, glass cabinet doors have become more of a staple than a trend in kitchen design. A few of the top benefits of glass-front cabinets include:
Creating depth to help make smaller spaces appear larger
Allowing for pops of color and seasonal décor that can be

displayed behind glass-front

cabinets
Leveraging available light and adding reflective interest to the overall design
Ultimately, sophisticated glass cabinet doors offer both functional and aesthetic appeal depending on what's housed inside. Possibly the perfect alternative to open-shelf cabinets, glass-front cabinets will keep your collectibles safe and sound.
What is the most popular glass front for kitchen cabinet doors?
While glass cabinet door fronts are available in a variety of textures, we've noticed three distinct trends when working with homeowners on their kitchen remodeling product selections.
1. Elevate your kitchen design with reeded glass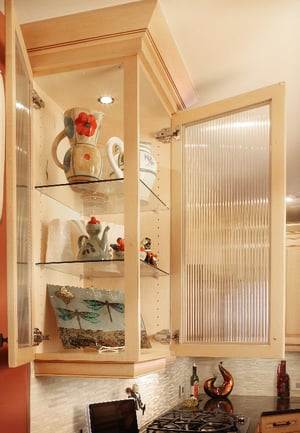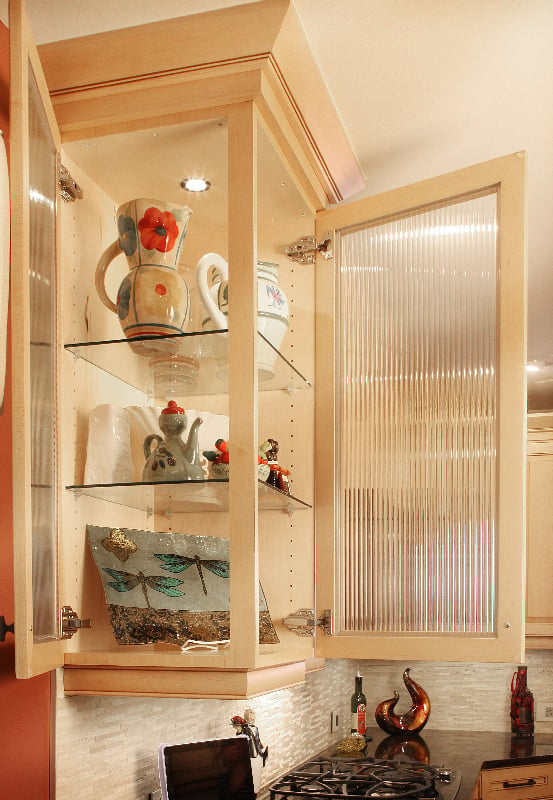 There's one tiny problem with plain glass cabinet doors; you can see right through them. So, if you're using them in cabinets that will house decorative dishes or seasonal décor - they're wonderful. However, some households may be intimidated by clear glass because while there is storage, there's less places to hide a hodgepodge of household items. In cases like this, reeded textured glass panels are a savvy choice. They provide all the benefits of glass doors while simultaneously camouflaging any mix-and-match kitchenware and any "the-kids-put-the-dishes-away" results  away from viewers.
This particular style runs in vertical lines in a repetitive pattern. Keep that in mind and consider how it will complement other textures and patterns that you plan on incorporating into your kitchen design. For example, if your backsplash or floors have an element of direction in their patterns, you may want to opt for the next trend on our list.
2. Add a splash of water glass

Water glass cabinet door panels are another popular option. They have a more complex and non-linear pattern, which works well in both contemporary and traditional kitchen designs. However, this pattern is slightly more transparent than the reeded version, so you'll want to keep that in mind when deciding what to display behind them.


If your floors, countertop, or backsplash also have a more complex pattern, you may prefer the more simple texture of water glass. On the other hand, a streamlined contemporary kitchen can benefit from the energy water glass patterns can provide. Consider appliances with glass doors to complement glass-front cabinets in your new kitchen, like this built-in wine cooler:The clarity of clear glass

3. Consider clear glass for the purest vision
A tried-and-true original, clear glass is selected by most remodeling homeowners. Clear glass-front cabinets are
suitable for farmhouse-styled
, traditional, transitional and even modern kitchen designs. With clear glass, the focus is on showing off what lives inside, as well as the willingness to maintain them, so they aren't overshadowed by smudges and prints.
Where can I find experts in kitchen cabinet remodel in Milford, CT, and the region?
Looking for a trusted kitchen remodeling company near you? Kitchen Magic has a team of seasoned experts in the area that can make your project a success. Over the past few years, we have remodeled numerous kitchens throughout Milford and other parts of Connecticut. No matter if you live near Silver Sands State Park or elsewhere in the area, we're at your service. We'll help you understand your options from the very start and provide support along the way. Our team has the expertise and knowledge needed to renovate your cooking area diligently and hassle-free.
We'll gladly discuss your preferred kitchen cabinet styles and requirements in detail, so contact us today for a complimentary in-home consultation and quote!

If you're in expert advice on how to use glass-front cabinet doors in your kitchen remodel, schedule a free design consultation with Kitchen Magic! Just give us a call at 866-525-7999, or click here to schedule your free design consultation right now - it's fun, informative and there's absolutely no obligation.
Looking for more inspiration? Check out our 2022 Lookbook filled with our most popular kitchen remodels for almost every design style!