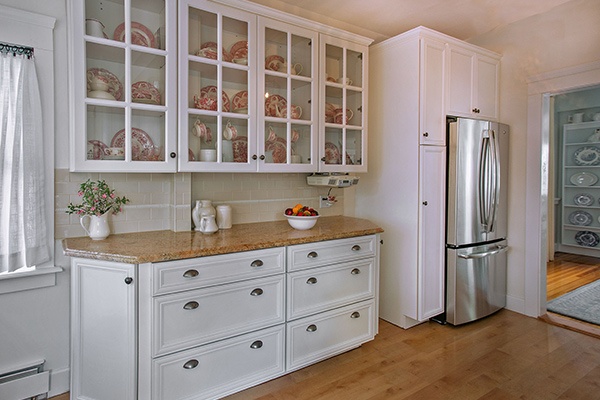 Glass-front cabinets are a welcome addition to any kitchen. Not only do they break up the monotony of repetitive, solid cabinet faces—glass doors add both form and functional appeal. Use them to show off beautiful dishware and collectibles, as a way to display seasonal and holiday decor and to change up your kitchen's color scheme. Additionally, glass cabinet inserts create an illusion of depth and increased visual square footage (a particular bonus in smaller kitchens) and can also harness the power of natural light.
Clearly Creative Ideas for Glass Kitchen Cabinets
Now that you're a convert, let's look at some of the best uses of glass-front doors so you incorporate them in a way that makes the most sense for your kitchen layout and design needs.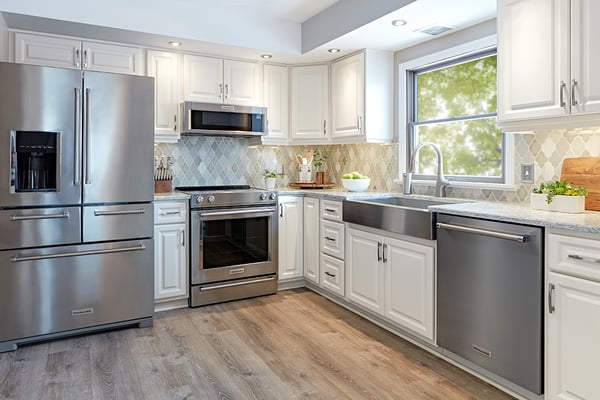 Use them in upper cabinets (or upper-uppers)
Glass cabinet doors are used most often in upper cabinets. You can install them in one cabinet, in every other cabinet, or in all the cabinets. If you've chosen to take cabinets to the ceiling, a thin, horizontal pane of glass in the upper-upper cabinet doors adds interest and breaks the look up a bit.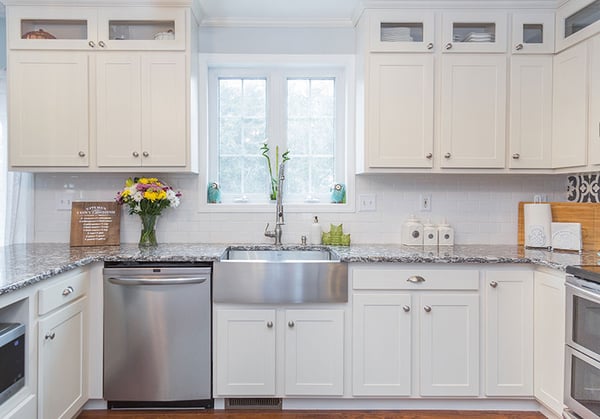 Create a transparent peninsula barrier
The open concept kitchen is wonderful, but sometimes homeowners desire some sort of border, boundary or barrier between the kitchen and adjacent living space(s). Using cabinets with glass doors is one way to do this, and is most commonly seen in peninsula cabinets. Depending on which space has the most access to natural light, the other one benefits since any available light shines through the glass.
Picture perfect window cabinets
Have more windows that wall-space? Not a problem. Picture-window cabinets give you two-sided glass cabinets that store anything you need without a solid wall and while maintaining all that natural light and the outdoor view. Do be aware that glass panels readily show smudges and fingerprints, so this may not be the best option for families with young children.
Forget about clear, go decorative instead
If you prefer cabinet contents to be hidden - rather than on display - we understand. In this case, take advantage of decorative glass options. You reap the benefit of the luxurious and elegant look glass offers, but using colored, textured or printed (stained-glass even) options minimize the view of less-perfectly stacked dishes. Decorative glass is also a fun way to interrupt clear glass fronts with something more exciting.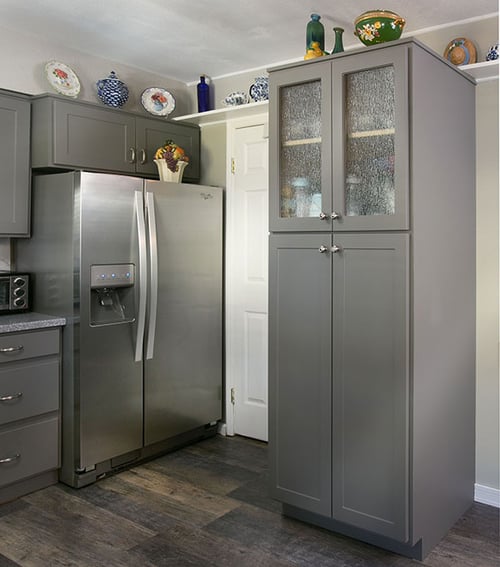 Add a little glass to the base cabinets
Glass doors can be used on base cabinetry as well. This approach is most common on islands. In an effort to protect the glass from feet, kids and pets, we encourage their use on the island end-cap where glass doors protect - but still display - cookbooks, collectibles and attractive kitchenware.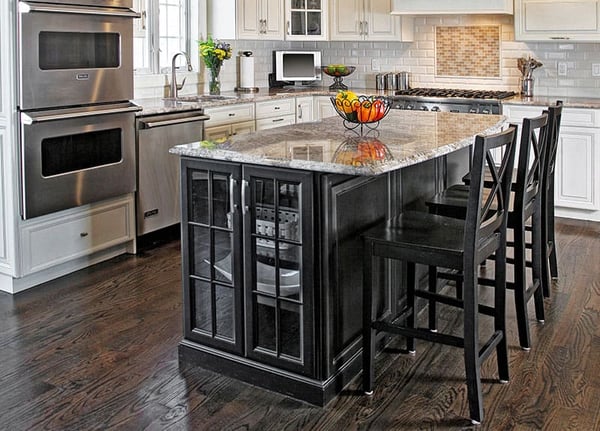 Tall cabinet options (aka open-esque shelving)
Like the idea of open shelving but worry the contents won't be as secure? Full-length glass doors on the pantry or on a tall cabinet are a good solution that will instantly elevate your kitchen's sophistication level, while protecting dishware or pantry items from breakage, dust and grease. This option also creates an easy-to-maintain clean and tidy look, especially if you opt for the aforementioned patterned glass.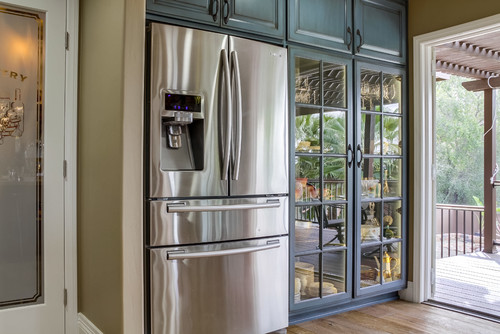 Want some expert advice on where to use glass cabinets in your kitchen? Schedule a FREE in-home design consultation, and our designers will help you incorporate stylish glass-front cabinet doors into your dream kitchen remodel.