So, you want to customize your display cabinets like a pro? Whether it be shelves, cubbies, hooks, glass front cabinets or a compilation of all of these, your display cabinet should have a certain flair. The classic curio cabinet, a home office hub or exposed kitchenware display can and should have a unique look that reflects your personal style. Here we will share three proposed design concepts for a kitchen display cabinet that mimics arrangements done by a kitchen design pro.
Whether you envision your new display cabinet as functional or simply aesthetic, being the focal point of your new kitchen, it's the custom alterations and embellishments that play a huge role in your display cabinet's purpose, function and look.
Let Your Cabinets Contribute to the Beauty of Your Kitchen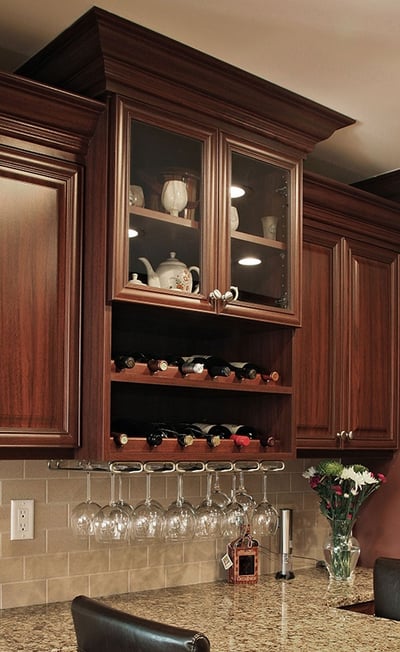 A tried and true curio
Ok, we've seen this oldy but goody before. Three tiers of shelves behind classic paned glass.The classic, open shelf concept is solely for collectibles. It's a mystery why us girls all need to display our treasures but we do! Most of them serve no purpose at all, yet we have a deep affection for them. Grandma's hand-me-downs or that keepsake from our travels, that temporarily transports us back to a time that holds a special place in our hearts. "Display that one item from your special day", recommends Ashley Lipman of azazie.com. "Having a wedding keepsake displayed in your kitchen is a daily reminder of your celebration of love."
Leaving a section of cabinetry open for display offers a space right there in the kitchen that you can curate and change out based on the seasons or cycle through to show off your various collections.
The cabinet's glass type will play a huge role in the overall look of the space. Choose water glass, frosted or seedy for a glamorous affect that will allow guests to admire your cherished treasures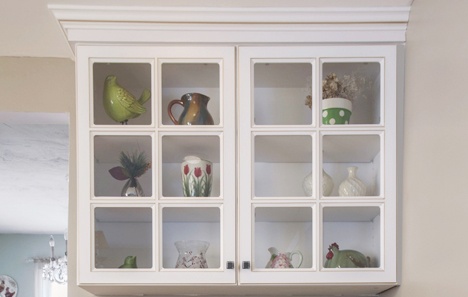 The home office style
When you need charging center bill writing hub or just a place to store your home office supplies, built in cubbies, shelves and cabinets will create a functional home office center. Hover over a desk area in your kitchen for a workstation that will provide organization and productivity for the entire household.
The kitchen office hub is the ideal place to work from home and still maintain tonight's dinner simmering on the stove. Embellish with crown moldings and a 3-tier shelf to add interest and make that home office area beautiful, as well as functional.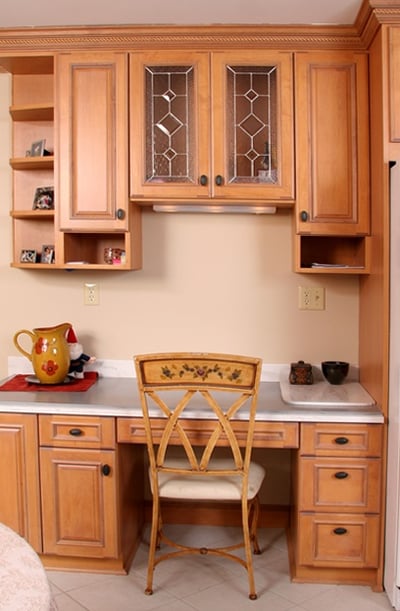 Open kitchen storage
Open kitchen storage is really trending right now. Break up that row of cabinet boxes with kitchen storage accessories to enhance your kitchen's motif. A nod to 19th century kitchen design, the open kitchen storage allows you easy access to everyday dishes and mugs. Using a dish rack, shelving, a valance and wainscoting to assemble a custom showpiece. This thoughtful design concept can be enriched further with under cabinet lighting for a showcase affect.
Another open-storage option would include a wine rack fused with shelves to hold your favorite wine glasses and mini bar contents. Top with a glass front cabinet to stage your best crystal, making it ideal for homeowners that enjoy entertaining friends and family.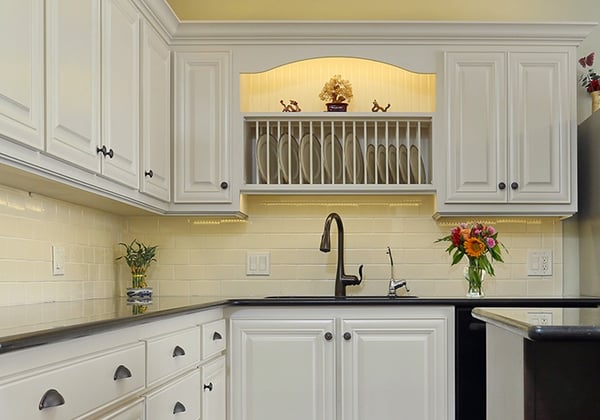 Customization and design is key
These three display cabinet concepts can all be tailored to suit your taste and lifestyle. Whether your new display area needs to be a high-functioning office space or a museum-worthy exhibit, the layout and customization should serve you well. It only takes some thoughtful design-muscle and the right mix of built-in accessories to create a masterpiece display that will take center stage to your new kitchen's design.