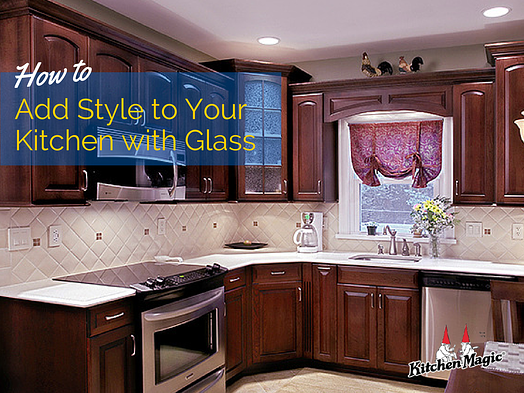 We have all experienced the elegance and aesthetic appeal of glass. In fact, many famous structures and even houses are constructed almost completely with glass from ground to ceiling because of its beauty. Is it possible to capture some of this same glory that glass provides for our humble abodes—namely our kitchens? We certainly think so!
Why Glass?
Glass cabinet doors in the kitchen help many homeowners like you free themselves from that 'factory look' that so often accompanies standard wood cabinetry. Although standard wood and laminate veneer cabinetry isn't going away anytime soon, glass provides an easy way to add personal style and expression to any set of cabinetry.
Let's be Clear
Clear glass cabinet doors are ideal for displaying a collection of fine porcelain, crystal, or silver serving pieces for all of your guests to see. Clear glass also allows your kitchen's style to grow with you as your tastes change. As the items you choose to display behind the glass doors may evolve over time, so will the look and feel of your kitchen. You may choose to showcase your finest china for one season of your life, and later feature your favorite holiday set of dishes the next.
Clear glass in combination with a light colored cabinet frame is an excellent way to make a small kitchen 'feel' much larger than it is.
Now, Let's Get Artsy
Textured glass cabinet doors provide all of the elegance of glass with some added privacy—and even a little mystery—where the transparency of clear glass does not. Patterned, frosted and textured glass doors work well for cabinets that are used more for storage than display. Some homeowners like to paint the insides of their cabinets vibrant colors knowing that some of that color will radiate through, creating a unique look and personal style to their kitchens.
Backlit frosted glass provides soft illumination, and creates a warm and friendly place for your family and friends to gather.
The folks at Kitchen Magic have been creating custom glass cabinet doors for decades. We would love to hep you discover if glass is the best option for you. Call us at (855) 5-REFACE for a Free In-home Consultation.