(insert young voice from down the hallway...): "Hey, MOOOOooom? (or, DAAAaaaaad?) Can you come here for a minute?"
These words are uttered multiple times a day as busy parents work to put groceries away, prep meals or catch-up on their own emails and bills. Thus, parents interrupt what they're doing to run down the hall...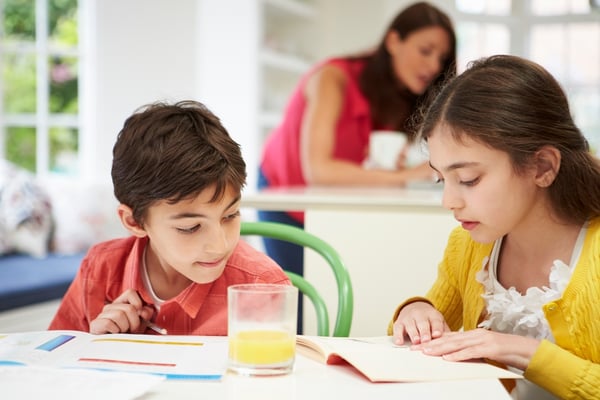 Make Your Kitchen the Family's Ideal (Home)Work Space
With the prevalence of open and expansive floor plans, we recommend forgoing the aforementioned old model and designing a kitchen that serves as the family's ideal homework—and work—workspace.
The family who stays together stays together
Rather than wondering what kids are up to all the time, we recommend creating a kitchen space where the adults who do most of the prepping and cooking can also keep an eye (and ear) on homeworking children or a group of snacking teenagers.
We created two separate - but connected - spaces in this open-concept kitchen where the contrasting kitchen island separates the zones just enough for privacy and focus, but not so much that helpful input or answering frequent questions requires leaving the room.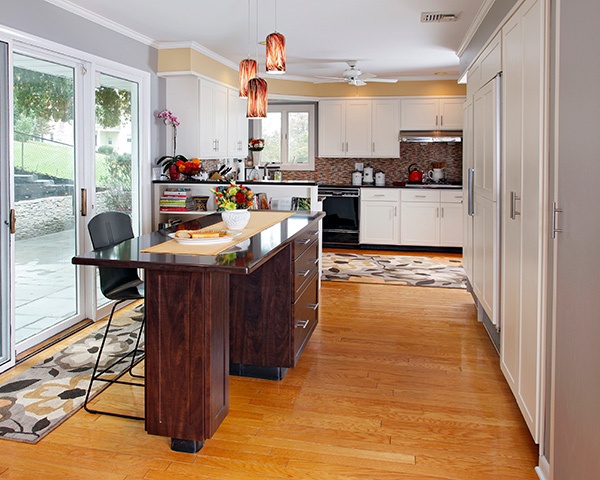 Set consistent homework times
Most teachers agree that homework is done best when completed as soon as possible after school - reinforcing newly learned concepts. Regardless, setting a consistent homework time that works for your family, makes doing homework an unarguable ritual.
Designing space to hold school supplies, adding a chalkboard wall or white board and using other visual organizational tools will keep everything you need in one, accessible location.
Keep up on their work
As you and/or your partner become more privy to the homework routine, you'll also have a better idea of what your kids are doing in school, as well areas where they might need some additional support.
A kitchen designed for homework means you'll be right there to answer questions or provide extra explanation/assistance. This organic means of remaining "in the know" is helpful, especially if you have a quieter child or a student who's afraid to let you know s/he is struggling.
Make it easier to keep up on your (home)work too
Home offices or well-equipped kitchen message centers are a growing trend in kitchen design. These efficiently designed corners or niches allow you to include drawers for office supplies, gadget charging stations, a spot for your desktop and/or laptop computer, etc.
We love this idea because it keeps you in-the-loop of what your kids are doing online and it also gives parents a convenient place to check off "to-do" list items such as paying bills, catching up on emails, reviewing bank and financial statements. It will help to show your kids that adults have homework, too!
If kids finish up their homework while you're still making dinner, invite them to join you and enjoy the pleasures of making delicious, homemade meals together while cultivating important life skills.
Contact the team at Kitchen Magic and schedule a consultation to glean more tips on designing a homework-and family-friendly kitchen.