Kitchen, dining room, living room, family room, home office - - the lines are beginning to blur. Historically, a household's living spaces were pretty compartmentalized - largely to make heating/cooling more space-relevant.
As home layouts continue to change in response to the times, the home design focus has swung significantly towards the open plan concept for sure. This means integrated kitchen-living spaces have become the norm.
Hungry For an Integrated Kitchen & Living Space?
These integrated living areas are called lots of different things. So, as you peruse Houzz and various kitchen design galleries, you can use terms like "kitchen living room combo" or "open concept kitchen living room" as well.
This type of design has many benefits for the modern family.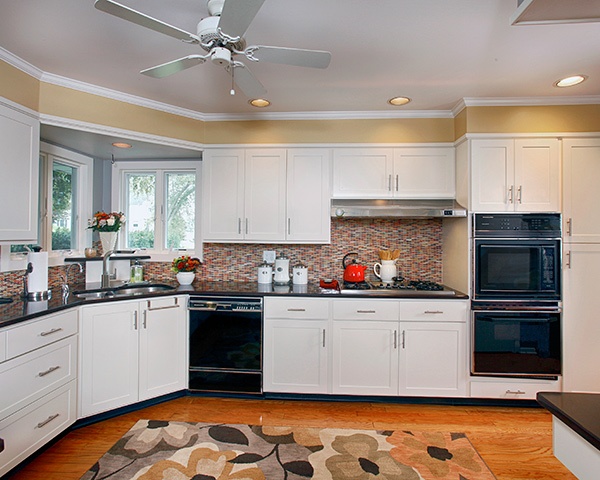 Open up a small or gallery-bound kitchen
Small kitchens are not that easy to work in if you are someone who loves to cook and bake, if you like to entertain, or if your family is one that gathers around the food prep areas, pilfering cheese as fast as you can grate it. Once you open the kitchen up to the living room, it changes everything. Now you can have a larger island with a raised bar, where everyone can be dolled out their fair-share of the cheese spoils...
Open concept kitchens that open to the family or living room areas add hundreds of square feet of visual space to your kitchen. Can you say, "light and airy?"

Enjoy those kitchen features you never had room for
That fabulous kitchen island you've had your eye on for years - now it's a reality. The ability to extend your peninsula so there's room for four instead of two? Done! The wine cabinet you've coveted but never had room for? Where would you like it to be installed now?
Once you integrate your kitchen and living room, you have room for some of those kitchen features you've wanted for years. And, those features are important. Kitchen islands, peninsulas, baker's corners - those are the upgrades that take your kitchen from bare-bones and basic, to well-rounded and luxurious.
Get that small home office or computer zone you've always wanted
If your bedrooms are full to the brim, adding a home office can seem impossible. Building an addition requires a whole 'nother level of permitting, zoning compliance and considerations. Open concept kitchens create the ideal opportunity for adding a small home message center or office.
We can build a kitchen desk or small office niche at either end of your kitchen, providing a great space for you to work in a well-lit area, close to coffee and snacks, for kids to do their homework while you prepare dinner close by, or for the family to store and charge their gadgets - keeping your countertops free of all that clutter.
Enjoy the sociability
Want to keep a better eye (and ear) on your teenagers and their friends? Are you the perpetual hosts of the family gatherings and holiday parties? When your kitchen is open to the main living area, all of this is much easier and more enjoyable.
You now get to chat and socialize with guests, rather than being tucked away in the kitchen. There is more room and flow for your guests to spread out. And, perhaps best of all, your kitchen is more accessible and comfortable for those who are willing to lend a helping hand with food prep or cleanup.
Would you like to explore the idea of integrating your kitchen and living room? Contact us for a free in-home consultation and we'll show you photos of real live kitchen designs where we've done just that!