Sure, if you could have your way, your kitchen would look just like one of those large, beautiful kitchen photos you see on Pinterest or Houzz.
But the truth is that you may not have the money, or more importantly, the space for such a grand kitchen with marble countertops and a layout the size of your whole house. The truth is that sometimes the most efficient space is a room in which you customize to make the most efficient space for you. And this doesn't always require spending a lot of money to knock down walls and change the layout of your kitchen. To help you make that small space fit your growing lifestyle, we're offering up five tricks to help make your small kitchen more efficient.
1. Use Your 'Fake' Drawers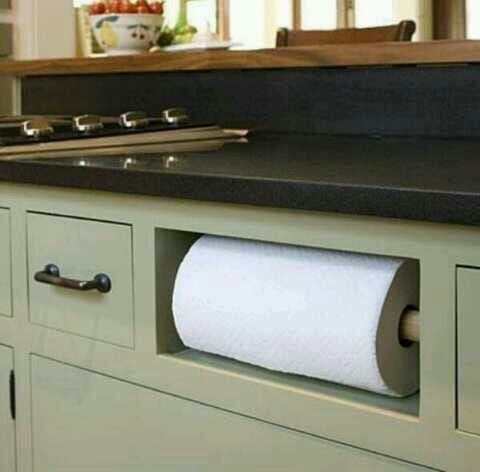 Photo from Pinterest
'Fake' drawers refer to the drawer fronts that are commonly installed underneath the sink in your kitchen, but don't actually open. With a little bit of elbow grease and some common toolbox items, you can easily open this drawer up to install Sink Front Tip Out Trays for your sponges, rubber gloves and cleaning supplies. You can also remove the 'fake' drawer front all together and install a paper towel holder in its place for a convenient place for your paper towel roll and some extra space on your countertop.
2. Make Your Cabinet Doors Organization 'Hot Spots'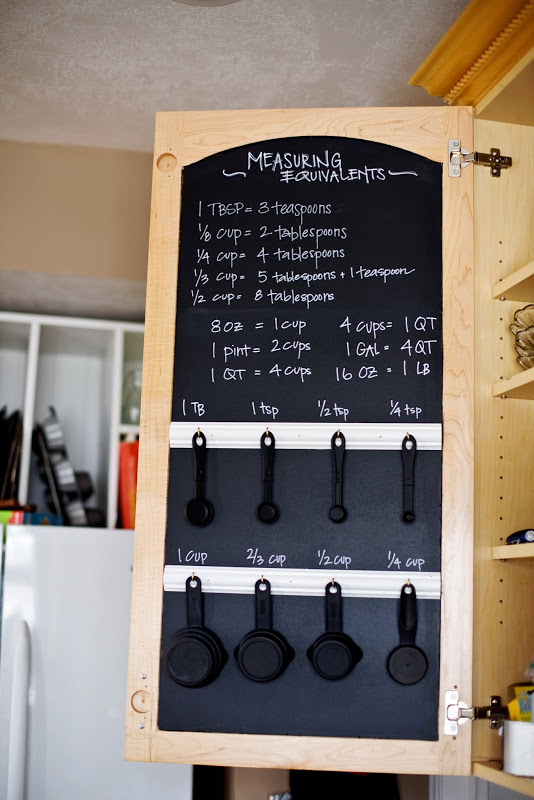 Photo from Pinterest
Often we fill out cabinets to the brim, utilizing all of the space we have on the interior of the cabinets to keep food and other kitchen items off of the countertop and in their proper places. But the interior of the cabinet doors often go unused, and these flat little surfaces are great spaces to keep grocery lists and other important items for organization. You can simply install some corkboard, magnetic strips or spray some chalkboard paint to the insides of your cabinet doors to store your measuring cups on small hooks and keep a handy list of measurements, for example.
3. Roll Out Cabinet Drawers Will Double Your Storage Space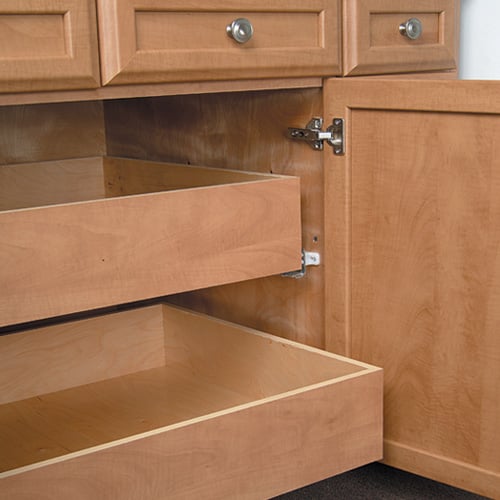 As we pile our cabinets high with food, pots and pans, it can be easy to make a mess and before you know it, much-needed storage space turns into a junk drawer. Roll out cabinet drawers will instantly double the space inside your larger lower cabinets by making the most of the open space between the bottom surface of the cabinet and the top. Now, instead of throwing all of your pots and pans into the cabinet, you have two large drawers that roll out for maximum storage capacity.
4. Lazy Suzans Maximize Corner Space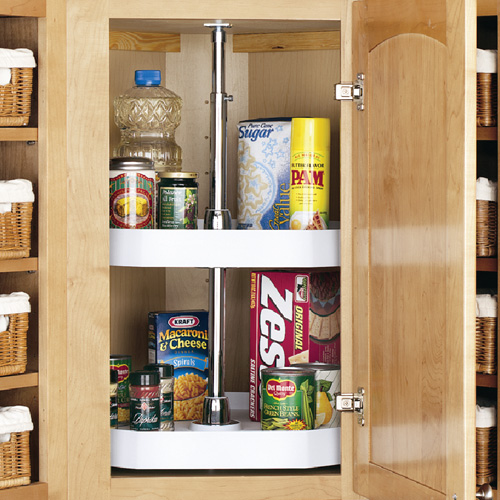 Many small kitchens have L-shaped or U-shaped layouts with loads of unused or misused corner space. Whether it's the upper corner cabinet that you throw all of your spices inside or the lower corner cabinet that gets packed full of unreachable snacks, lazy suzans are the best way to make the most of that corner space. These simple cabinet inserts can be made of wood or plastic and consist of one rod that sits in the center of two or three circular shaped shelves that go all the way around the rod, which spins so that you can easily grab anything off of the shelf. This is a small kitchen lifesaver.
5. Customize Your Shelf Space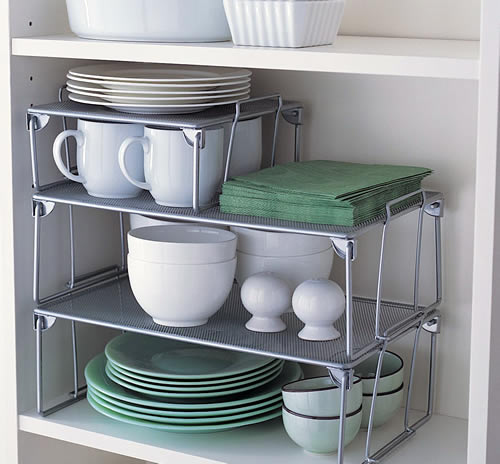 <

Photo from Pinterest

Another simple fix for small kitchens that lack adequate cabinet space is to put smaller shelves inside of your shelves. We particularly love this idea for your smaller items like mugs, bowls and small plates that never take up all of the open space in a cabinet. Inexpensive wire racks are a great solution to this all-too-common small kitchen issue. Plus, you can completely customize the inside of your cabinets to perfectly fit each and every item you have inside.