The kitchen island is almost a standard feature in contemporary kitchen designs, emphasizing kitchen island seating and comfortable bar stools. That's wonderful for the three or four people who grab those seats, but what about the rest? The kitchen table remains a tried and true classic. Family and friends gather round, pull up a seat and enjoy a meal. But even the table can sometimes leave much to be desired.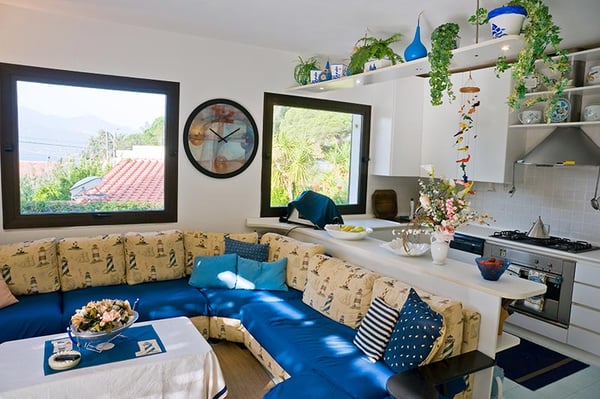 Create Lasting Memories With Banquette Seating!
Banquette or bench seating is a valuable option in the kitchen, particularly for families. Those with small children or those who love to host and entertain may find banquette seating more suitable for your lifestyle. The table is one of the kitchen's most cherished gathering spots, which makes this option attractive if comfort, community, and camaraderie are essential to the functionality in your kitchen.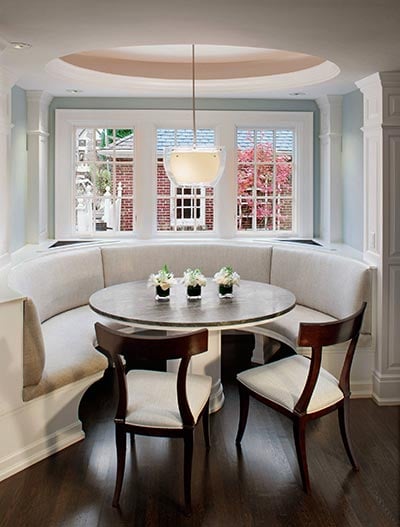 Unsure about banquette seating—try before you buy
Perhaps the largest "con" or reservation people have about banquette-style seating is the idea of permanency; what if we don't like it after all? The good news here is that you can forgo permanent installations for the time being—or forever. Instead of taking the plunge with a permanent addition, try using portable options in the form of benches, a booth, upright couches, chairs, etc. If you find you love it, great! Maybe you'll keep the arrangement you have or opt to install a more high-quality, long-lasting version.
If it turns out you don't love it, that's great too. Reclaim the standard dining set option. You'll be able to re-purpose those mobile banquette pieces to more suitable locations around your household. Your kitchen designer will work with you to find the best location, shapes and sizes to suit your footprint—and design style.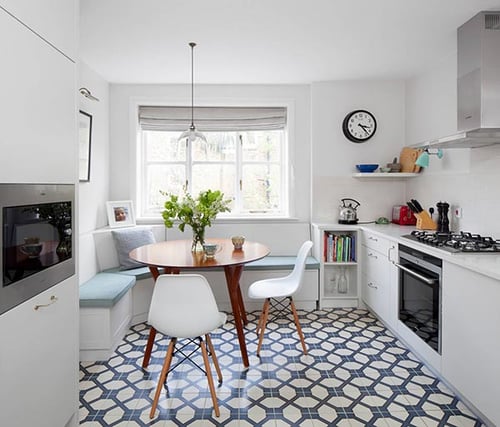 Maximize kitchen space
Your banquette area can be custom designed to any shape or size. Historically, bench seating was installed in corner areas. It's an efficient use of what easily becomes wasted space if you're not careful. It can also run adjacent to a pony wall you created to open up the layout of your kitchen to the living room.
Some people design banquette seating on the opposite side of their island, creating a comfortable place to eat, drink, craft, and do homework. It results in a graceful transition from food prep into the adjoining living or family room.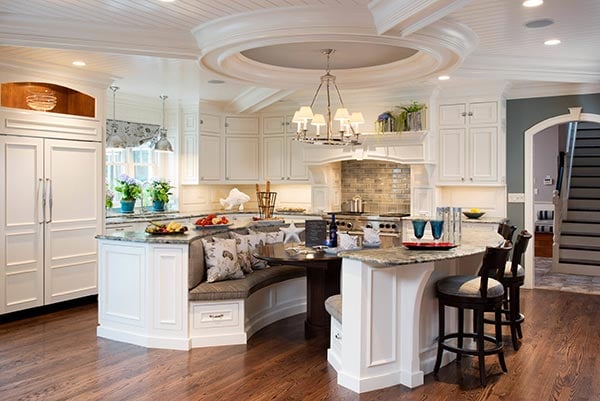 Enjoy hidden spacious kitchen storage options
Banquette seating works for both large and small kitchen designs, but the latter certainly benefits the most from all that hidden and spacious storage. Homeowners love the exponential room gained under the bench seats, which are easily accessible without the need of a stepladder or stool. These spaces are ideal for storing:
Seasonal accents and decor
Larger or lesser-used platters, serving ware and countertop appliances
The family's arts/crafts supplies
Extra cushions or pillows
Bulk pantry items or pet food
How much for that banquette seat in the window?
You could design banquette seating with any budget, so this shouldn't be a concern. With that in mind, there are additional considerations:
The size of your family. Banquette seating becomes more expensive and cumbersome if your daily meals require seating for more than six people unless you have a large space to work with.
Your future plan. If you plan to age-in-place, less permanent elements are best for an accessible kitchen, so you can easily shrink or morph that space as children leave the nest.
A Little extra. Consider extra features to optimize its role such as a coffee bar or breakfast nook, a recessed niche for plants or book/magazine storage, utilizing end-caps of benches, etc.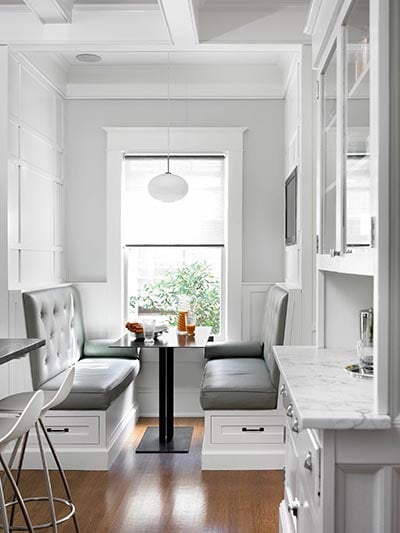 There's a banquette for every taste
If you decide banquette seating is a go, or you're willing to give it a try, we'll help you design a space that is as modern, traditional or eclectic as you are. You've got options to create a valuable and lasting addition to your home.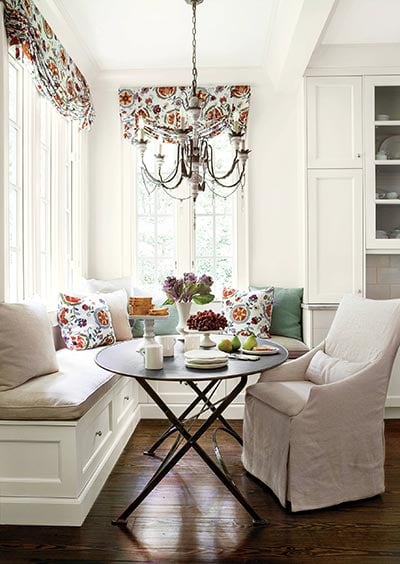 Ready to brainstorm banquette or bench style seating ideas to determine whether or not its a good idea for your kitchen? Schedule your consultation with Kitchen Magic today.
For more kitchen accent design ideas, take a look at these articles: