Your kitchen's layout can make or break its functionality. In most cases, the homeowners we work with take their current layout for granted and don't even think about altering it for their upcoming kitchen remodel. However, changing your layout can make a tremendous difference in how your family uses the space. After all, functionality will always be a top priority.
If you're planning to hire one of the best kitchen remodel contractors near you to help you with your cooking space layout, keep reading and maybe you decide what layout is suitable for your everyday needs.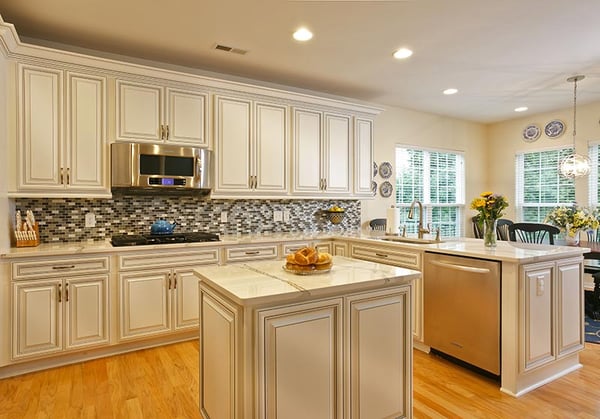 What are the 5 most popular types of kitchen layouts?
There are many things to take into account when remodeling your cooking space. Take a moment to consider how your family navigates the kitchen each day—from the moment you brew your coffee or tea in the morning until that last dish is removed from the dishwasher and put away.
Do you have a favorite place to sit and read, catch up on emails, or collaborate where your children do homework? Where do friends tend to congregate when they come over for a visit? All of these (and more!) are things that dictate the layout you choose.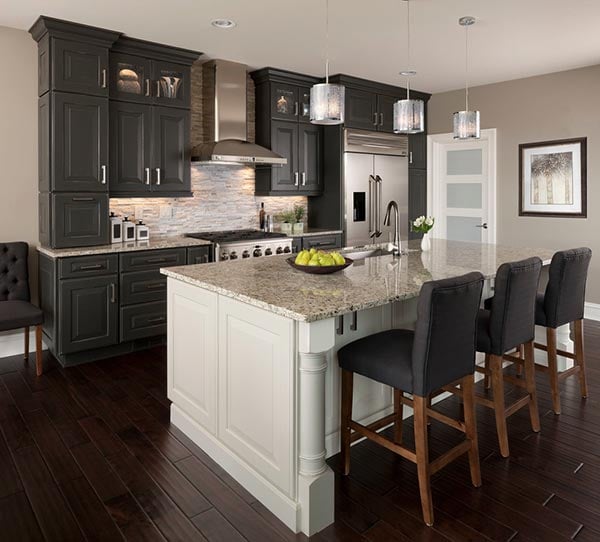 1. One-wall kitchen
This simplistic design layout will not fit every home. But it can create a stunning space if you're able to work with it. You're utilizing one wall for all your major work zones: the oven/stove, refrigerator and sink. This pairs well with an open floor plan and has an expanse of non-porous countertop space for all your prepping and cooking needs. To add additional prep space it can incorporate an island into the design but it isn't required.
If you're thinking budgets, this layout might be an inexpensive choice because it has less countertop area to cover and combine. If you've got limited square footage to work with, it makes the best use of your layout. Plus, it's got a decent workflow with everything just a few steps down the line.
On the flip side, if you're into a more extravagant kitchen—which seems to be the norm—this is not the choice for you. Because the trend leans toward a larger kitchen space, the resale value on your home may not be where you want it with this layout. It all depends on how you design it though. Take a kitchen remodel idea from the Scandinavian mindset—minimalism is in and creating a homey space to gather with guests sometimes offers more than a grand space.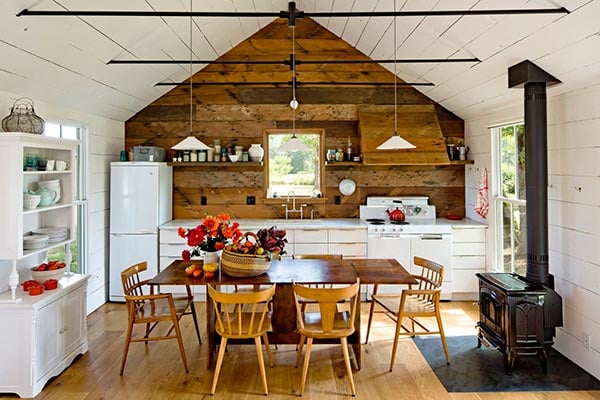 2. The U-shaped kitchen
In this floor plan, everything is right within a body twist or step from where you need it. This layout optimizes your kitchen counter space because you've got a lot of it. Storage space organization is ample and abundant relative to the size of the kitchen too. If you like some separation between other areas, then this design offers the designated space you want.
What makes this an adaptable choice is that with the addition of a well-designed and spacious kitchen island or peninsula (more on those below), you'll increase the functionality around food prep or appliance and storage space. U-shaped kitchens work well in open floor plans where the raised bar top and/or sink area are open to a dining, family, or living room.
However, this design can sometimes feel cramped depending on the overall area you have to work with. Everything will be close together so be careful to ensure you have the room to your liking.
3. The L-shaped kitchen
This layout is like the U-shape in its ability to optimize countertop space and it also leaves at least one side open to other living spaces. In most cases, the sink will be on one leg of the L and/or the stovetop/oven will be on the other.
You could also add a raised bar to either side (the side not against a wall, of course!) to provide a dining room table with extra seating or standing room. Plus, raised bars work well as buffet stations when hosting guests for at-home social events. You'll want to opt for the work zone layout rather than the work triangle due to the space you've got to work with. This is also the most island-friendly layout (more on this in a minute).
Along those lines, if you go with this option, an island is almost always a wise decision because you'll want that extra countertop and cabinet space. For that reason, it's not as budget-friendly as you may want. But an island will help cut down on the travel across the room to get to each work zone.
4. The galley (or corridor) kitchen
The galley kitchen is losing popularity due to increased interest in the open floor plan design—and we get it. This design can feel cramped and tight compared to the lavishly large kitchens out there. But there is something cozy about it. The proximity has benefits where other options might lack.
There are some homeowners who love their galley kitchens because they hide all the chaos from the masses. In this layout, your countertops and appliances run along both walls. This is an efficient option if you're planning to really maximize space with this kitchen which makes it an efficient option. If your home is suited for a galley kitchen your wallet will thank you. It's a budget-friendly option because you won't be spending as much on countertops, backsplash, or cabinetry materials.
We've been talking about how small this kitchen is but that just means you'll have to get creative with your design and make it larger. Storage space is always important and there are ways to maximize every square inch even with these compact designs.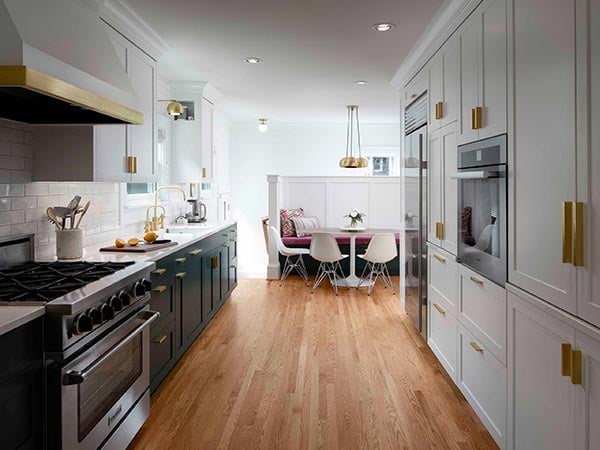 5. Island or peninsula?
While not necessarily a layout in and of itself, the welcome addition of an island or peninsula can certainly augment any kitchen design. Even a galley kitchen can include a smaller peninsula to allow a couple of extra seats or a small workstation. Either one is versatile and able to be enhanced. You could include extra storage into your design, decorative legs, shelves for your cookbook collection, a smart way to hide your trash can, or other features that make for a more attractive and useful kitchen space.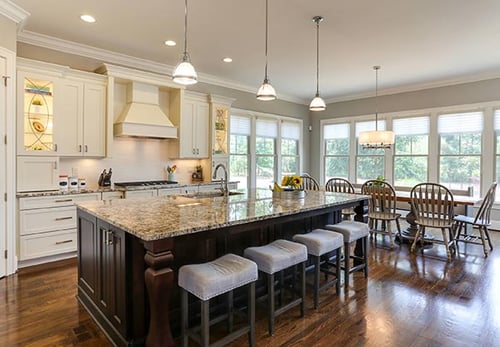 One more for the road
A bonus design layout! Here's one more layout as some food for thought. It's an extra idea to ponder as you work out the best option for you and your family.
6. Zone design kitchen
If you have the space, you can alter the traditional layouts and design your kitchen in relationship to the work zones that are most important to you. To get the most out of the design, keep the cleaning station out of the way of the cooking area so that you can have multiple people working without stepping on each other's toes.
Set up a baking area next to the ovens. If you love wines, you may want to have a special and useful wine cabinet, small wet bar, and glasses stored in their own spot. Include banquette-style seating in the kitchen for those intimate family dinners. Whatever you want to focus on, make the design as efficient as possible.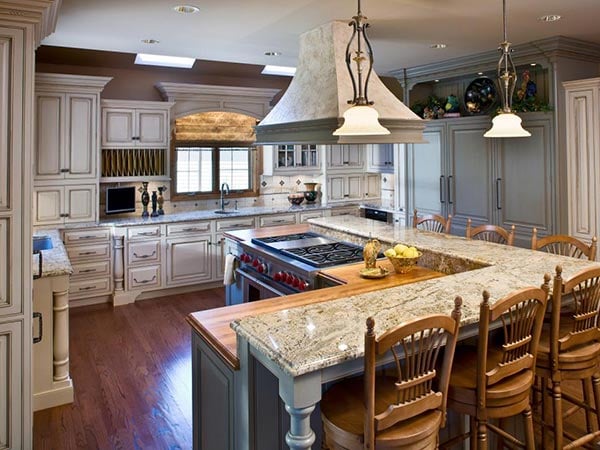 Photo by Interior Designer Drury Design
Where can I find sought-after kitchen remodeling contractors near me?
Would you like to re-think your kitchen layout? If you're indecisive about the type of layout and would like to get help or peace of advice from a group of professionals, our experts are at your disposal. We boast decades of experience and numerous successfully completed projects.
Contact Kitchen Magic to schedule a consultation and one of the best kitchen remodelers near you will come right to your home to help you re-envision the possibilities.