Are you under the assumption modern or postmodern kitchen designs are on the colder, sterile side? Then it's time we introduced you to a Scandinavian kitchen trend— also known as hygge (and pronounced "hoo-gah")—that's taking the world by storm.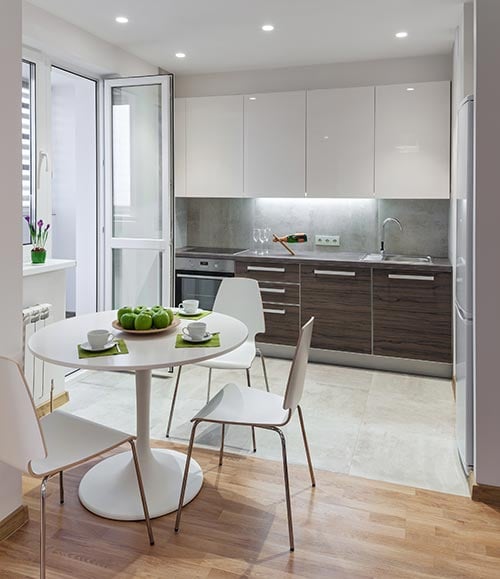 Unlike most design terms that quantify a specific look, the concept of hygge is about feeling—creating spaces that conjure simplicity, togetherness and warmth.
Hygge Kitchen Design is Minimalism at its Warmest & Most Inviting
Originating in Denmark during the 50s (the European version of the mid-century modern era), and extending to the Scandinavian countries of Norway and Sweden, hygge also incorporates ideas from Finland and Iceland. All are small countries where efficiency is prized, the temperatures are cold, and warmth is celebrated.
So, get ready to step inside a design trend that allows you to enjoy the simple things, via timeless and sustainable selections, that are inviting with cheerfully elegant accents to make you want to stay a while.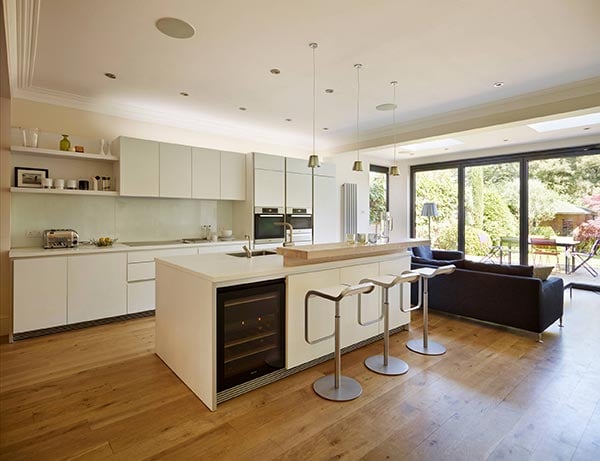 Simplicity derived from functionality
Scandinavian countries are small, and they are cold, so it makes sense that interior designs in that region originated accordingly.
Functional layouts
When a living space is on the smaller or moderate side, easy and efficient layouts and furniture lines keep the space looking neat and organized. In the kitchen, this modest efficiency also ensures the space remains functional.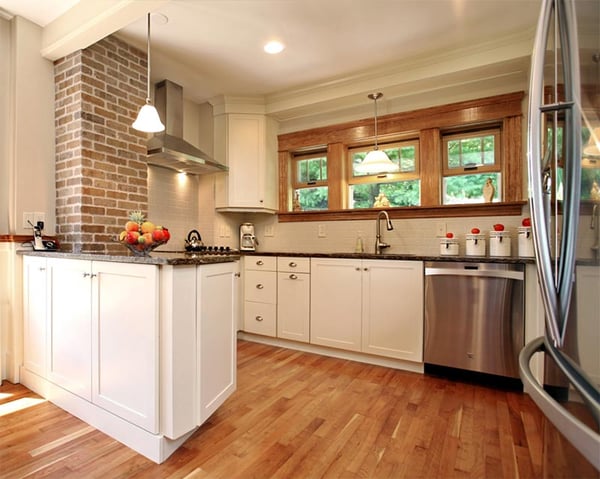 Efficient cabinets and storage spaces
If you haven't gotten it yet, you'll be prioritizing form around function to achieve that functionality element. This means using plenty of straight, clean lines in counters and cabinet spaces, minimizing the addition of ornamentation or unnecessary trim pieces.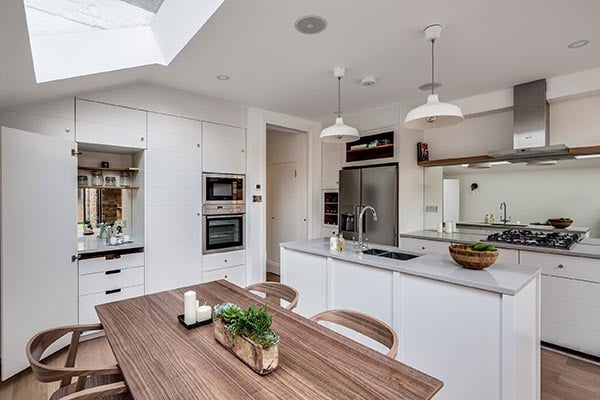 It's all accessible
Designing an accessible kitchen space means virtually every area is available for use with a minimal amount of effort (fewer reasons to access space-hogging step-stools or to get on all fours to access lower-cabinet recesses).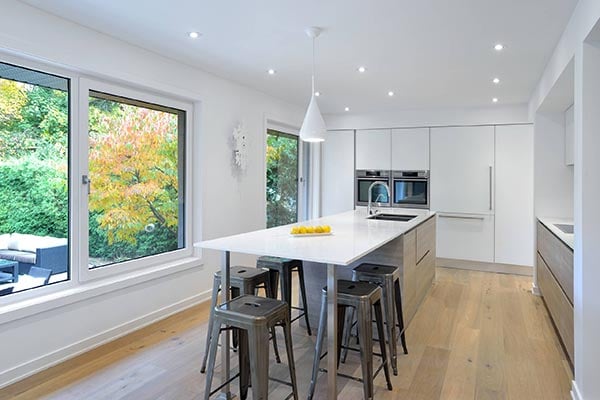 Emphasis on Natural Lighting
During the spring and summer months, Scandinavian countries are flooded with natural light—nearly 20 hours per day—winter months bring just the opposite. As a result, kitchens are intended to make room for windows, solar tubes or skylights, and barely-there window treatments to optimize natural lighting while providing privacy as needed.
Additionally, a comprehensive lighting plan is created to provide plenty of task, safety and ambient light during the darker seasons—with careful bulb selections that yield warm, natural-esque light.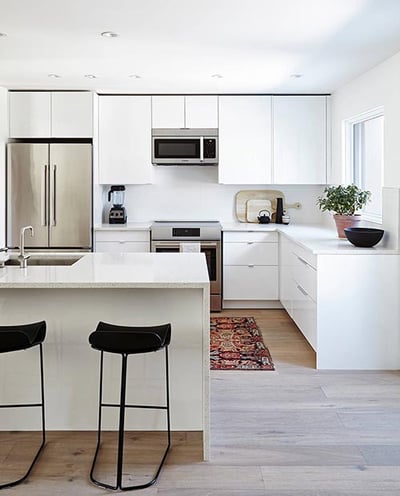 Neutral or Muted Colors Keep Things Simple
Neutral or muted colors set the backdrop for the simplicity theme in Scandinavian designs. A kitchen inspired by hygge may be white-on-white or wood-and-white, or built around a muted gray or warm beige color scheme.
Light wood flooring is common because it honors the subdued palette but also brings in the warmth of the natural wood element with a hint of grain pattern to add some textural variance (more on that next).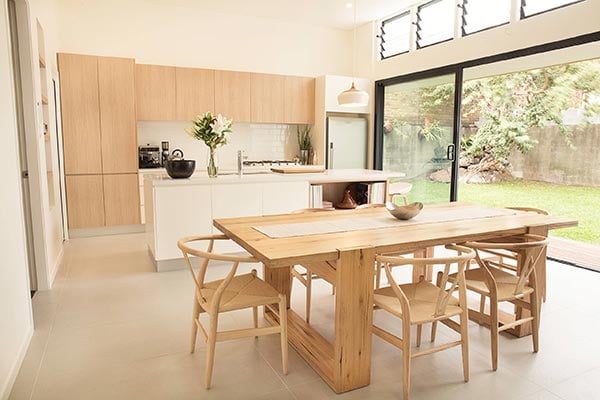 Use nature-inspired textures and accents
Texture is a huge tenet of the hygee-inspired kitchen . To avoid the previously mentioned cold or sterile feel, Scandinavian designs bring in textural elements—often nature-inspired—to add visual interest and warmth.
That's why natural wood finishes are common, as are exposed brick, stone accents or wood beams. Pops of warm or bright colors add cheer to the space via upholstery on chairs or stools, area rugs, and pillows or throw blankets in your breakfast nook.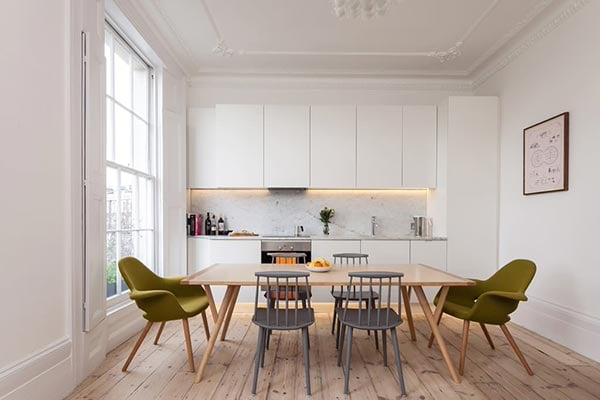 Other ways to add warm, nature-inspired or colorful accents include:
Live plants or small trees
Framed wall art with simple, understated subjects or outdoor scenes
Open shelves or glass cabinet fronts displaying colorful or patterned ceramics
A Scandinavian-inspired kitchen means you can enjoy that mid-century or ultra-contemporary kitchen design while still creating a warm and inviting atmosphere. If you're ready to build your own private sanctuary, then take the first step and contact Kitchen Magic today.