The allure of a wine cellar is compelling but, when it comes right down to it, schlepping back and forth from the basement to the dining area with bottles of wine isn't convenient. Not to mention, only the most diligent of collectors own enough wine bottles to necessitate a full-blown cellar.
For that reason, we recommend storing your favorite wines right in the kitchen. Even those who have a cellar will find this to be a convenient option. You've got choices whether it be for everyday wine consumption, or to load up the coffers before that dinner party or social gathering.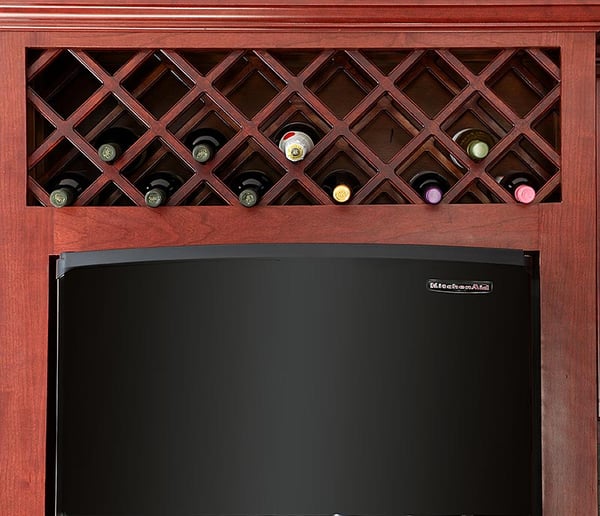 Wine Storage in the Kitchen: What are my Options?
The contemporary kitchen is designed with socializing in mind. Therefore, design features like sweeping countertops, kitchen islands with raised bar areas and eat-in kitchen areas are popular. Adding wine storage in the kitchen is one more way to round out what has become the "social central" of many homes.
There are several options for adding wine storage to your kitchen space. Here are a few ideas and examples to inspire your upcoming kitchen design.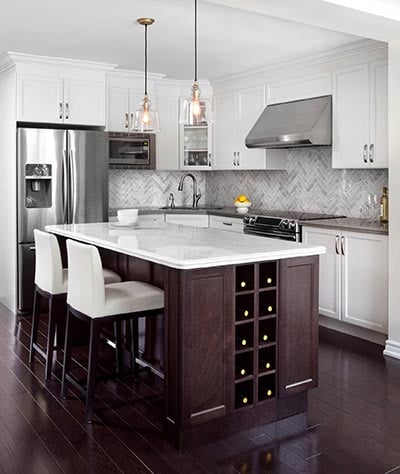 Custom built kitchen wine racks
Consider leaving a little space between drawers as a deliberate part of your kitchen layout. This allows room to build custom wine racks and shelving.
Maximize kitchen island and cabinet storage spots
In the above kitchen layout, 10 wine bottles were added to the side of the island by creating built-in shelving space. A functional island gives you the most bang for your buck. Maximize the space in your design by utilizing every last inch!
In the below kitchen the design incorporates two different options for storing wine. With a little extra cabinet space, the shelving holds room temperature bottles. Conveniently positioned right next to it is a built in wine refrigerator (more on these later)—for all those bottles that taste better served at a temperature-specific range.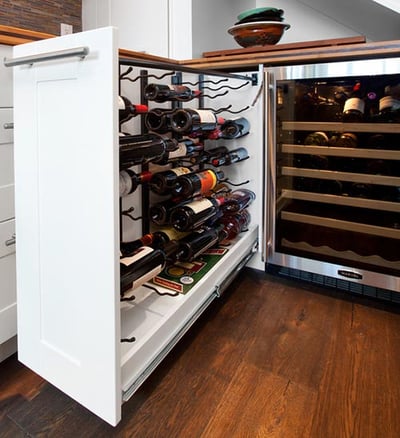 Dedicated wine storage
Custom wine racks can be built onto a wall—or adjacent to your upper cabinets. These are attractive and especially desirable when housing your favorite vintage bottles. You could design a smaller custom wine rack that holds six bottles, or build a larger rack that holds 20 or more. The geometric diamond pattern keeps each bottle safe and secure in its own little cubby. Whatever you choose, we'll work to integrate the wine storage into your kitchen design.
Concealed and integrated wine storage
If you don't like your kitchen's sight lines interrupted by wine storage, you could also integrate them into pull-out drawers. With a tilted wine rack, you store them at the proper angle and keep them out of sight until you're ready to toast a delicious meal. A toe kick drawer is another potential wine storage area. It's the perfect resting spot, out of sight and untouched until ready.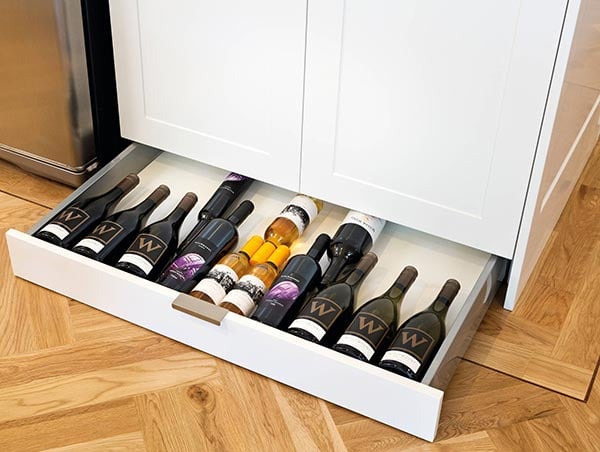 A temperature controlled wine cabinet
Finally, we have the crème de la crème of kitchen wine storage: a temperature-controlled wine cabinet. Often referred to as wine coolers, built-in wine cellars or wine caves, they resemble an upscale fridge with a glass door. These can be designed as big or small as you want.
Depending on your preferences, they are divided into compartments to store different varietals at their ideal serving temperatures. In addition to ensuring your wine pours taste perfect every time, storing them at their recommended temperatures will help to preserve them longer.
If you've got an island in your design, a wine refrigerator might fit perfectly into that space. You won't have to go far to enjoy a fresh bottle. Don't miss out on the conversation when you're entertaining guests. Simply open the door and refill your glasses.
Do you have your own brilliant ideas for kitchen wine storage? We'd love to hear them and make your designs a reality in your kitchen. You'll love the convenience of sitting down for dinner with the perfect bottle of wine, pulled right from it's stylish wine-designated shelf. Contact us at Kitchen Magic and we'll start sketching!