Storage space is always a hot commodity in the kitchen. Whether you're at the beginning stages of a renovation design or simply wondering about ways to free up space, you'll want to consider pull-out racks and organizers because they can transform your kitchen into the functional and efficient room you need.

These items can be custom built by a professional cabinetmaker to match existing cabinetry and fit almost any kitchen area including corners and narrow spots around appliances. You'll be able to find items or peruse with ease when you've got a pull-out.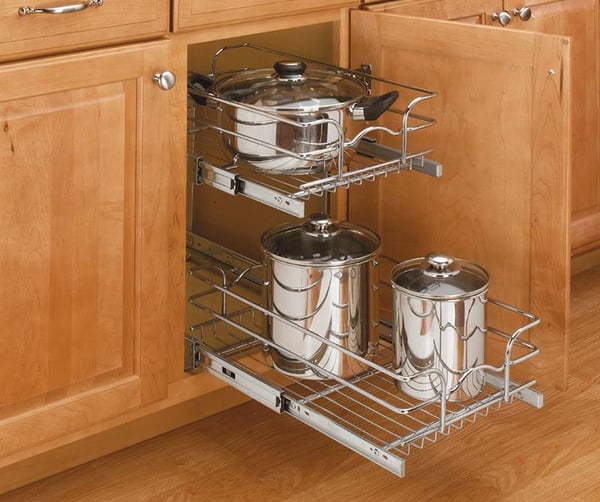 What are the most popular ways pull-out racks are used to help save space?
Keeping your cabinets and pantries organized gets you the most use out of the space—sometimes this is easier said than done when you've got months' worth of canned goods and other food items stored there (check out our spring-cleaning blog for tips on keeping your pantry in check).
When it comes to the kitchen, you shouldn't stress about finding something in the cabinet or creating room to put everything. Make life easier with storage solutions—everything has its place with a pull-out. Below are some of the ways these organizers will help make your kitchen the most efficient it can be.
Pull-outs for cookware and dinnerware
Organize, organize, organize! Plastic containers, utensils and cookware are everyday items in the kitchen. But sometimes we don't store them in the most efficient manner.
Roll-out drawers
Tired of having to hunch down or kneel on hard floors? Roll-out drawers are a popular design choice in kitchens today. Instead of deep base cabinets underneath the countertop, a roll-out drawer makes it easier to find exactly what you're looking for without all the hassle. Deep drawers are perfect for your big pots and pans, instead of having to reach in, pull out the drawer and find what you need in no time at all.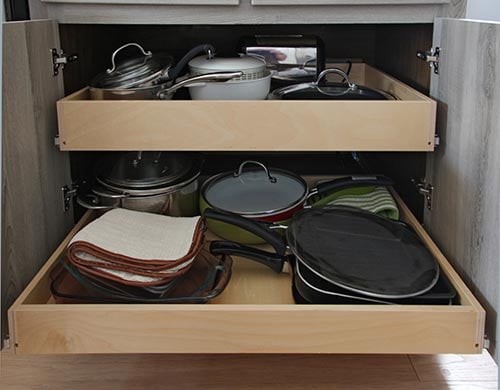 Blind corner optimizer
If you opt to keep the standard base cabinet underneath the countertops then you'll want to add a blind corner organizer. For those hard to reach places where cabinets intersect, the blind organizer is a roll-out that will bring all the contents to you. No need to crawl halfway inside and exert yourself just for that one bowl or pot.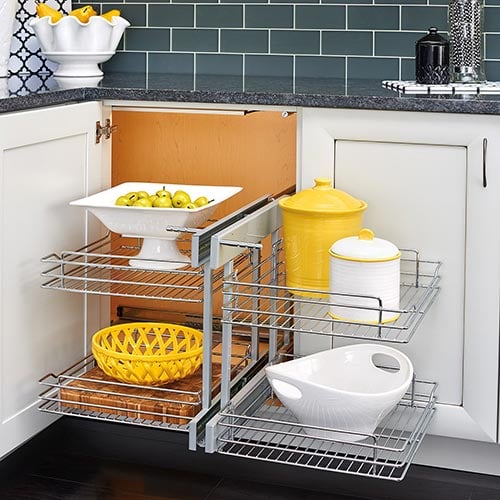 Food storage container organizers
We all like to keep a stock of Tupperware and plastic storage containers in the kitchen. You never know when you'll need to send leftovers home with someone! The only problem—finding the matching lid! The food storage organizer can help with that. This customized item keeps everything in its place all nice and neat. Just pull open the drawer and you'll be able to find all the matching containers and lids in their designated spots.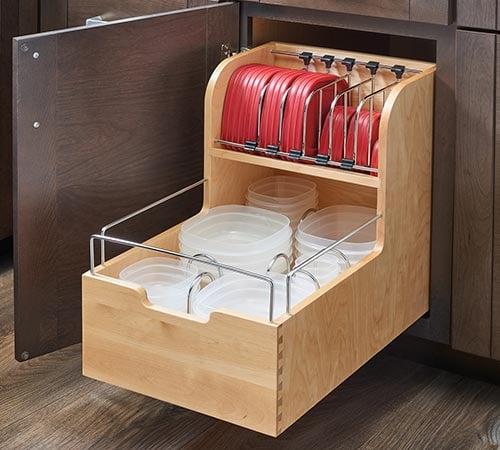 Utensil bin base organizers
Clear out the clutter on the counter or find the perfect place for over-sized utensils like spatulas, tongs, or stirring spoons by adding a roll-out utensil organizer. This is a thin, customized storage drawer that pulls out to effectively display your tools. It can be incorporated into a small space but makes efficient use of every inch of your cabinets. The pull-out drawer has shelves that can be modified with metal bins to keep track of all your handy items for when you need them.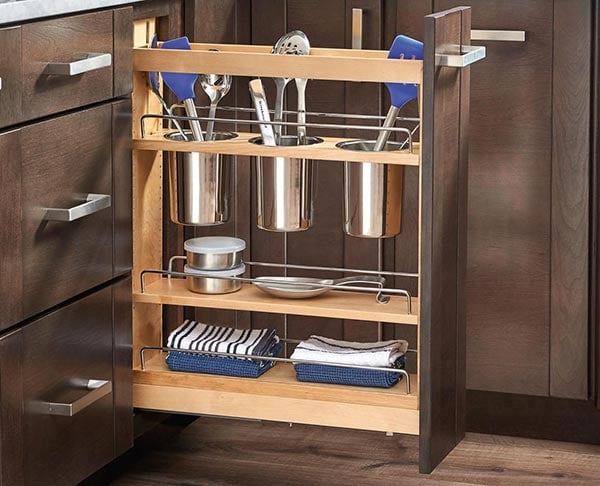 Spices and Oils
Spices and oils are essential for cooking tasty meals. On one hand, you want to keep a variety of spices available because every cook wants room to experiment. On the other hand, how do you store all these items? If you're putting them into a deep cabinet, when you want the right spice at the right time it's sometimes difficult to find exactly what you're looking for—maybe you've pulled out paprika instead of cinnamon!
Base cabinet fillers
Many people store spices and oils inside cabinets or on the countertops. A pull-out spice rack near a stove top brings oft-used cooking seasonings close at-hand while freeing up your cabinet boxes for other items. This is like the utensil organizer, it's a thin, tall rack that pulls out to display all the spices so that you can easily find what you're looking for.
If you're yearning to reduce the amount of cabinetry in your kitchen, the installation of a pull-out rack, or custom narrow racks—like this one—on either side of your stove can make a larger section of cabinetry unnecessary.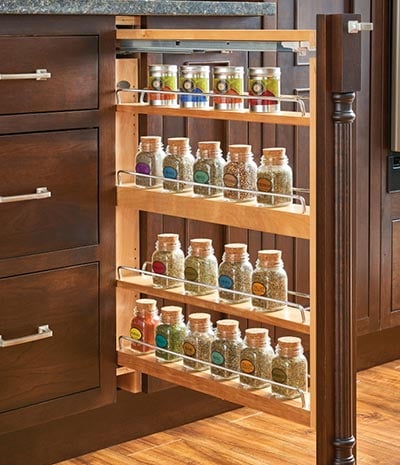 Pantry Items
A pantry offers storage solutions, it's like the crème de la crème in the kitchen storage world. It's a special area—whether walk-in style or built-ins— for all your storage needs. But a pantry can get out of hand quickly if you don't find a way to keep it organized, that's where base cabinet organizers come into play.
Base cabinet organizers
Pull out racks are the perfect storage solution for boxed, canned and bagged pantry items. Gone are the days when you need a standalone pantry taking up space better suited for an island or a breakfast nook. Gone also is the need to push items around on shelves in search of specific foodstuff. Instead, a floor-to-ceiling pull out rack with open, easy-access shelving can be custom-fitted into an existing cabinet space—we're telling you, the roll-outs make life easier. Bring everything to you with a pull of the handle.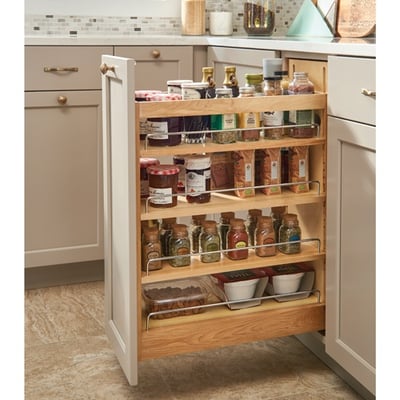 Trash & Recycling
Concealing appliances or anything in the kitchen is a popular design choice. Concealing the trash or recycling specifically has its benefits—those unsightly bins are hidden, and the smell can be somewhat contained. It can also create efficiencies in your space.
Pull-out trash bins
One of the best ways that pull-out racks help you save space is by moving trash and recycling bins out of the open and into a lower cabinet. With a double pull out trash bin rack, you can quickly separate the trash from the recycling. You can also dispose of waste while standing at a workstation instead of running across the kitchen hoping you don't drip every step of the way. When you're done, just push that drawer closed and walk away. It's simple and fashionable.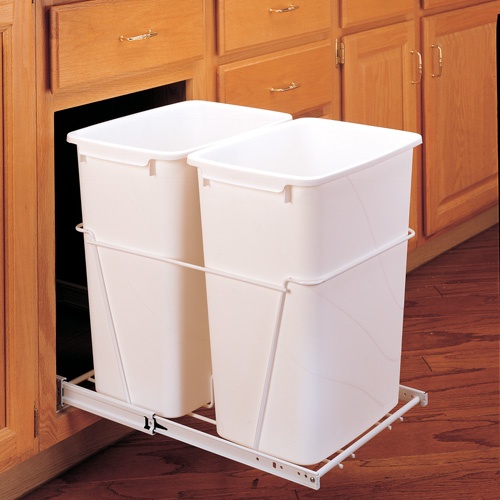 Pull-out organizers really do help save space in your kitchen! With these efficient storage solutions, you'll make enhancements to your daily life and to the value of your home. If you know what you'd like to include or you'd like to discuss with a design consultant, contact a Kitchen Magic specialist today to help you make the right pull-out rack selections to fit your space-saving needs.