So you've selected your cabinet door style(s), and your finish and/or stain is nailed down. Aaaaaah. Now, you can sit back, relax and...wait! Don't put your feet up just yet. You still have very important decisions to make about cabinet hardware.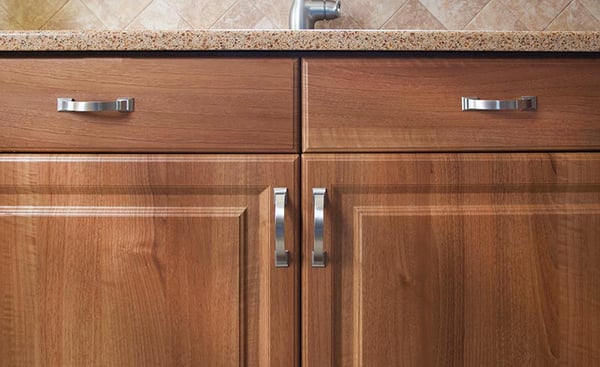 While there are plenty of kitchens designed without them, we don't recommend skipping these important design features. Not only do they significantly reduce cabinet wear-and-tear in terms of finger smudges and general grime that accumulates when bare hands touch cabinet door surface every day, knobs and pulls are major style pieces.
Don't settle into the idea that "you'll get to those later." We can tell you, you probably won't. Much better to just make one last decision and let the cabinet installers do all the work for you.
The Top Kitchen Cabinet Hardware Choices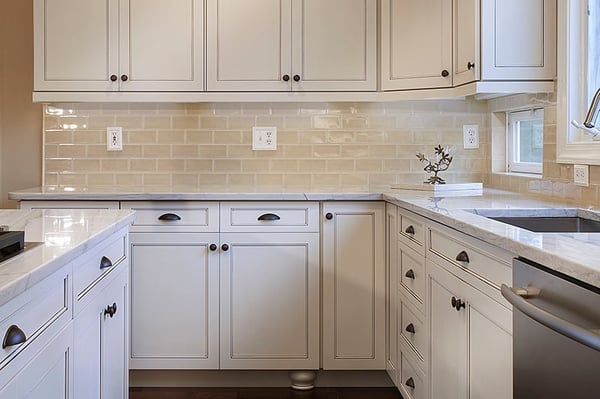 On that note, here is a thorough list of our most popular knobs and pulls, counting down to the number one hardware style—freshly updated for 2018! The full collection can be viewed on our Knobs & Pulls page.
16. Satin Nickel Knob (53005-G10)
This is the satin nickel version of the stainless, "quintessential knob" in #13, with just a hint more style at the knob's base.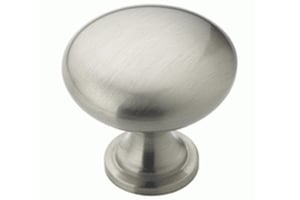 15. Stainless Steel Knob (19008-SS)
Think "quintessential knob" and you're probably picturing this . If you simply can't decide on which to choose, this knob will never do you wrong.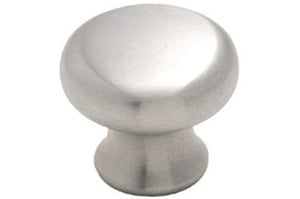 14. Essential'Z Satin Nickel Cup Pull (9365-G10)
Also called "cup pulls," this style of pull works best in modern kitchens or traditional kitchens focusing on retro-motifs.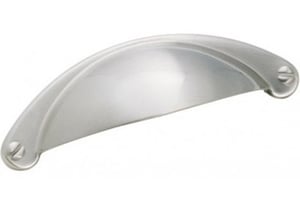 13. Weathered Nickel Scroll Pull (53470-WN)
Weathered nickel is a meet-in-the-middle for clients who aren't into that perfectly polished look of satin nickel or stainless, but don't want to go as dark as oil rubbed bronze finishes either.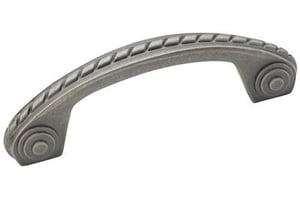 12. Oil Rubbed Bronze Ring Knob (1586-ORB)
This mildly-decorated knob is best-suited for transitional or traditional kitchens, although circular accents will complement a modern kitchen utilizing patterns with dots or circles.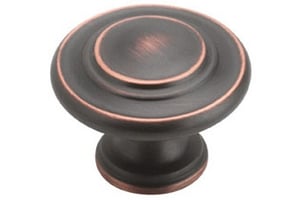 11. Inspirations Oil Rubbed Bronze Pull (1590-ORB)
A perfect pull for a contemporary, traditional design motif. Sound like an oxymoron to you? Read, Contemporary vs Modern vs Transitional Kitchen Design to learn more.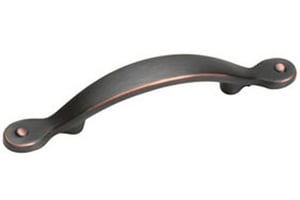 10. Inspirations Satin Nickel Ring Knob (1586-G10)
Similar to #12 Oil Rubbed Bronze Knob, the slightly raised pattern is a contemporary take on traditional style.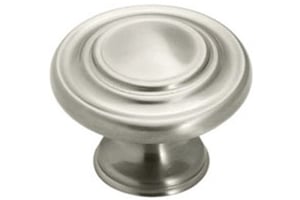 9. Inspirations Satin Nickel Pull (1590-G10)
This pull is quite the versatile option. It's sleek enough to satisfy modernist designers but the subtly curved arch complements both transitional and traditional kitchen designs.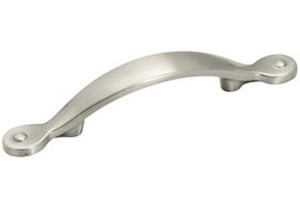 8. Revitalize Satin Nickel Knob (55342-G10)
A slightly accented twist on the basic cabinet knob, and another very versatile selection that will work with any kitchen design style.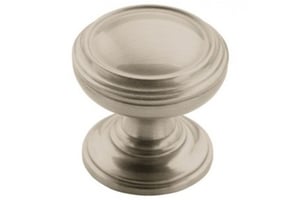 7. Alison Satin Nickel Pull (53003-G10)
This one's for those who appreciate simplicity. Also, keep in mind that pulls are recommended in accessible, also called livable kitchen designs, because they're easier to grasp than knobs.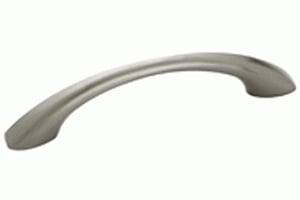 6. Conrad Bridge Satin Nickel Pull (29202-G10)
No surprise here—This pull's modern look works great in modern kitchens but is also a smart choice for transitional designs, helping traditional raised panel doors look more contemporary.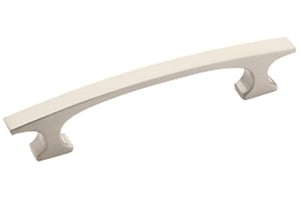 5. Oil Rubbed Bronze Scroll Pull (53470-ORB)
At first glance, this is a traditional pull. However, installed on Shaker style cabinetry, in a modern kitchen, and you've just added retro-flair with a geometric pattern.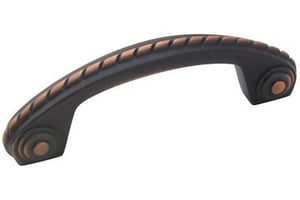 4. Oil Rubbed Bronze Rope Knob (53471-ORB)
This would be fine paired with #5 Oil Rubbed Bronze Scroll Pull above, or intersperse it with simpler pulls to add a little extra pizzazz.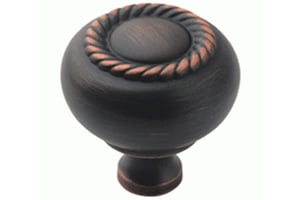 3. Candler Satin Nickel Pull (29349-G10)
Subtle yet stylish, this pull is ultra-versatile and can work in any design style—spanning from contemporary to traditional kitchens.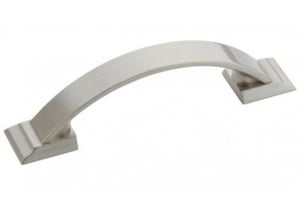 2. Candler Satin Nickel Rectangular Knob (29340-G10)
This knob is the partner of #3 Candler Satin Nickel Pull, and they make a lovely duo. Pair them to add dimension to your kitchen's design using the knobs on cabinet doors, and pulls on drawers.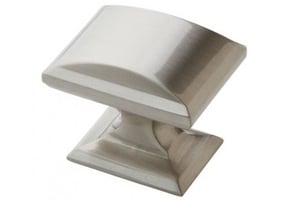 1. Stainless Steel Bar Pull (19010-SS)
Our most popular cabinet hardware is this sleek pull that benefits modern kitchens. It may be minimalist, but it's big on style, featuring round shapes that work to counteract all those stark 90-degree angles.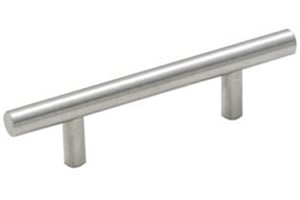 There it is, our top 16 knobs and pulls. We were surprised there weren't any on-trend satin brass options on the list. While we've seen an up-tick in brushed and satin brass hardware's popularity, these tried-and-true stainless steel, satin nickel, and oil rubbed bronze knobs and pulls are still leading of the pack. It just goes to show that not everyone is a trend-follower. Choose your kitchen design details based on your tastes, because the trends will always change anyway!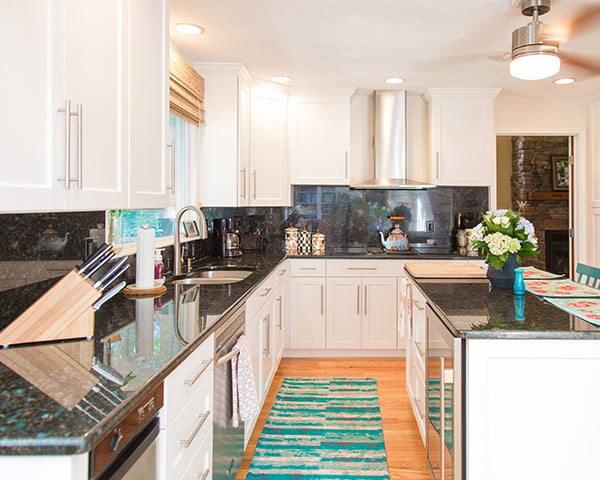 Schedule a free in-home design consultation with Kitchen Magic for more personal guidance in selecting the best knobs and pulls for your kitchen design and lifestyle. We'll make it easy for you to find the perfect cabinet hardware.
Want more kitchen cabinet hardware inspiration? Check out these relevant blog articles: