Do you ever think about how much time we spend in the kitchen? It's no surprise when the kitchen is where we prepare meals, store food, cookware and more. But, the kitchen also takes center stage as a gathering place and a general hub of daily activities. So, if you're thinking about remodeling and looking for ways to get more organized in the process, we gathered some practical kitchen storage solution ideas to help inspire a more functional and efficient kitchen of your dreams.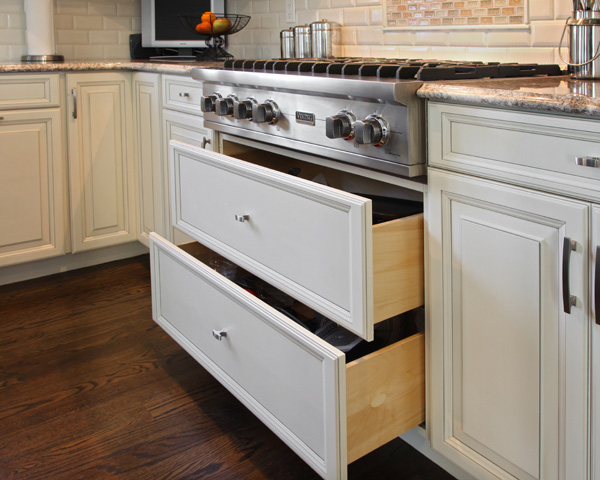 Custom Kitchen Storage Options Are Becoming More Popular

KITCHEN PHOTO CREDIT: PhotoSynthesis Photography, 2019
Getting more organized in your kitchen is more than just putting items away in specific drawers or cabinets. Homeowners need affordable, modern solutions that help reduce health risks, improve food preparation and create more cooking and cleaning efficiencies. In fact, Better Homes & Gardens reports that creative storage solutions will be very popular add-ons in kitchen design in 2020, with an astonishing 78% of homeowners renovating their kitchens planning to include specialty storage in their new cabinetry.
Pull-Out Storage Solutions
Why bend, dig or hunch down to access your cabinet space, when an organizer can put all of the contents on display with just the pull of a knob or handle? Pull-out storage, also referred to as roll-out cabinet storage, is a great way to keep everything you need in the kitchen right at your fingertips. These storage solutions are assembled with a wheel-track system, allowing homeowners to quickly and easily access items including:
General pantry items
Kitchen utensils
Storage containers and lids
Pots and pans
And so much more!

Kitchen Cabinet and Drawer Organizers

Pull-out storage isn't the only option for getting more organized in the kitchen. Other smart accessories homeowners should consider include cabinet and drawer organizers, such as:
The Lazy Susan. A favorite among homeowners,

the lazy susan is a versatile and practical kitchen cabinet accessory that can tuck in or pull out of hard to reach spaces

.

Tray Dividers. If you have ever struggled with storing large or awkward items like glass pans and circular pizza trays, tray dividers may be the solution for you. They give everything a place to help keep you and your kitchen organized.
Kitchen Drawer Inserts. These kitchen cabinet accessories serve specific purposes, such as organizing cutlery, spice jars or even K-cups for any coffee lovers out there. If you want it organized, drawer inserts can help.
Imagine clutter-free countertops, being able to open drawers with ease and the peace of mind you'll gain knowing that everything you need is exactly where it should be. If you're ready to make the move to a more organized and functional space, or want to discuss your options with one of our experts, schedule a free design consultation with Kitchen Magic today!