The good news? Cabinet refacing is affordable, sustainable and will yield the look of custom cabinets for a fraction of the price. The less-good news is that some cabinets simply can't be refaced. There are certain scenarios in which replacing your cabinets with custom or semi-custom options is the best solution for your kitchen remodel.
Reface or Replace: When to Call It Quits with Your Kitchen Cabinets
To be sure if your cabinets can be refaced, it's best to schedule an in-home design consultation with Kitchen Magic—or whoever your local cabinet experts are, if you're not in the Northeast that is. Your consultant will be able to confirm one way or the other. But, in the meantime, here are some of the criteria that make refacing a no-go:
1. Your cabinets are cheap
If you moved into a home with ultra-cheap, low-grade cabinets (as in, the entire cabinet structure is made of particle board and/or other cheap materials) refacing isn't usually an option. It's true that the Kitchen Magic way is to reinforce existing cabinet frames using a proprietary double-lamination process, but we still need good bones to work with. If we the bulk of your cabinet skeleton and interior structures are that cheap, compressed particle board stuff, we'll say ix-nay on the abinet-cay efacing-ray.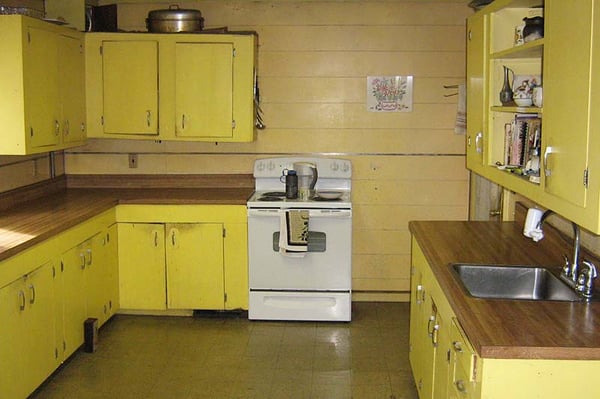 2. Your cabinet structure is beyond repair
Sometimes, we take a look at the first cabinet and say, "Wow! Nice quality stuff here, this is perfect for...." and then we stop mid-sentence because when we open the second cabinet we observe a frame that is rotted, water damaged or covered with mold. Maybe it's been chewed by a puppy or wood-hungry pests. There could be serious swelling or the wood is simply falling apart. Whatever the reason, if your structure is damaged beyond repair, we won't be able to reface the cabinetry. HOWEVER, please let us be the final judges. We may be able to reface some and replace some, which still lowers your final costs.
3. You're completely changing the kitchen layout
The cabinet refacing process is designed for kitchens that will retain the same configuration—more or less. If you are going to completely change your layout, or are moving your kitchen to an entirely different room in the house, we'll design new cabinets for you. You can only reface the cabinet boxes that remain in place, if the wall they are mounted to isn't staying, new cabinets will have to be installed elsewhere to replace them. In many cases, owners do partial layout changes, which means we reface the cabinets staying put and design new ones for the kitchen island or peninsula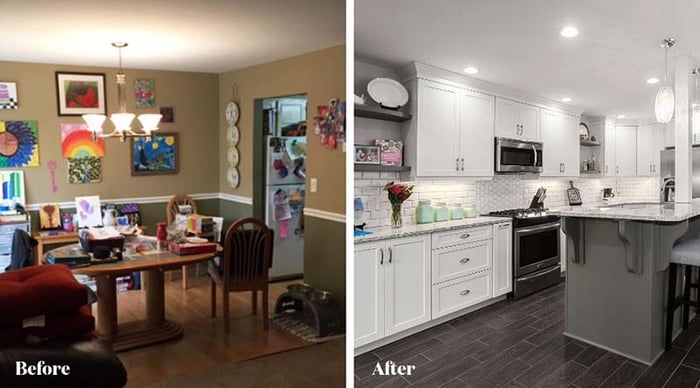 4. The cabinetry is made of metal
There was a time when metal cabinets and frames were popular, and we can't blame people for getting behind durable products. Unfortunately, those durable products are much harder to work with when it comes to cabinet refacing. We'll see what we think, but odds are we'll recommend new cabinets in this case. And that reminds us, if you like the look of metal cabinets but don't necessarily want the metal, ask us about our cabinet doors that look just like stainless steel!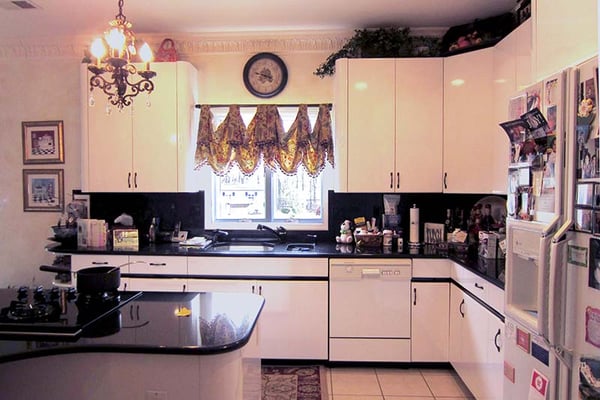 5. Pee-Yew! What's that smell
Never mind, we don't want to know. Some cabinets just smell funky, musty, or downright bad. Hey, it's a kitchen—it happens... and we never judge. While we can reinforce the frames, we simply can't eliminate the funk, so you might just want to start from scratch with fresh materials. 'Nuff said.
But... Don't Be Hasty To Rule Out Refacing
Then there are the cases where homeowners think they need new cabinets when they really don't. Your cabinetry makes up 80% of the visual space in your kitchen, so by choosing top-quality refacing and refitting for your cabinetry—you get the impact of a full remodel with less stress, in less time, at an amazing value.
Here are examples of scenarios that cabinet refacing is perfect for:
You hate your cabinet door style

—

cabinet refacing fixes that, using new doors, hinges, pulls and knobs.
You're ready for a different color/finish—new doors mean any color you want.
Your drawer boxes are off-track or falling apart—we can fix/replace that.
You want better organization—From converting cabinets to drawers, to lazy Susans and pull-out pantries... all that can be changed and enhanced via refacing too!
You want additional matching cabinetry—as long as you work with us for both your custom and refaced cabinets, we'll make sure everything is as you wish.
You want your cabinets to be taller—yep, we can do that too.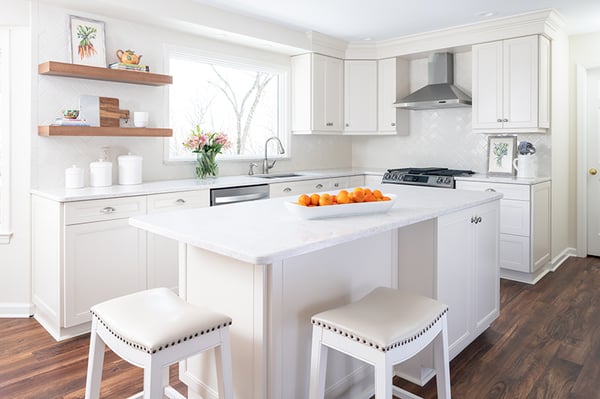 Schedule an in-home design consultation with Kitchen Magic to get expert advice on whether refacing or replacing your cabinets is best for you.