A few centuries ago, a kitchen included only cabinets and shelving. Then came the addition of drawers. Game changer! This is the ideal storage invention. You don't have to reach in, simply bring the contents out to you. And as we age, custom drawer concepts could make all the difference in our independence.
How can we make storing kitchen items in a box on tracks even more revolutionary? Well, let us 'roll out' some ingenious new trends that will 'draw you closer' to that trendy and uber-functional new kitchen remodel you've been dreaming about.
Drawing Conclusions About Drawers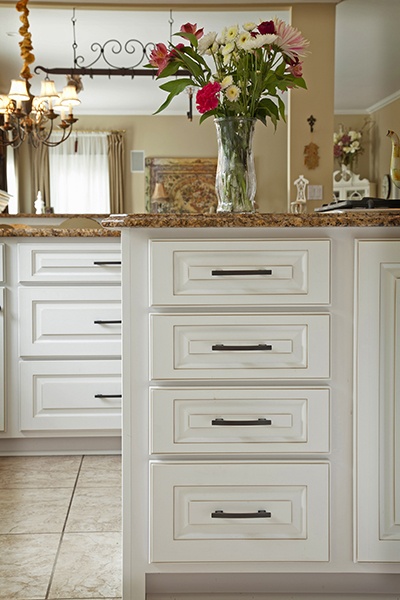 Pot, dish & cup drawers
Thousands of homeowners switch out the pot cabinet for pot drawers when they remodel their kitchens. After decades of crawling into the cabinet to seek out that matching lid, it's now a must-have! You'll never regret a dish or cup drawer either— it's so much easier than digging in an overhead cupboard awaiting a coffee mug to topple down onto your head. Make sure your cup drawer is deep enough for your tallest mugs, about 7 or 8 inches, storing them upside down to protect their rims. Dishes and Cups have a habit of multiplying, so estimate how many you really need and donate or store the rest for emergencies.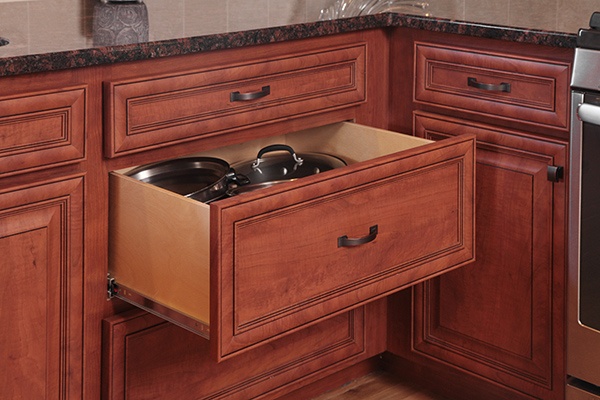 Staying sharp
Your knives, like the fine instruments that they are, can be a pretty big investment. Never put them loose in a drawer with miscellaneous kitchen equipment. With customized knife inserts, cut fingers and dull blades are now a thing of the past. Slotted wood blocks that house each and every blade, vertically or horizontally, will help maintain their razor-sharp edge.
If you're into organization, utensil drawer dividers keep everything in their place. Purchase another kitchen gadget? So did we. With so many unique gadgets streaming into the market, dividers and two-tiered inserts will bring your drawer storage capacity to the next level.
Applying to appliances
It's not your grandmother's kitchen anymore. When all that stainless steel in your new kitchen is getting to you, start concealing. The appliance drawer is here and it's fabulous. Dishwasher, microwave, wine fridge and more. Customized appliance drawers disguise your appliances, bringing that glare down a notch. Instead of stainless, black or white, integrate a appliance drawer in the same color and style as your kitchen cabinetry for a more sophisticated motif.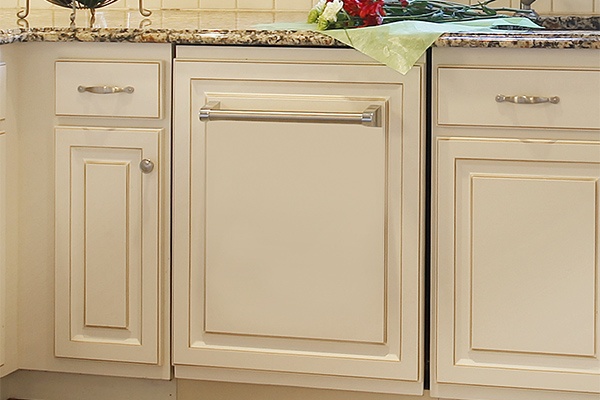 Kicking around ideas for toe-kicks
The under-utilized toe kick proves to be ideal for storage. Particularly for the baker of the house. When cookie sheets, muffin tins and other flat bakeware are mounting, get creative with storage. The toe-kick drawer, usually 6" in height, is an idyllic place to stow these items—as opposed to standing them on their sides against the cabinet walls. Push to open feature, makes them invisible, seamlessly blending in with your kitchen cabinetry.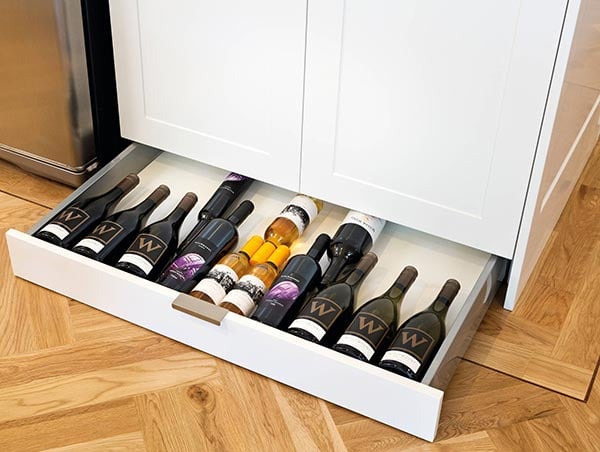 A slow, easy close
For all of these ideas we've drawn up, don't forget to include the Blumotion®, slow-close feature. To keep fragile items safe, along with little fingers. The Blumotion® feature, stops the drawer about 2 inches before it shuts, then slowly and quietly brings it to a close. This gentle-close feature will even lengthen the life of a drawer and its tracks.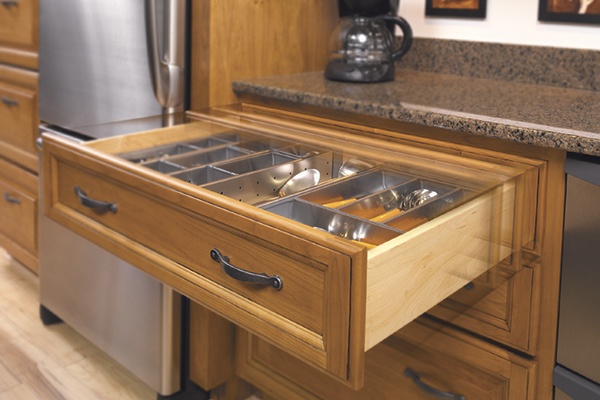 Even the not-so-glamorous 'junk drawer' can be put into order. Don't be embarrassed, every household has one, sometimes two. You may want to revamp that drawer, as well. But then you'd have to rename it. Happy remodeling!