Crown molding, originally developed to embellish an architectural structure, has been around since the Greek and Romans times. These hand-carved adornments add visual excitement to any internal or external structure. A few short decades ago, you would have found crown molding only in higher priced homes. Nowadays, with the technology of mass production of these finishing pieces, we see crowning ornamental details in modest and pricey homes alike.
Crown Molding Inherently Defines Your Kitchen Style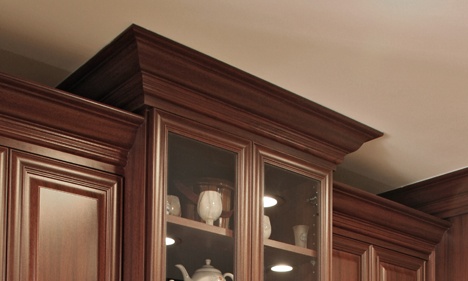 Used to enhance buildings, bookshelves, furniture, columns, niches, cabinetry or to simply adorn where the ceiling meets the wall—this versatile architectural detail's sole purpose is to add decorative appeal. Fashioned atop kitchen cabinetry, the profile of the molding projects up and out to punctuate the transition and embellish the final look of the kitchen. Narrowing it down to the most popular, (mostly for their staying-power) we outlined the inherent details of four styles of crown molding used to enhance kitchen cabinetry today.
Classic Ogee
Crown molding with an ogee edge complements any style kitchen, adding a modest finished edge that gives cabinets that little 'extra something'. While subtle, the refined traditional ogee still has great visual balance for a timeless choice that complements the cabinets. It does this for any style kitchen, from contemporary to Craftsman, without detracting from the rooms personality. Ogee is an ideal cabinet ornament that doesn't exude a majestic look, but delicately adds to the overall finished-look.
Dentil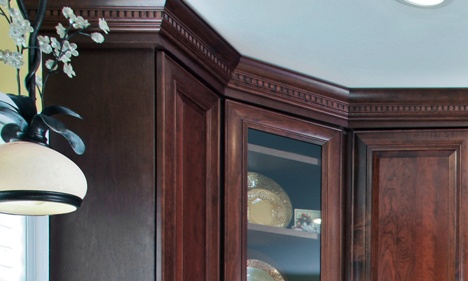 The sophisticated design of dentil crown molding graces the room with a row of notched blocks, adds depth, creates dimension, and brings a dominant aesthetic appeal. The Dentil style is the conceived product of art and architecture, originating in the 18th century with the Beaux-Arts movement in Paris. This style, in particular, was intended to promote the historical discipline of engraving. A centuries-old accumulated product of French design, this neoclassical look has been implemented by world renowned artists throughout history.
Dentil's marriage of contemporary and European styling has a somewhat masculine feel, typically seen adorning bookcases, wall units and buildings. It adds substantial weight and substance for a strong design element that creates a one-of-a-kind look for your home.
Egg & Dart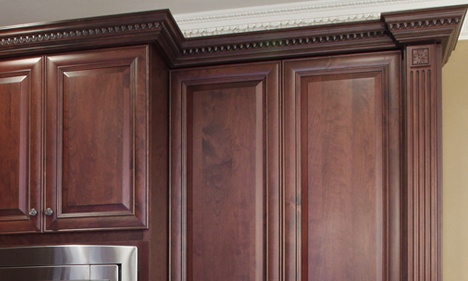 Egg-and-dart or Egg-and-tongue is an extremely ornamental molding design, consisting of an egg-shaped object alternating with an element shaped like an arrow or dart. This is a cultural symbol of art found in Ancient Greek architecture at the Erechtheion, the ancient temple in Athens.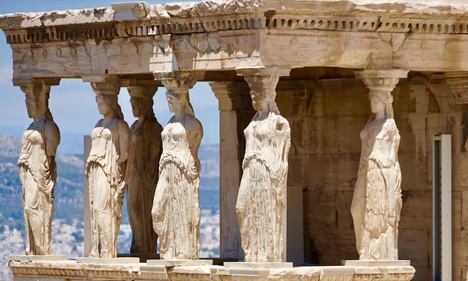 Typically used in the most ornate of homes, this traditional style's history is often identified with the Greek's architectural achievements. Egg-and-dart molding is most commonly used in large, 8" moldings, gracing the top of cabinets or joining the wall to the ceiling for an elaborate affect. Used in high end, traditional styled kitchens to create an aristocratic motif, this time-tested look is sure to impress.
Rope Molding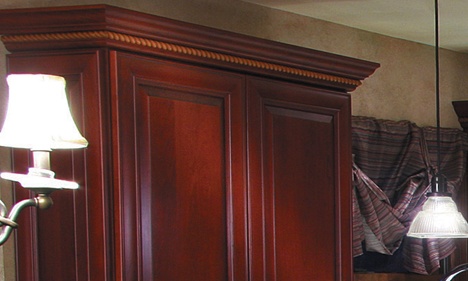 Discovered in European architecture, the rope style molding instantly gives a kitchen a traditional flair with classical detailing. A far departure from the contemporary style, rope moldings are best used if your goal is to instill the look of the old-country. The continuous rope can be further enhanced by adding a glazed finish to highlight the cabinetry's texture. This will emphasize the curves of this decidedly ornamental motif.
Crowning Around
We're not 'crowning around' here! Adding crown molding as a cabinet detail will define your kitchen's genealogy, calling it back to the era from which it originated. An otherwise, simple row of boxes, can be embellished with crown molding, to historically transport your kitchen to another time and place. Crowned with that majestic look you yearn for, your kitchen can have all the hallmarks of Roman, European and Greek architecture.