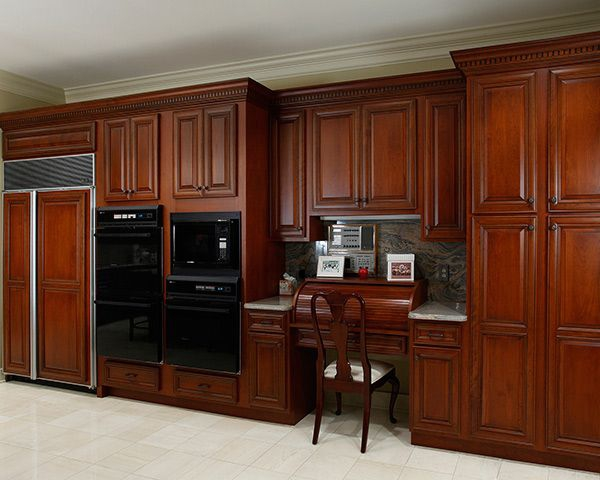 Adding moldings to your cabinetry can instantly update the most simplistic of styles and give your kitchen a truly customized look. Because they are available in a variety of types and designs, molding can help personalize your kitchen without breaking your wallet.
1. Classic Crown Molding
When thoughts of moldings come to mind, classic crown molding is usually the picture that comes up first. Because the distance between the top of your kitchen cabinets and the ceiling can vary throughout the room, traditional crown molding is perfect to fill that empty space. Only 3 to 6 inches of classic crown molding is needed to fill the gap in kitchens with standard ceiling height, making it a cost-effective solution.
2. Interior Crown Molding
Interior crown molding is installed around the perimeter of the kitchen's ceiling. This automatically draws the eye upward, giving smaller kitchens a larger appearance, and bringing the design of the whole room together for a unified look.
3. Stacked Crown Molding
Stacked crown molding is just what it sounds like—classic crown moldings stacked on top of one another for a highly decorative and uniform design. This molding style works best in larger kitchens, or kitchens with vaulted or varying ceiling heights. But stacked crown molding can quickly become pricy, because molding is primarily sold by the linear foot and the more decorative the piece of molding, the more expensive.
4. Shoe Molding/Quarter Round
Shoe molding is usually installed to the perimeter of the base cabinets in your kitchen, connecting and adding a decorative element to the space between your cabinets and your flooring. Quarter round molding can instantly give your island or cabinets the design appeal of furniture, and it can be matched to either your cabinets or your flooring. Shoe molding is also a great option if you choose to install new flooring after installing your cabinets, because it can hide any flooring imperfections.
5. Light Molding/Light Rail
Light molding is perfect for the homeowner looking for some extra style without spending too much money. This kind of molding is installed on the bottom of your cabinetry to help conceal any under-cabinet lighting, and is often a standard cabinetry feature. Light rail moldings come in a variety of types and styles, meaning they quickly add a customized design to your cabinetry for little cost.