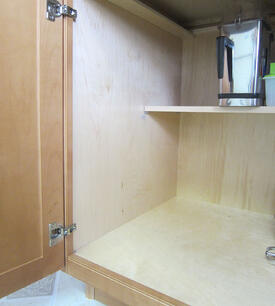 Many kitchens around the country have a "standard" construction design that consists of framed cabinets with doors attached via knuckle/barrel hinges. The hinges are partially exposed when the cabinet doors are closed.
Although exposed hinges have been popular in standard construction for many years, they have several drawbacks. They often clash with a kitchen's décor. Additionally, they easily collect dust, dirt, cooking grease, oil and moisture. The sticky result is typically difficult to remove, while metal discoloration is sometimes impossible to reverse.


Through the ages, hinge makers and manufacturers have designed hinges in a wide array of shapes, sizes and styles to fit different door types, materials and design needs. One design that has become increasingly popular is the "European hinge."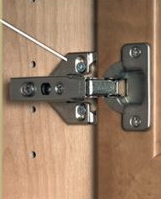 A European hinge is a concealed hinge that you can't see when the kitchen cabinet doors are closed. Although the hinge is made in different styles and sizes, it has two mounting plates connected via an arm. On a standard European hinge, one plate features a cup that rests inside a 35mm hole bored into the back of the cabinet door, while the other plate attaches to the interior side of the face-frame or frameless cabinet box. Installation of a single kitchen cabinet door might require two to three European hinges depending on the size and weight of the door.

Benefits beyond concealment:

Cost - European hinges typically use less metal than many exposed hinges, such as butterfly, strapped and HL types.

Cleaning - A European hinge collects less dust, dirt, grease and moisture than the knuckle/barrel of an exposed hinge.

Adaptability - European hinges work with inset, full overlay and partial overlay arrangements. With special mounting and cover plates, they also work with custom door materials, such as glass and metal.

Convenience - European hinges are do-it-yourself 3-way adjustable. When natural structural settling and wood expansion/contraction causes cabinet door misalignment, you can quickly re-align the doors with a screwdriver. Unscrewing an interior plate allows vertical adjustment. Clockwise/counterclockwise turning of the center screw allows horizontal adjustment, while turning the rear screw increases/decreases space between the door and cabinet.

Extras - European hinges come in self-closing and free-swinging styles. Most self-closing models have a spring mechanism that closes the door slowly to prevent the typical banging sound heard when a kitchen door is closed by hand.

All Kitchen Magic custom cabinets feature European hinges. You can also request them for cabinet refacing projects.