Oh, how you loved your grandmother's farmhouse kitchen. Those crisp white curtains fluttering in the breeze, a light and airy space where there was always room for one more at the kitchen table or butcher block island.
The cabinetry and other features were "furniture-style," meaning they boasted more artistic wood accents and raised adornments than the sleek, angled lines featured in a modern kitchen. A farmhouse or white porcelain sink was probably in place, as was some type of butcher block surface to make chopping and baking even easier - whether it was a real butcher block, an island, or part of the kitchen countertop.
This is "traditional" kitchen design at it's finest, and you can still re-create that same feel today, while simultaneously taking advantage of contemporary kitchen features. That's right - you can have your traditional kitchen and make it contemporary, too!
Design a Traditional Kitchen With a Contemporary Feel
Unfortunately, many homeowners confuse the word "contemporary" with "modern," an easy mix-up because those words are often used interchangeably (even on professional design websites!). We invite you to read, "What's the Difference Between Modern & Contemporary...?" for a more detailed explanation.
To put it concisely, contemporary simply means using finishes, textiles and features that are of the current era. So, for example, your grandmother's farmhouse kitchen probably didn't have stainless steel appliances or Corian countertops. These are contemporary features that are easily added to a traditional kitchen design. Check out our Breckenridge Kitchen Reveal to see an example (or see below).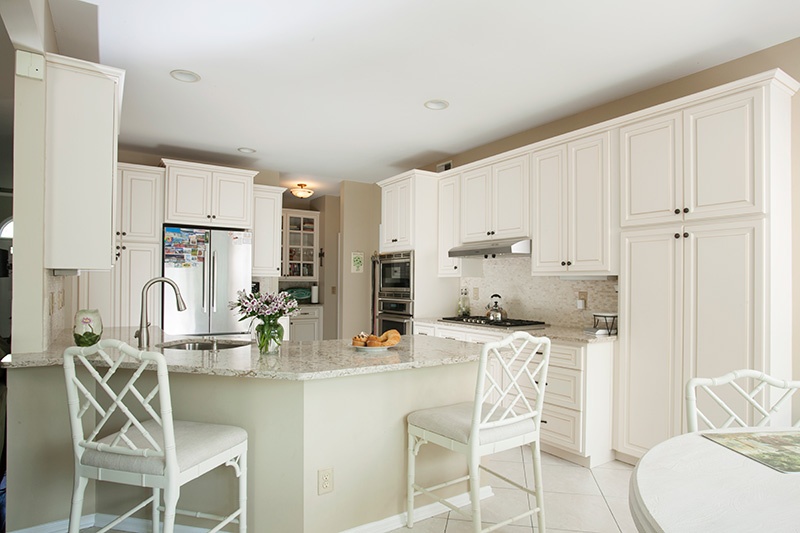 Contemporary features in a traditional kitchen design
With that in mind, it's easy breezy to design a traditional kitchen with contemporary features that will make it both relevant and desirable for years to come.
Cabinetry. Hard-core traditionalists can choose from a variety of raised panel designs, while those who like a more modern look lean towards Shaker style doors. One contemporary idea would be to reface your cabinetry, which is easier on your pocketbook and better for the planet. Or, maybe you should explore laminate cabinet door options, which can have traditional finishes but are much lower-maintenance than wood versions.
Countertops. Ironically, butcher block countertops are now en vogue for modern kitchen design enthusiasts - go figure! Traditionalists can choose any countertop surface they want. Quartz is a contemporary product that is much more lasting and eco-friendly than granite. Corian countertops are also a great option. The budget-conscious designer will appreciate the new laminate countertop designs, many of which mimic beautiful stone patterns.
Sinks. Your grandma's farmhouse sink was probably a white porcelain finish, which is still considered a contemporary feature. However, you can also get that farmhouse sink in stainless steel or even prefabricated composite versions (called granite sinks), for an even more contemporary twist.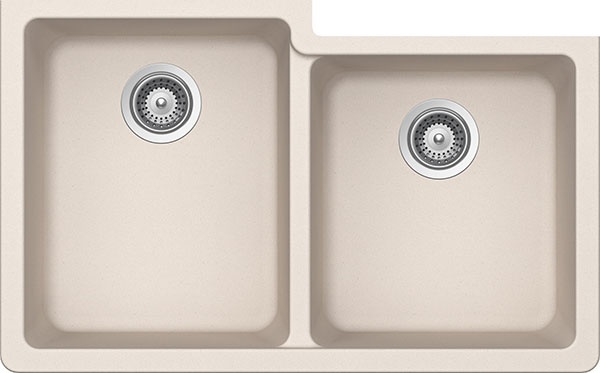 Contemporary granite kitchen sink
Other stuff. By now, you get the gist. Eat your heart out with traditional kitchen design motifs. Embellish the cabinet door and drawers with a glaze for some warm-fuzzy appeal; go crazy with light, bright, whites; use quaint, etched glass inserts to add a little interest to your cabinetry; enjoy the heck out of your classic, butcher-block kitchen island.
In the meantime, don't be shy if you love stainless steel appliances, or if you have your heart set on a wine cabinet or warming drawers. Take advantage of technological conveniences like undercabinet tablet holders or gadget charging stations. These are all contemporary finishes and options that won't detract one iota from your traditional kitchen design.
Looking for a way to enjoy traditional kitchen designs with just the right dose of contemporary accents? Visit the Kitchen Magic design gurus. We always have a few tricks up our sleeves to help clients unify their varied style preferences.