What do you get when you pair a great kitchen design with cabinet refacing? A kitchen that is completely transformed without any of the mess, fuss and chaos inherent in a full kitchen remodel.
In this Kitchen Reveal we're showcasing a recent kitchen re-facelift (pun intended!) that demonstrates what a striking difference refaced cabinetry can make.
This kitchen lives in a beautiful home, located in historic Cranbury, New Jersey. It's a quiet, upscale town with century-old homes and elm tree lined streets, making you feel as if you've stepped back in time.
Now, this home boasts a timeless kitchen design that recreates that same charm, embracing gentle complements rather than abrupt contrasts.
The Original Design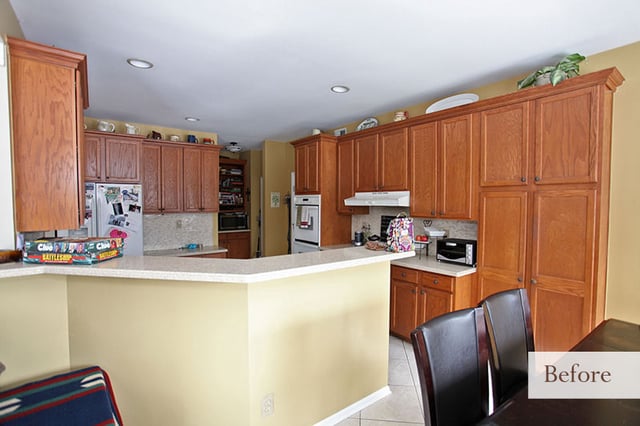 Originally designed in the 90s, homeowners went with the current motif of the time - deeply contrasting cabinetry and countertops. Now, however, most homeowners prefer a more blended approach, choosing to create contrasts using more transient kitchen accessories and less permanent accents.
The New Design & Color
These homeowners decided to create a white-on-white color palette by pairing our most popular, Breckenridge cabinet style in Antique White. Their existing backsplash was a lovely mosaic pattern, created using small, rectangular tiles in a subway-esque layout. Notice how every shade of white and off-white are represented? This provides expanded opportunity to update wall colors in the future using a range of soft, complementary shades.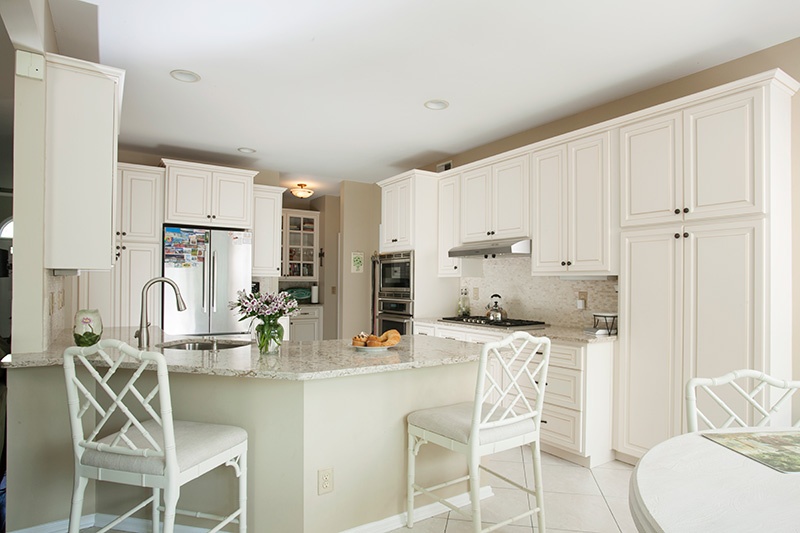 While the current Corian countertop was nice, it didn't have the same pizzazz as the quartz. And, since they were saving a fair amount of money by refacing their cabinets the couple had extra money in the budget to replace the countertops.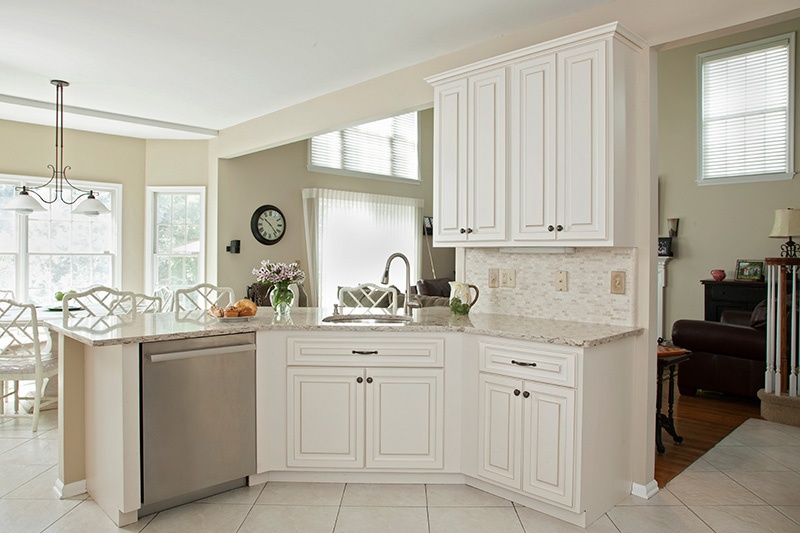 Countertops
They chose gorgeous Cambria Quartz countertops in Windermere. The countertops have a bit of shimmer, without being too overstated, and the effect is rich and luxurious.
An added bonus: quartz countertops are one of the most durable countertop options on the market and, because they're non-porous, they are practically impervious to staining and etching. Observe how shade variations in the countertops accentuate the backsplash, creating a harmonious echo.