The word "Transformation" is often used superfluously - but not in these cases. Just wait until you take a look at these 8 Amazing Refacing Transformations that took outdated kitchens and made them worthy of a kitchen design magazine spread.
Have questions about a kitchen cabinet refacing example shown here - or cabinet refacing in general? Don't hesitate to contact us at Kitchen Magic, or by calling 1-855-5-REFACE.
---
1. This kitchen was sweet - in a very 90's country kitchen sort of way. To bring it into the modern era, we refaced cabinets using laminate, Breckenridge doors - Cathedral on the uppers and Square on the lowers, all finished in antique white with a walnut glaze. An eye-catching Yellow Tiger granite countertop and neutral wall colors give this refreshed country kitchen an upscale look.
---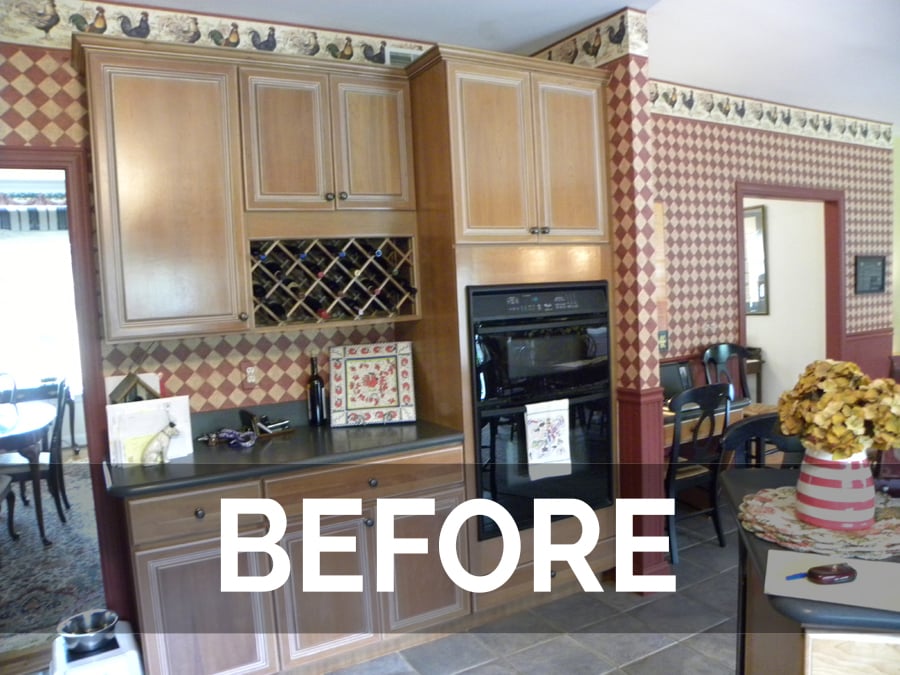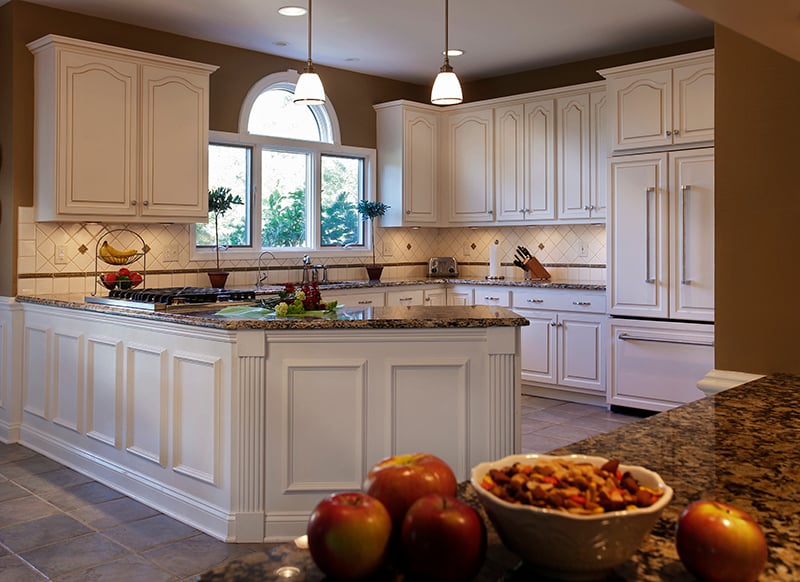 ---
2. The original kitchen shouted "Blah-and-Blah!" It was dying for a makeover. We complied by installing Harvest Gold Cherry Wood cabinets. That simple change took the orange out of the kitchen tiles and brought out the warmer wood tones. Then we installed Baltic Brown granite countertops. Stenciling, backsplash and floor all remained the same - yet the final product is a whole new kitchen.
---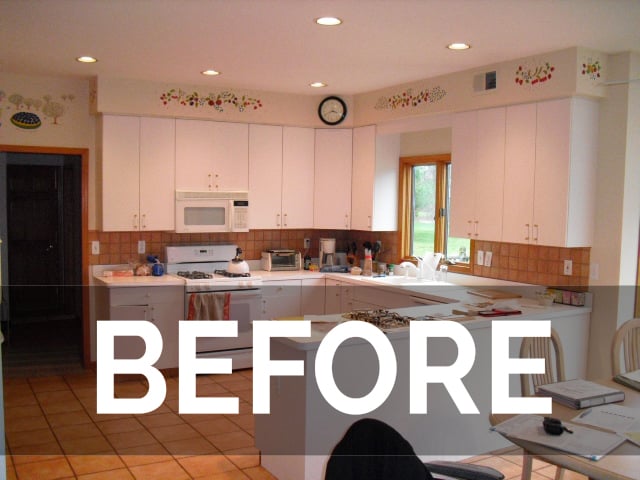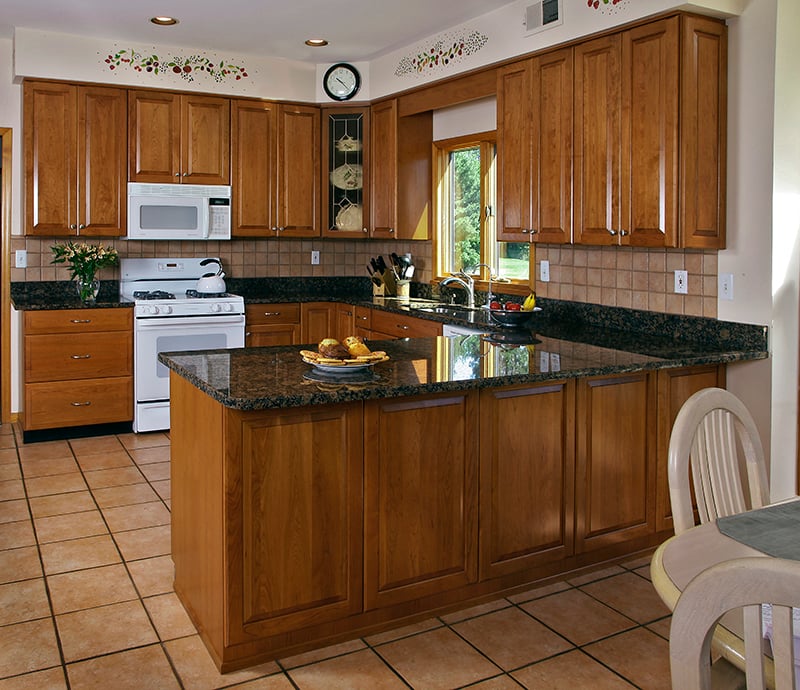 ---
3. Mismatched becomes Choreographed with just a few simple changes. The previous kitchen had no unifying theme or style so everything looked jumbled. We used the fun flooring as inspiration and refaced the cabinets with a Frosty White laminate with an Elite Plus Raised Panel. A fun, fresh coat of paint and snazzy Ubatuba granite countertops made it a contemporary kitchen with a retro feel.
---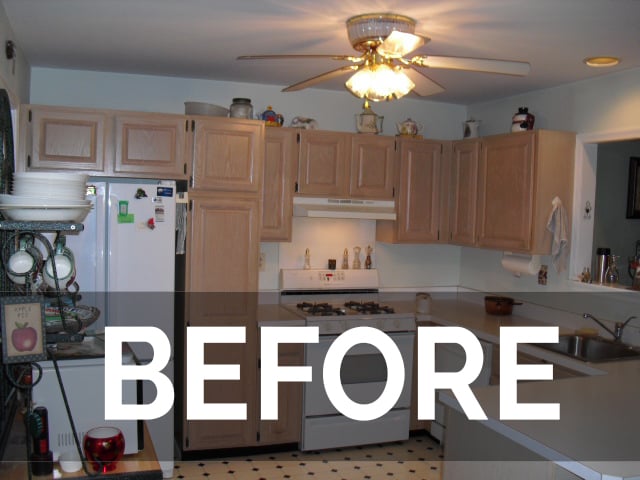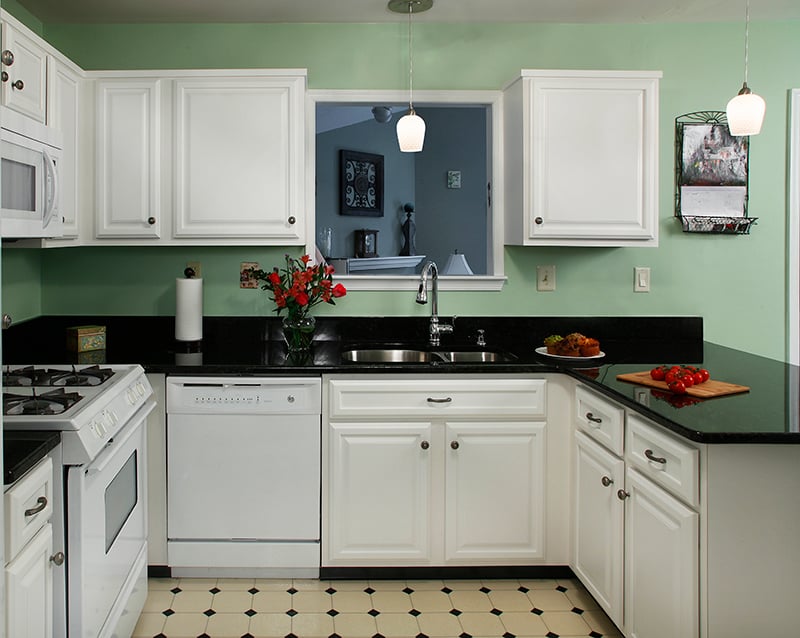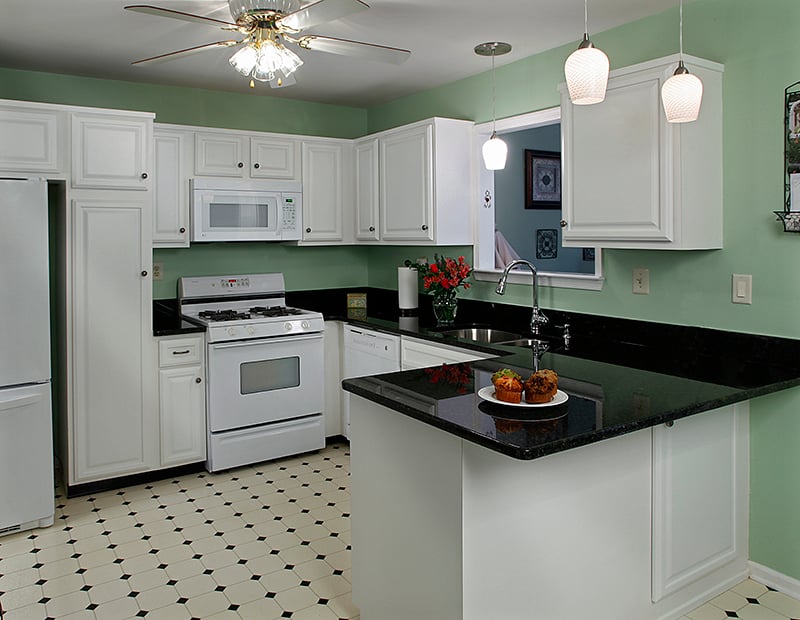 ---
4. Kitchen or unfinished cave? That's what we wondered. Beautiful features, like the vaulted ceiling, were lost because the space was so cavernous. Anchoring it with a functional kitchen island in Autumn Hard Maple, and refacing the perimeter cabinets with Stonebridge laminate doors with Antique White glaze cozied everything up. Juparana Crema Bordeaux granite adds rosy tones more successfully than the former pink laminate option. The new version says, "Welcome Home."
---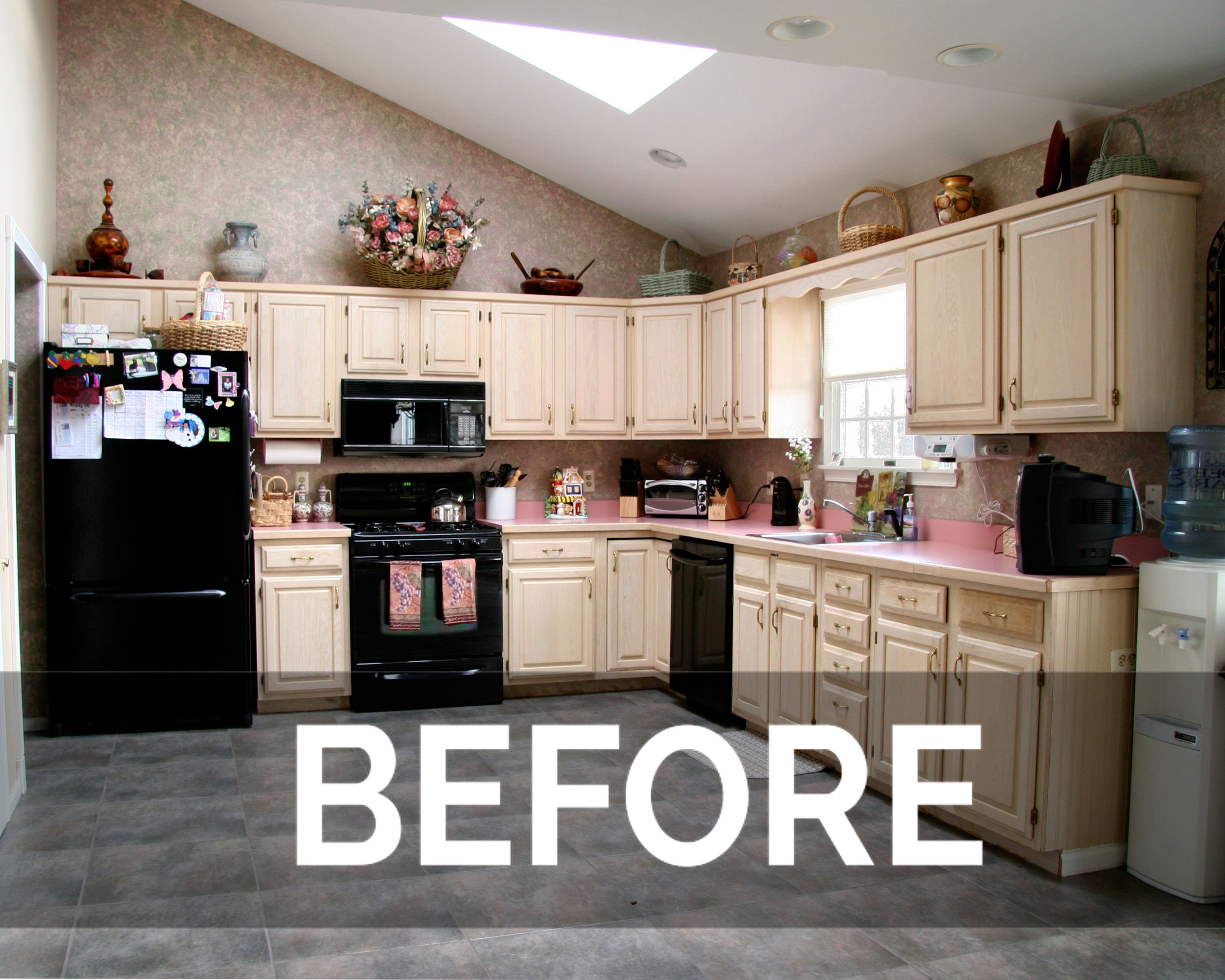 ---
5. The original kitchen couldn't make up its mind. Was it traditional? Contemporary? By refacing the cabinetry with laminate Cherry doors with a Black glaze, adding a peninsula and using ultra-durable Silestone countertops in Tealeaf, it can officially relax into it's solid, transitional style. Perfect for a growing family.
---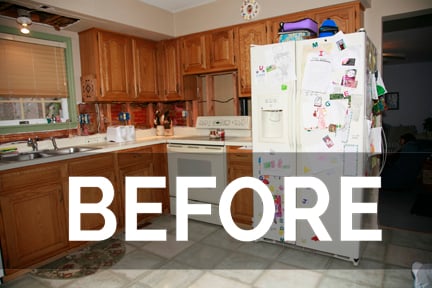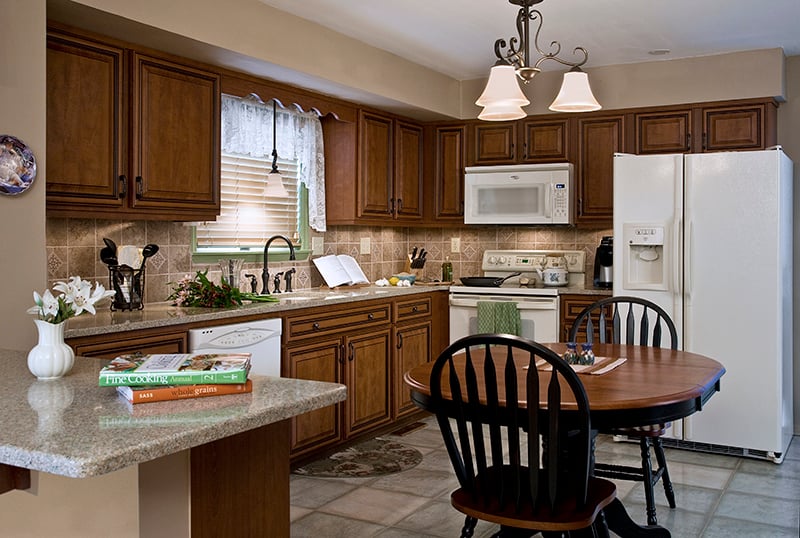 ---
6. We thought this tiny kitchen was so cluttered - then realized it was just the horrid laminate pattern up against a busy wood-grain cabinets. We simplified things using Frosty White laminate cabinets with clean, Pershaw style doors. The sleek Rosemary Corian countertops with a complementary backsplash finished it off, and now we can all breathe a sigh of relaxed relief.
---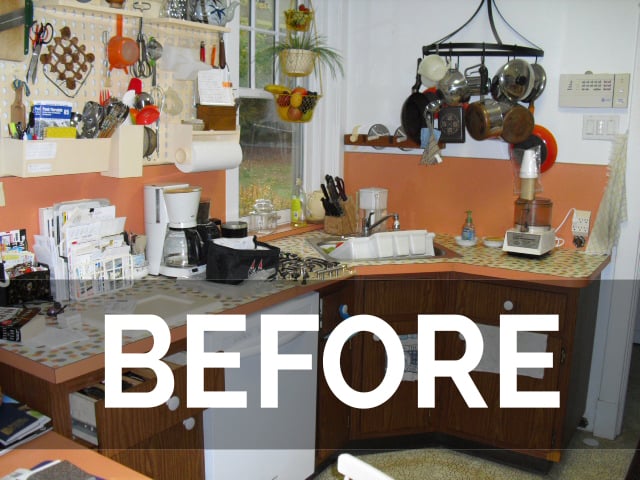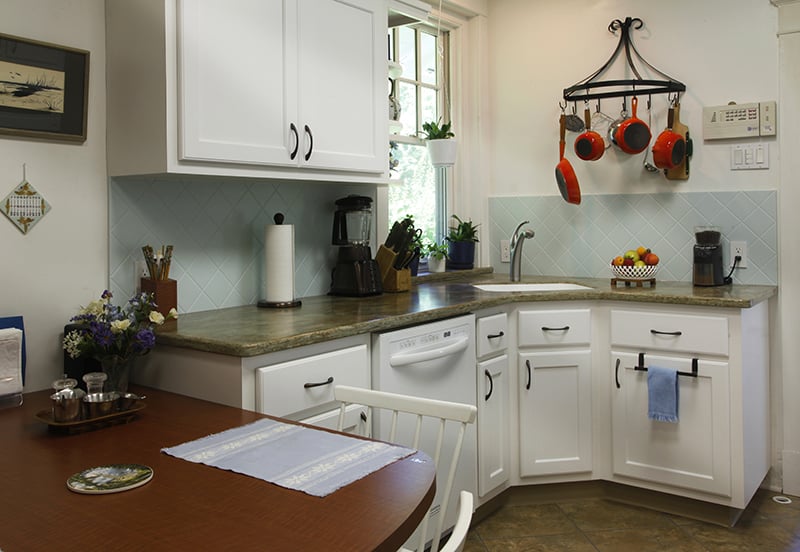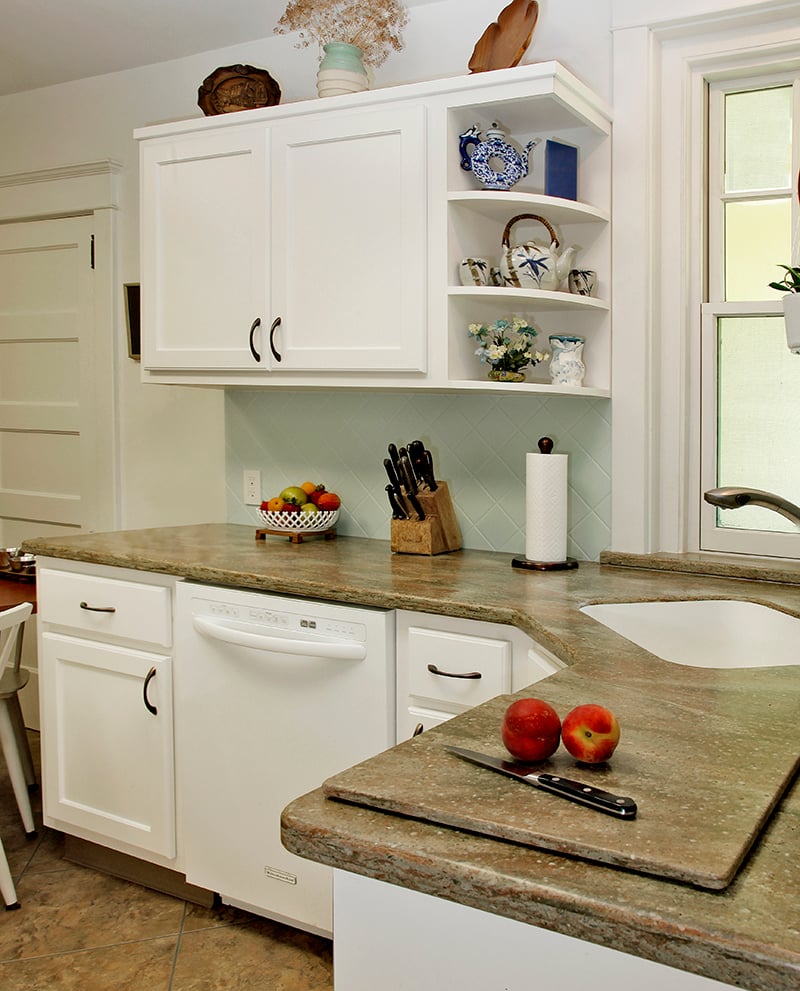 ---
7. It's like we took a wannabe elegant kitchen and made it official. Perimeter cabinets were enhanced with more substantial Cordovan Cherry doors with ornate embellishments, topped with Galaxy Black granite. To keep it all from being too heavy, we refaced the island cabinets using an Antique White finish with a glaze, topped with New Venetian Gold Granite. Now this kitchen is able to be everything it every dreamed of.
---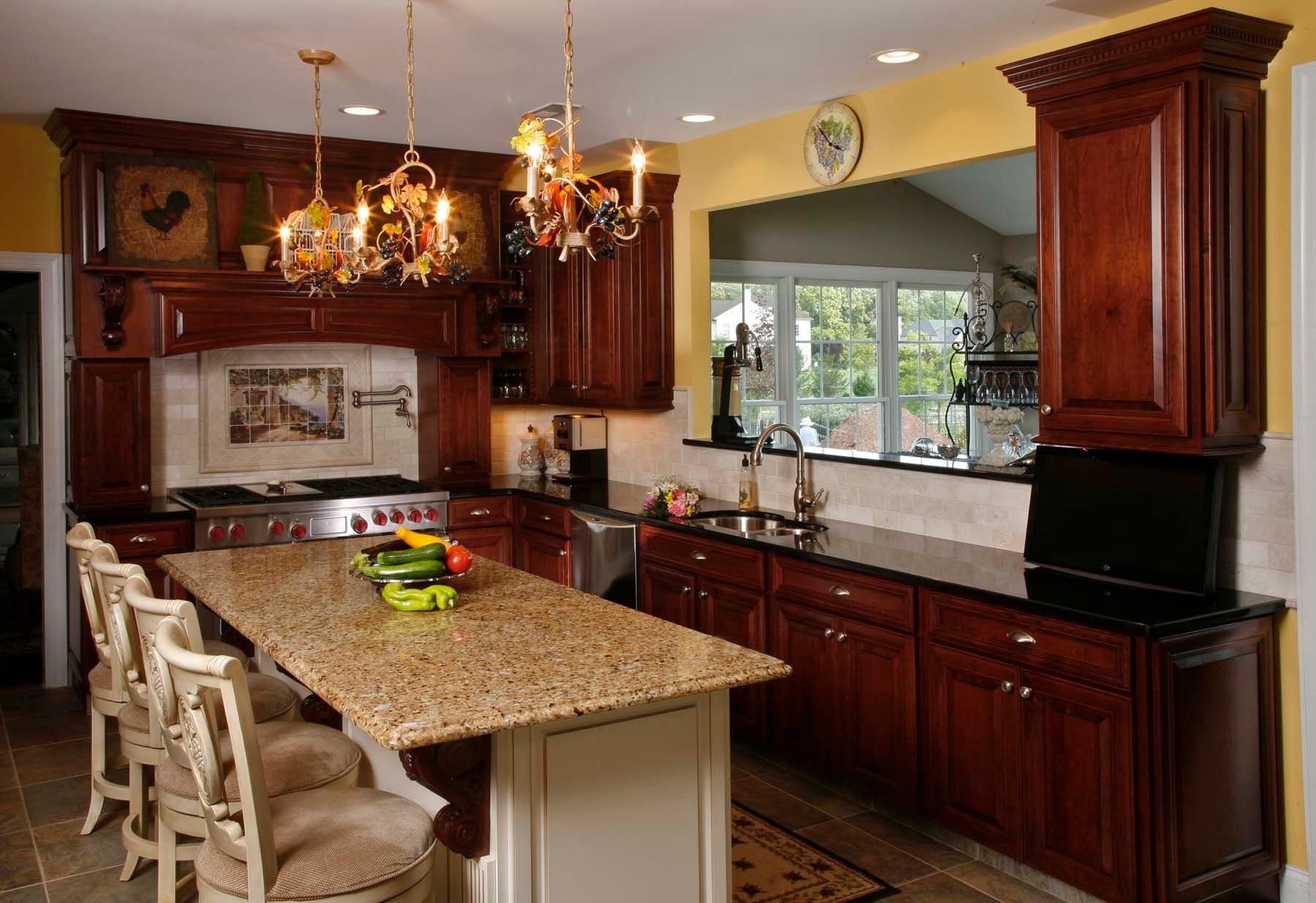 ---
8. Here's another example of how an open floor plan can be way too open if you aren't careful. In this case, the lighter colors were too airy for an already open space. Refacing the cabinets with Washington Cherry wood doors with a black glaze helped to bring it back to earth and warm it up. In fact, that simple enriching of the overall kitchen tones even helped their existing granite countertop to pop, bringing out the warm tones that were lost in the washed-out version of the past.
---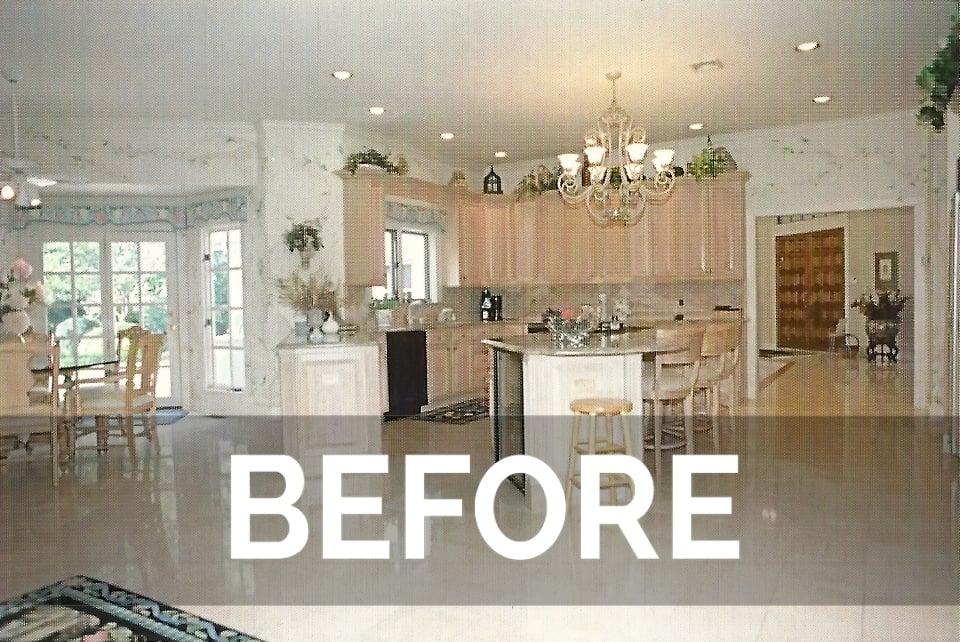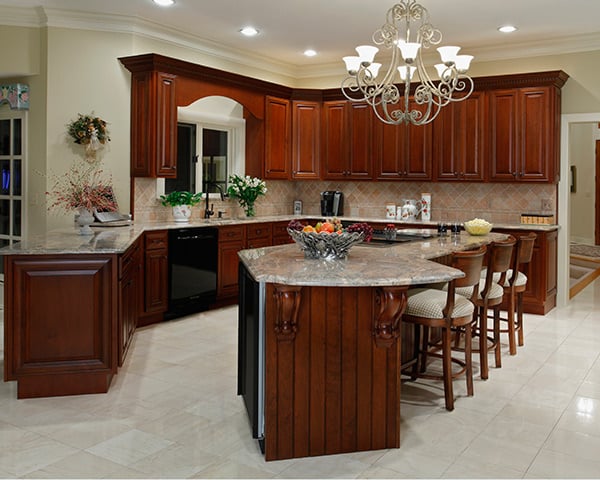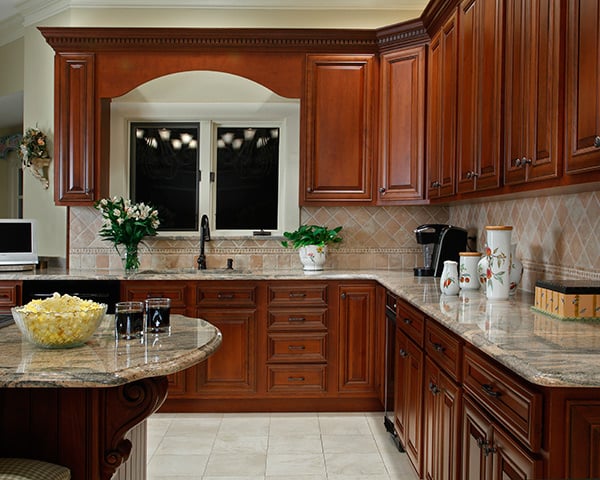 Ready to see how refacing cabinets can transform your kitchen space? We'd love to show you how. Schedule an in-home design consultation and cost estimate in the convenience and comfort of your own home.