[UPDATED: 1/14/2020] Are you looking for new ideas for your kitchen refresh or remodel? We have collected some of our most inspirational kitchens renovations from over the last six months, all expertly installed by Kitchen Magic. Check out these before and after photos to see just how cabinet refacing can completely transform your kitchen — and save you about half the cost of all new cabinetry.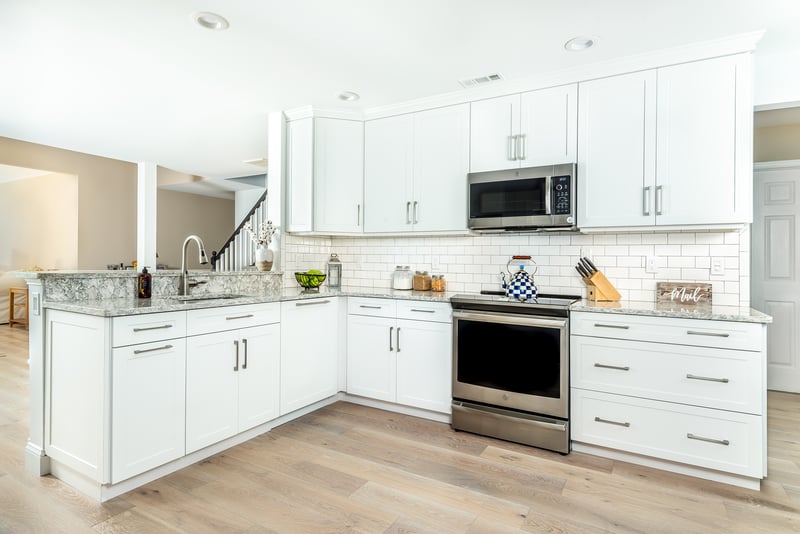 KITCHEN PHOTO CREDIT: PhotoSynthesis Photography, 2019
Inspirational Kitchen Cabinet Refacing
Doors are the most of the visible area of your kitchen cabinetry. Since our kitchens are built to last a lifetime, we encourage you to choose a kitchen cabinet door that will make your kitchen an inviting delight for years to come. Here at Kitchen Magic, we offer hundreds and hundreds of cabinet refacing options in a wide array of colors and styles. It lets each of our customers create the perfect kitchen design for their home.
Transitional Design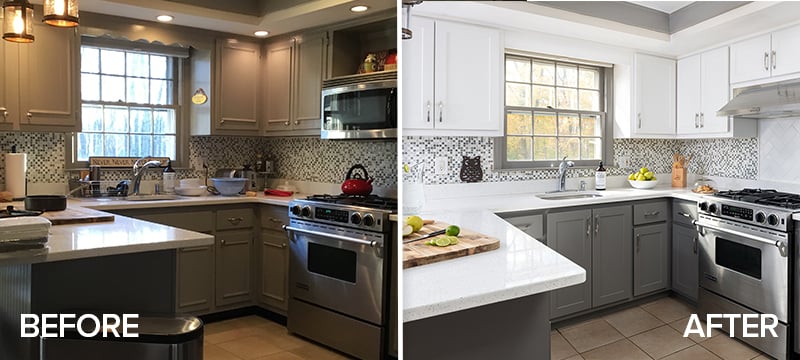 PHOTO CREDIT: Christian Giannelli Photography, 2019
These homeowners love their mid-century home and sought to include its style and history in their kitchen refresh. They also wanted to infuse their own personality into the space and brighten it up a bit. Surprised by the huge selection of refacing styles to choose from, they were able to create the transitional look they wanted and stay on budget by refacing with two-tone Prestige Statesman cabinets and Prestige Plain drawers in Suede Grey and Frosty White.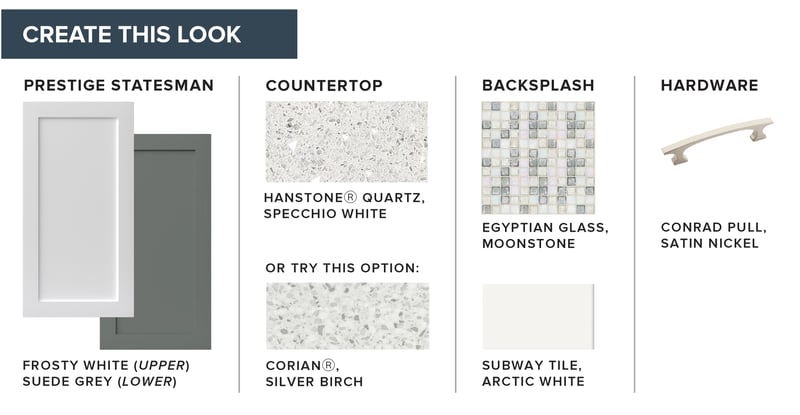 Contemporary Design
KITCHEN PHOTO CREDIT: PhotoSynthesis Photography, 2019
For this couple, family is everything. That's why when they moved into their active adult community, they needed to remodel the dated kitchen into a new gathering space for family and friends. This well-thought-out kitchen remodel went beyond creating a fresh and contemporary style. The homeowners also created more kitchen storage space within the same square footage as well. Designing a kitchen with more open space, does mean that you have to really think about storage needs. Cabinets that extend to the ceiling help, as well as extra-large drawers for holding pots, pans and large serving items.
Coastal Design

This remodel shows how you can bring a contemporary, beautiful beach-inspired design into your home with refacing and a spray of natural colors. In addition to wanting to reface their cabinets using materials that are more durable, these homeowners also wanted something that better reflected their beach-town lifestyle. After reviewing all their options, they took our recommendations and refaced their existing cabinets using the enduring look of our Prestige Square doors in Bergen Ash. These low-maintenance cabinets will keep their natural wood aesthetic beautifully over time, and they come with incredible warranties to back them up.

Light and Airy Design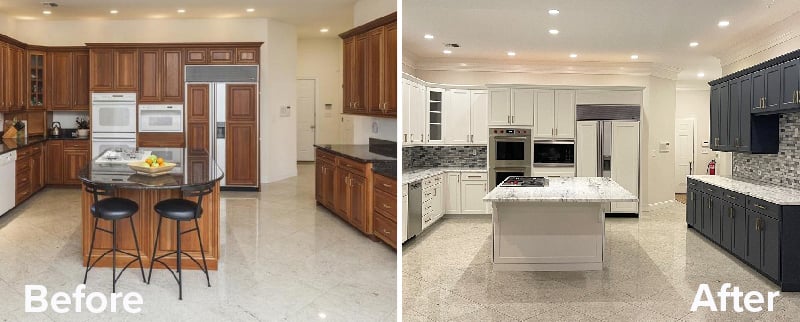 For these homeowners, low-maintenance, affordable cabinet refacing and clean, contemporary design elements meant they could finally stop putting off their project, create their dream kitchen and start enjoying their new inviting and wonderful space. In addition to being able to save as much as half the cost of traditional kitchen cabinet replacement, the fact that, in most cases, refacing can be completed in a matter of days and not weeks meant that the homeowners could actually set their dream kitchen plans in motion right away.
Jumping off the fence
Ready to give your kitchen the refacing update of a lifetime? Contact us here at Kitchen Magic to schedule an FREE in-home appointment with one of our expert design consultants. We'll bring the showroom to you!
If you still have questions about what cabinet refacing entails, check out our video below for a full explanation: