5:30 a.m. on a Weekday (insert alarm clock) BEEP! BEEP! BEEP! BEEP!
You step out of of bed, stumble down the hallway and, WHAM! You stub your toe on the Barbie jeep for the fourth time this week. A barrage of creative expletives fire off in your head. You open the cabinet to grab the bag of coffee and GAH! (another barrage of expletives) - you forgot to get more on your way home from work last night. Against your better judgement you SLAM the cabinet door shut. The baby starts to cry. You slam it again for good measure and sigh heavily - another weekday has begun.
While slamming doors - cabinet or otherwise - is a satisfying way to vent frustration, it's not good for your cabinets or your drawers, and it's certainly not good for keeping the household peace. Combine the average cabinet wear-and-tear from intentional slams, unintentional slams of well meaning children, and those cringe-worthy early mornings when really unintentional slams wake the household, and you can understand why Blum invented whisper quiet cabinet hinges and cabinet drawer glides.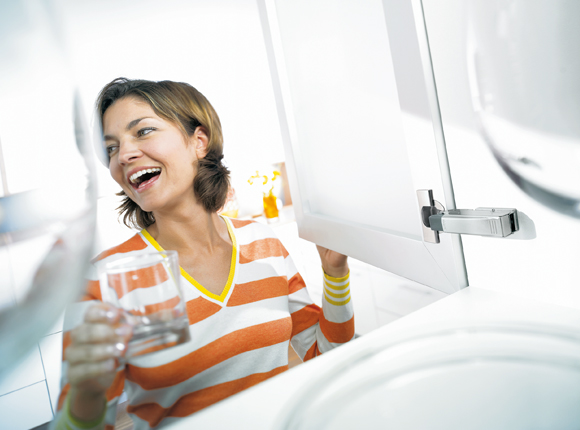 Photo courtesy of blum.com
Introduce Yourself to Blumotion Soft Hinges and Cabinet Drawer Glides
While out Kitchen Magic Gnomes have been hard at work crafting superior laminate and wood kitchen cabinets, the Blum Elves have been busy creating superior hinges for cabinets and doors. Their most recent innovations produced revolutionary Blumotion Soft Hinges and Cabinet Drawer Glides. Not only do these cabinet hinges and cabinet drawer glides close silently, they have a mechanism which "catches" the cabinet door or drawer about an inch before it closes, and it gently reels it into a silent close from there. It's pretty awesome. In case you don't believe us - you can watch their awesomeness in action.
If you're considering a kitchen remodel to welcome the new year, we suggest you look into these amazing hinges. Some of their features include:
A soft and silent close
Adjustment to various closing speeds
An overload safety system prevents damage to hinges from high-volume use
They can be integrated into a variety of existing hinge products
Once you've had Blumotion hinges installed, you might want to have a Blumotion Party. Friends and neighbors will love to "try" to slam your cabinet doors and drawers. It simply can't be done. Sometimes, it's even downright frustrating!


Visit our showroom for a live demonstration on how you can finally slam your cabinet doors in peace!