Kitchen remodeling is hard work. You have to plan, make sure you have the right permits, and get the right professionals for the job. Perhaps the most daunting part of it all is coming up with ideas that work for your kitchen. All your efforts will be for nothing if your countertop clashes with the backsplash or the floors don't go well with the cabinets.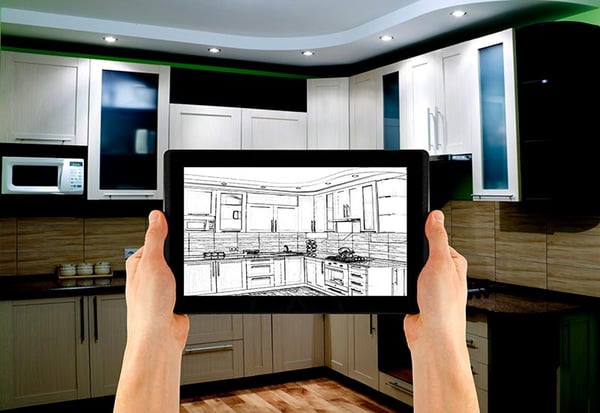 Today's article was written by Bryan Sebring, of Sebring Services a remodeling company located in the Chicago suburbs. His company specializes in kitchen, bathroom, and basement remodeling.
Technology is here to help you create the perfect kitchen. There are tons of kitchen remodeling apps to help you brainstorm the best ideas. Here are eight options that we think will help.
1. Easyhome Homestyler (free)
This app offers the user a helpful kitchen design experience. You can create your own floor plans and style to taste. You'll be able to paint, add furniture, and pick appliances in order to build the kitchen of your dreams. The 3D rendering shows a life-like image to give you a realistic idea of what you're design will be. It's available on Google Play and iTunes.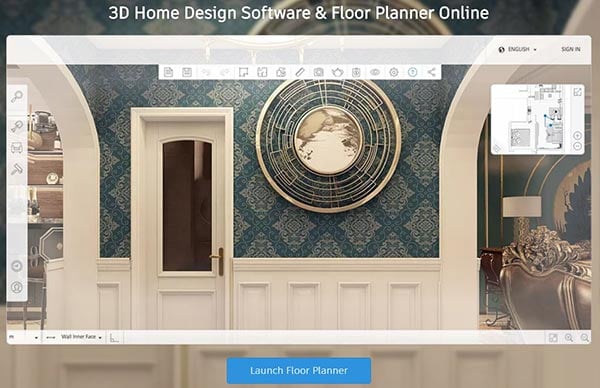 2. Roomsketcher (free)
With this app you can generate your own kitchen layouts and floor plans. It allows you to try different fixtures, finishes and furniture, so you can get a real feel for what your kitchen will look like. It also produces a 3D image for a life-like view. This app is very easy to use and you won't need any professional CAD experience unlike other apps. Get started with this app today whether you're considering a remodel, renovation or refresh. Whatever your needs it can help you along the way.It's easy to use and available on Google Play and iTunesThe app itself is free but there are in-app purchases for more advanced features.
3. Houzz Interior Design Ideas (free)
Houzz is often seen as the interior décor's version of Wikipedia. It is packed full of photos and ideas for home remodeling for every style, from eclectic to industrial. Just as with the website, you can save your favorite pictures in your "Ideabooks".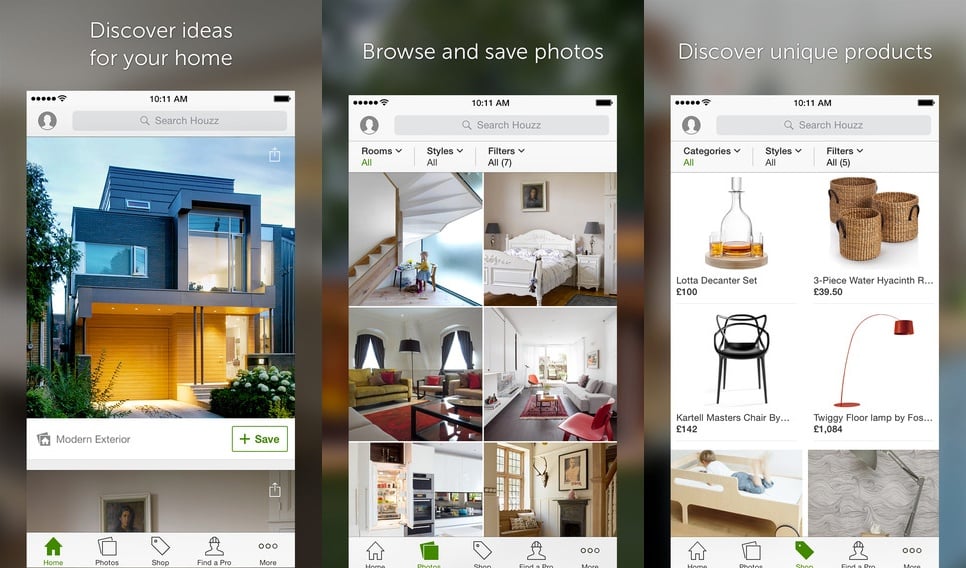 The search function is a breeze to use. You can search for kitchen photos and even specify the style you're looking for such as modern, traditional, or farmhouse. You'll also come across remodeling ideas from other users and renovation pros. You can even ask your own questions, gather additional information, and shop for kitchen appliances, decor, and more.
If you're planning a kitchen renovation, this is a must-have house remodeling app. It is available for both iOS and Android.
4. 3D Kitchen Design for IKEA: Room Interior Planner (free with in-app purchases)
IKEA is synonymous with affordable flat-pack furniture. They also have some cool pieces that could add to your home's style. With the app you'll be able to visualize what the kitchen of your dreams will look like before even beginning the remodeling process. You can plan, decorate and furnish the space like an interior designer. As you create you'll be inspired by the gallery of designs filled with IKEA furniture. You can choose which colors you want to use, and which materials are right for the floor and walls. This app allows you to create a realistic space that will help you make the right choices.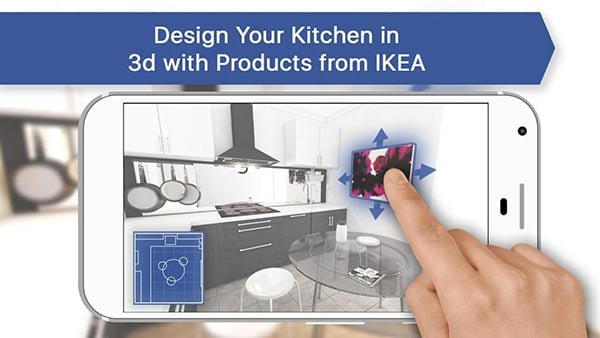 IKEA App is available for both Android and iOS.
5. RoomScan Pro (paid)
If you're doing a major kitchen renovation, you often have to wait for an expert to draw up the new floor plans, decide on the location of windows and doors, and all other elements. But with RoomScan Pro, you can do all that yourself using your smartphone.
The app allows you to render your current floor plan and then make modifications. Instead of waiting for an expert, you can start planning and visualizing your new kitchen early on. It will take some time to learn how to use the app, but help is provided along the way. Once you get a grip on it, you'll find it's simple to use.
The home remodel app is only available for iOS. For Android users, the closest alternative we could find was Magic Plan, which is free but includes in-app purchases.
Magic plan is available for both iOS and Android users. You'll be able to create floor plans with the camera in your phone. The easy-to-use interface makes it simple to come up with your floor plan. As noted, some objects are locked and will require in-app purchasing but it's another option to give you a 3D image of your design space.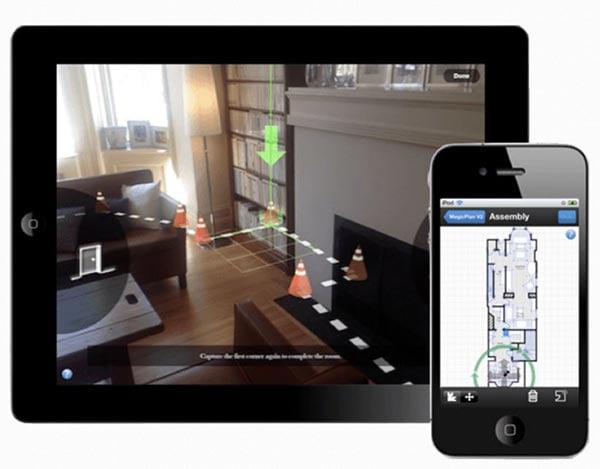 6. Home Design 3D (free)
This is one of the most popular home design apps for both iOS and Android. The app allows you to visualize an entire room or even house in 2D and 3D. You can design your kitchen, adding the elements you want, changing the colors and deciding where everything will go. You can even change the thickness of the walls and the layout of the room.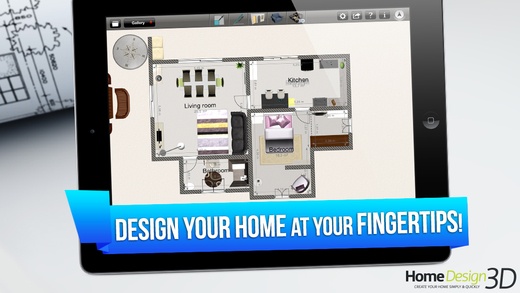 While the app uses a lot of deep tech to deliver a seamless experience, it can be used by anyone, even those without any design experience. Basically, if you want to play around with your kitchen décor, this is one of the best apps.
While it's free to install, you have to pay for in-app purchases to do anything meaningful with it. You can get it on Google Play and iTunes.
7. Bonus App: TapPainter (paid)
Here's a bonus app for iOS users. One of the hardest things when renovating your kitchen is choosing the right color. You have to make sure that it's right for your space and matches well with other components such as the floor and cabinetry. TapPainter helps you make the right choice.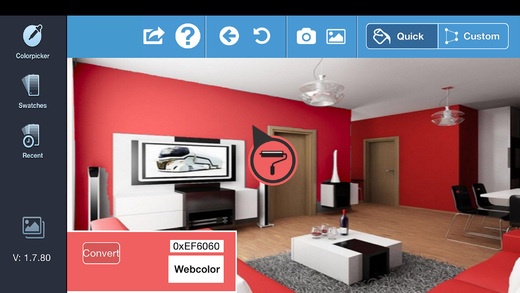 Just take a picture of a specific wall with your phone and then tap the wall you want to repaint. You can choose from thousands of colors or enter a code for a swatch from a certain paint brand.
The app is available on iOS only.

Help with Kitchen Remodeling
Technology has made the cumbersome and often tedious kitchen renovation process much easier. With the above home remodeling apps, kitchen remodeling is not only easier, it is also more fun. For more apps to help you in your project, read the Sebring Services article on the Top 10 Apps to Help with Kitchen Remodeling Ideas.