Ovens, stovetops, and refrigerators may be standard, but that doesn't necessarily mean you like to look at them. Not to mention, the countertop appliances—microwaves, coffee makers, blenders, toasters... These gadgets may make our lives easier, but who needs all of these things cluttering up their kitchen?
While it's true that appliances can be decorative (check out, How to add Modern Retro Appliances to Any Kitchen Style), they can also be viewed as an eyesore, depending on the look you want. Thus, many homeowners opt to design integrated kitchens - or kitchens where certain appliances are hidden behind matching or complimentary cabinet overlays and/or where standard countertop appliances find a functional-yet-hidden home. Together, these approaches serve as "concealer" for your kitchen.
Out-of-Sight Appliances Yield Spacious & Tidy Kitchens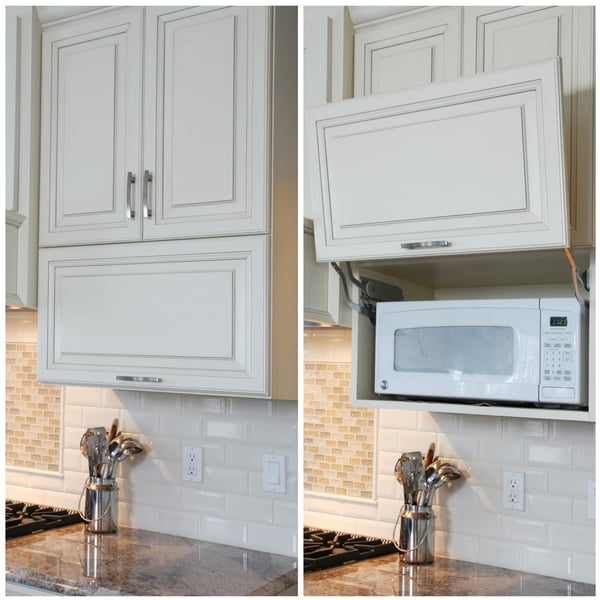 When you use integrated or concealed approaches with appliances - you benefit from:
The elimination of kitchen clutter
Extra counter space to show off new countertops and more room for food preparation
Additional space for personalized decor
Improved kitchen flow
There are so many ways innovative kitchen design and storage solutions work to conceal those extras. The following examples are some of our favorites.
Integrate larger appliances using attractive cabinet design
We can cover any of your standard appliances - fridge, oven doors, microwaves - with cabinet overlays. Now, instead of a big box of stainless steel - you see gorgeous wood paneling or a fresh pop of color. Appliances are all right there - but less-intrusive with their presence. Read, 5 Differences Between Partially- and Fully-Integrated Appliances, to learn more.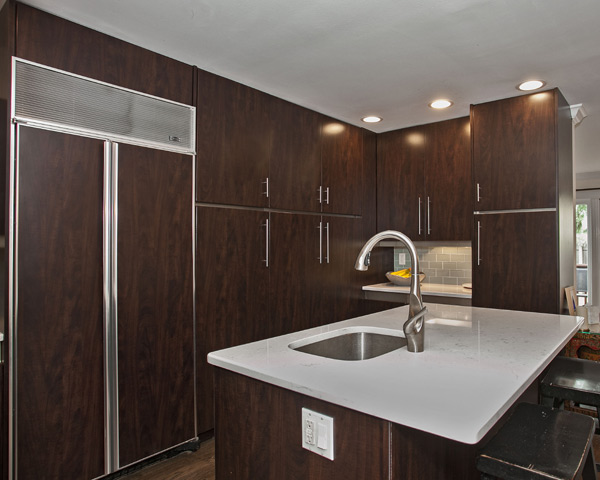 Implement an appliance cabinet
We can build appliance cabinets,that store the appliance(s) out of sight, but keep them easily accessible. Built-in electrical sockets in the cabinet back mean the appliances are ready to go and usable via doors that swing or lift-up - based on efficiency.
Make way for appliance cubbies
Appliance cubbies are a simple take on the cabinet idea - door-free access to the coffee pot, blender, mixer and toaster. Cubbies inherently break up the monotony of cabinet boxes while still complimenting the design and they work well with open-shelving designs.
We also like building cubbies into the back of kitchen island countertops. This idea works well in an open-concept kitchen where the raised cubbie helps the island serve as a borderline between living spaces - appliances on one side and room for a stunning piece of art on the other.
The cabinet-cubbie combo
Most homeowners wind up with a combination of the above ideas - an appliance cabinet for the microwave/larger appliances and cubbies for the smaller versions. Housing them all in the same general area makes organizational sense.
Gift yourself an appliance pantry
For the chef-entertainer and/or the serial baker - we put forth the idea of an appliance pantry. If you have every appliance under the sun, appliance cabinets and cubbies may be too cumbersome. Instead, dedicate an entire pantry - or a significant portion of the existing pantry - to organized appliance storage space.
Seeking to hide your kitchen eyesores or interrupters? Visit the ingenious design team at Kitchen Magic and we'll make it happen!