It's not a mystery why we need a place for all our kitchen stuff. With new innovative cooking gadgets and cooking shows, we simply need a place to stow ingredients and tools as our creativity in the kitchen expands. Here we'll layout out 3 possibilities for your new storage pantry and it's for you to decide which one suits your needs and space.
Three Pantry Options for a Neat & Tidy Kitchen
Our choices include a built-in, a free-standing unit and a walk-in pantry. For fair comparison purposes, they will all serve the same housing needs—non-perishables and small appliances. It's all about having what you need, when you need it, before you start your next culinary mission.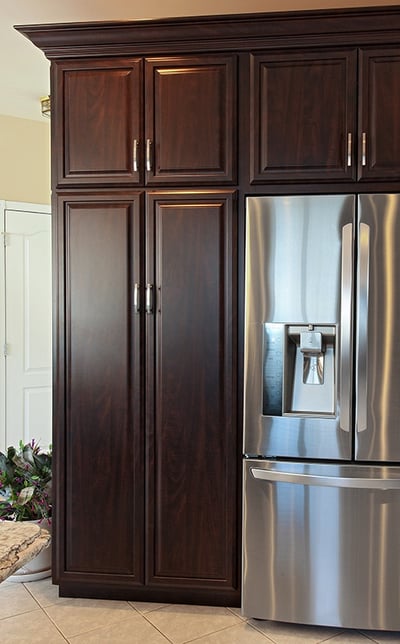 The built-in pantry
First up, the built-in pantry. Using your existing space, you'll only sacrifice a small amount of countertop real estate, adjoining an upper to a lower cabinet. When remodeling the kitchen, choose a full, vertical bank of cabinets with side-by-side doors. Furnish with shelves and roll outs to house cooking and baking needs, snack items, canned goods, cereal and spices. This is the best option, as you will be using your existing footprint and only revamping the cabinet layout to expand storage capacity.
Most measure 24 to 36 inches wide and they are an efficient storage solution for small or medium-size kitchens, providing a little extra shelf and drawer space without giving up too much in return. Keep the bottom shelf open for small appliances that aren't often used like the crock pot, juicer and mixer. Having a place for these close by, will keep you productive in the kitchen while keeping your countertops clutter-free. Moreover, you won't have to find basement or garage space; requiring you traipse to another part of the house when you do decide to use them.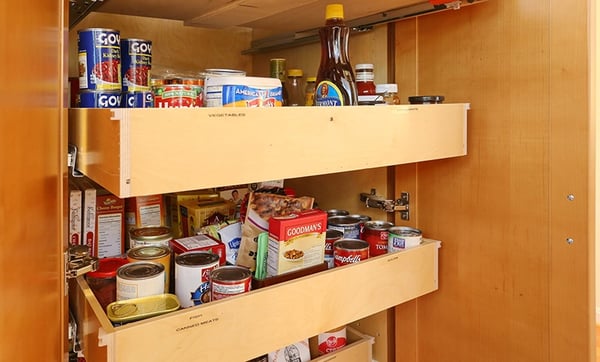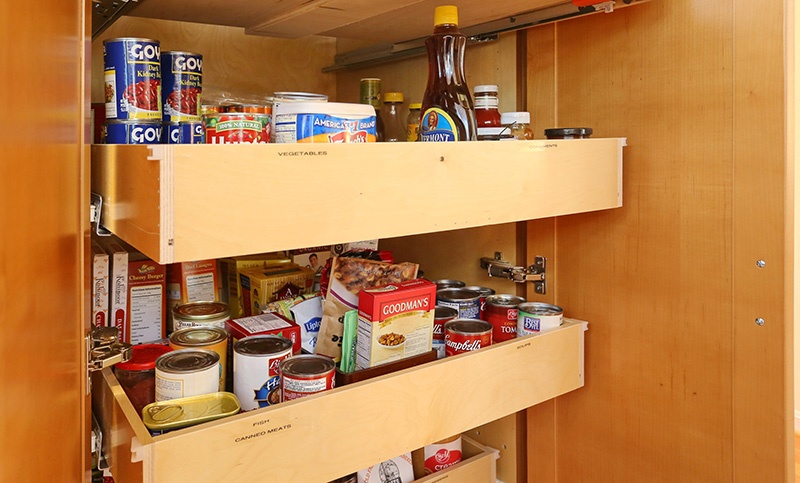 An eclectic free-standing unit
Your next pantry option requires an empty corner or wall. The free-standing unit is where you can get a little creative with the format. Flex your design-muscle to suit your personal taste. You can either match your existing cabinetry or create a one-of-a-kind piece in a different color or style. Choose to marry it to the existing cabinets via the countertop material for an eclectic, yet cohesive look. Include French or bun feet for a furniture-like look, that will also be the focal point in your new design.
Be sure to install roll out shelves for full access to every inch of your new pantry. Customize with a combination of drawers and cabinets for increased organization and a go-to goody drawer or every day needs.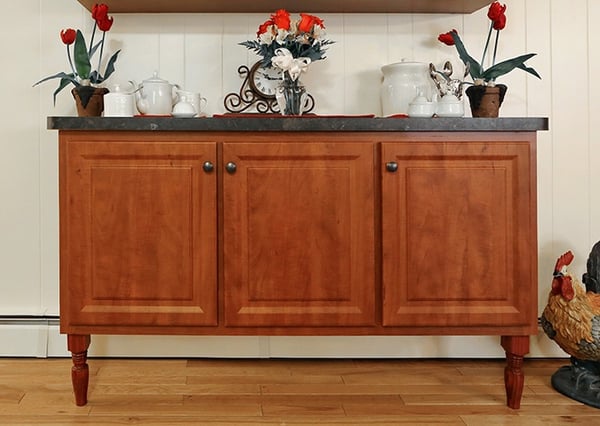 The walk-in pantry
If your kitchen allows, revamp the broom closet for a walk-in pantry, outfitted with several walls of shelves that confine all your ingredients and small appliances to one centralized place. This concept is more conducive to finding what you need, when you need it. Less time looking means more time cooking.
The only drawback is when you have a large space, you tend to fill it, just like your walk-in closet. The walk-in pantry is supreme for the 'foodie' or when the residence includes multiple chefs with separate cooking techniques and tastes. It offers a creative outlet for unique storage accessories like roll outs, baskets, bins and hooks. Customize to your hearts content for a storage cove that will be the envy of neighbors and friends.
Whichever pantry option you choose, the result should be storage galore. The sensible matching built-in, a fancy free-standing unit or the walk-in power house pantry that will make you and your new kitchen uber-functional, while alleviating countertop clutter. Give its some thought; customizing your storage capacity isn't an idea you should put on the shelf.