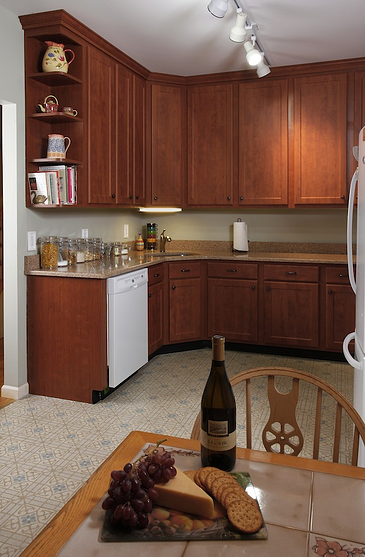 Here's how to turn a tired kitchen to a classic, yet contemporary, showplace for an affordable price, as Alyssa M. in Montclair, NJ did: Reface your kitchen and add furniture detailing.
In this beautiful kitchen in her condominium, end shelves to store Alyssa's collectibles and cookbooks and a crown molding at the ceiling give the finished room a formal and yet warm touch.
Kitchen Magic provided the cabinet refacing paired with with Prestige Kershaw wood doors and Prestige Plain drawer fronts in Classic Cherry finish. The new countertop and backsplash are Amarillo Planera Silestone quartz; non-porous, easy to clean, and nearly as wear-resistant as diamond.
The result is a beautiful room that makes everyday chores a breeze and is a perfect space for entertaining at special occasions. The job was done quickly and with a minimum of disruption to the home. And it all started with a visit to our website and a call to arrange a convenient in-home visit from one of our talented designers. In just about an hour, Alyssa was able to find the materials she liked at a price she could afford.
If you'd like to see how affordable and convenient a cabinet refacing for your kitchen can be, give us a call at 1-855-573-3223 to schedule a full hour of free advice. If you need help deciding if cabinet refacing would be the best choice for you, download our free offer below.