The difference between maximalism and chaos is intention. What divides them is that maximalism has a common theme, like an era or flavor in the space that makes you smile. That, and tidiness: maximalism is never disorder, it just hints at it—think charming peculiarity versus an utter mess.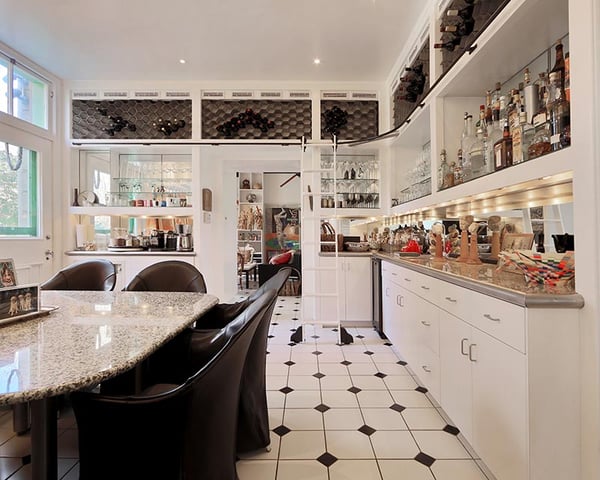 Maximalist Kitchen Design is on Trend
Wikipedia defines 'maximalism' as, a reaction against minimalism—an aesthetic of excess and redundancy. The philosophy can be summarized as "more is more", contrasting with the minimalist motto "less is more". While one could mistake maximalism with borderline hoarding, this new age style encourages purpose and forces the eye to take in the whole room as one big focal point. Combining textures, colors and patterns galore, the maximalist design style is more of an accumulation, than a style—yet it works if done right.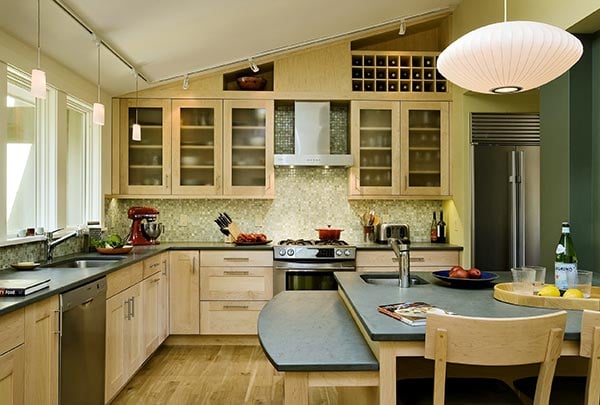 Connecting the Décor Dots
Pulling off maximalist design is not an easy feat. Mass décor of colors, patterns and items that create interest in the overall design. While the items may obviously deviate, nothing is scattered, but sprinkled in embellishments, always ensuring the decor pieces connect with something else in the room. Doing this over time is fine, but always maintain a common thread throughout.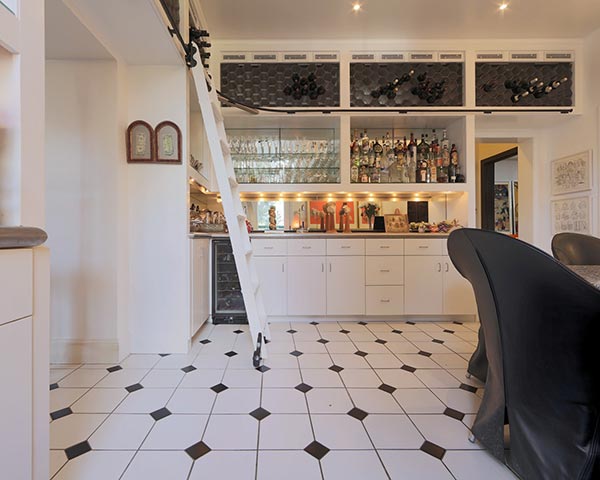 Don't be afraid to mix and go 'eclectic' when choosing elements. The above kitchen's detailing includes built-in wine racks, shelving, a ladder, mirrored backsplash and art deco flooring. An additional layer of décor displays statues, glassware and liquors that reflect the homeowners love of fine spirits and traveling. The notable difference from hoarding is that the style has a somewhat organized and cohesive edge that includes more luxurious and/or whimsical décor. Nothing should be understated within this style.
Embellish a Maximalist Kitchen to the Max
The stylish and effective implementation of this maximalist kitchen is exemplified within its details and décor. The starkness of contemporary, minimalistic décor is sometimes considered cold, compared to maximalism. When designing your space, welcoming warmth will always trump stark and sterile. This is where Versailles meets Frank Lloyd Wright.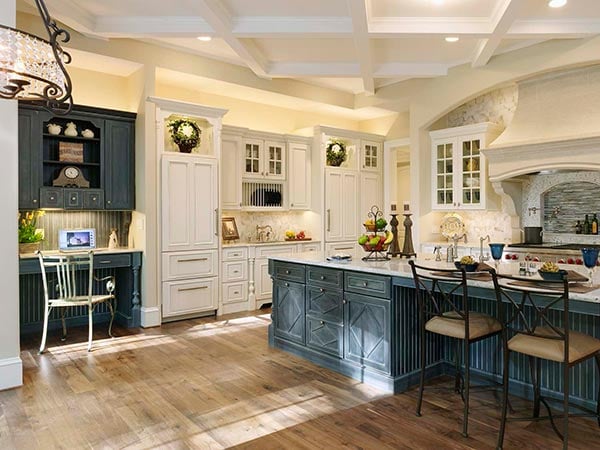 The overstimulation of a maximalists kitchen's design adds comfort, not stress. Distressed cabinets, wainscoting, shelving, plate holders, decorative knobs, trim work, decorative legs enhance the design and add interest. We tell customers to not be afraid to punctuate your newly remodeled space with details throughout—gracing it with your signature should never be an afterthought, nor need an apology.
The Timeframe of a Trend
Like any fashion trend, 8-10 years is the life span. Sterile contemporary is projected to fall by the way side by trend experts. Busy wood grains are already trending and making a comeback. We are also seeing colors: blues, greens and grays being used on cabinets or as accent pieces and islands. We expect this trend to continue in the future of kitchen remodeling, and work well in maximalist design.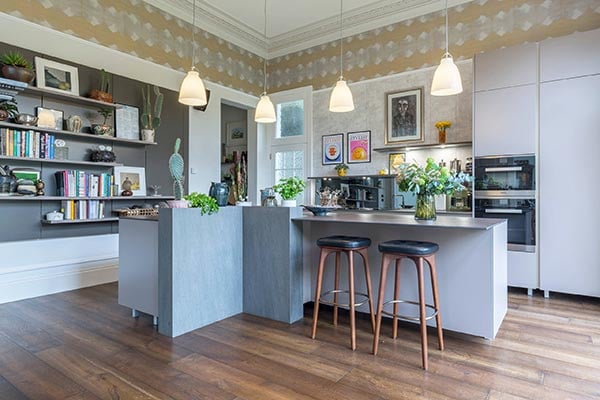 When you're ready for a motif makeover, feel free to employ a kitchen consultant that will guide you through the process. Kitchen Magic's in-home design consultations are free, with zero-obligation, and we're happy to give you our best advice. Always stay true to your style instead of using the latest Instagram post, and you'll love your new kitchen. Plain vanilla design is not everyone's favorite flavor. Happy remodeling!