You can maintain your kitchen at on-trend status, without overhauling the entire room. The trick is to start with a timelessly designed kitchen to serve as a neutral backdrop, and then update the kitchen's style by way of transient decor.
In Vogue Ideas to Decorate your Kitchen for the New Year
We asked our designers, reviewed the trend reports, and hand-picked these ideas from the top home interior trends that experts foresee for the first quarter of 2019. Here are the trends we found that particularly lend themselves to the kitchen as non-bank-breaking accent pieces and decor.
90% white with 10% accent color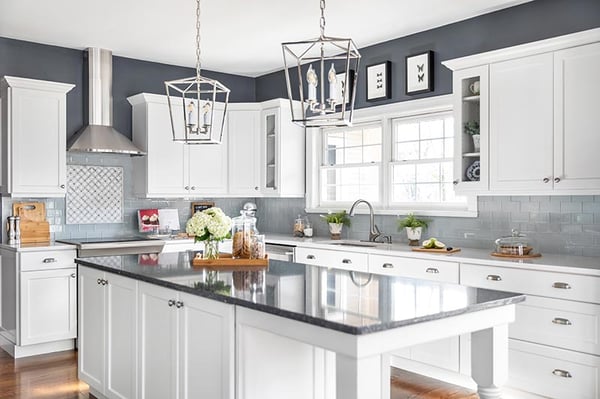 Last year, many trend forecasters predicted that white kitchens were on their way out. We reported their predictions, but warned, "we'll believe it when we see it!" A year later and we see this did not come to pass... an unfortunate occupational hazard of trend forecasting. White kitchens have been the most popular kitchen color for decades, and based on our cabinet sales—we don't foresee that changing anytime soon.
However, a fun interior design trend that will be big in 2019 is incorporating 10% accent colors into an all-white kitchen. So, whether it's adding a varied palette of the same color (like the gorgeous white and blue Kitchen Magic Kitchen above), or bold blend of jewel tones—go ahead and liven up your white kitchen! You can do this with a variety of relatively simple options, including but not limited to:
Paint the wall
Treat the windows
Decorative table and countertop items
Display items in a glass-front cabinet or open shelving
Change out the hand towels and throw rugs
Do a contrast color on the kitchen island
Vases, artwork, light fixtures, etc.
We mentioned jewel tones make excellent accent colors... spoiler alert!
Saturated in jewel tones
Several trend forecasters are raving about deep, dark, jewel toned greens for 2019. Some are calling it Night Watch Green, others just stick with the classic Hunter Green—either way, we all know this color well. It's not new to the kitchen trend scene, but it's got some surprising staying power.
This is a deep, dramatic color that will understandably not be everyone's cup of tea. In which case, the entire jewel-toned color palette is in for 2019. Jewel-tones get their namesake from the fashion industry, referring to a variety of bold colors that resemble the deepest hues of a gemstone's spectrum.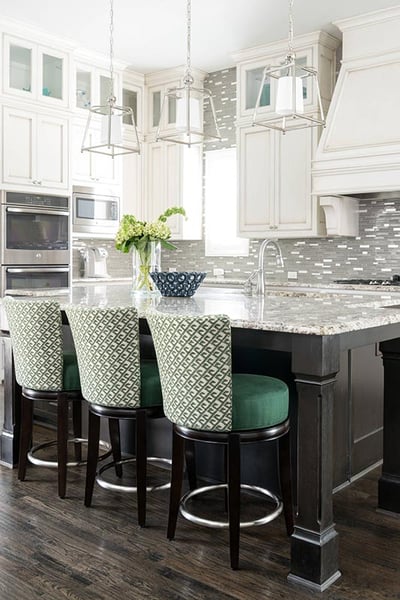 Refer to our bulleted list above for easy ways to bring some jewel tones into your kitchen. The stools in the photo above make a great example.
This is a super decor-friendly trend. Whereas some kitchen trends can require a large investment, a quick trip to Pier 1 or a web browse to wayfair.com and you can easily and affordably make this trend your own. What a beautiful way to add a little sylvan charm to any kitchen style!
Art Deco for that touch of glamour
Mid-century Modern has been the go-to design style of the past for a good while now, and many trend forecasters are eager to identify the next big thing. Some feel strongly that it's going to be all about Art Deco in 2019.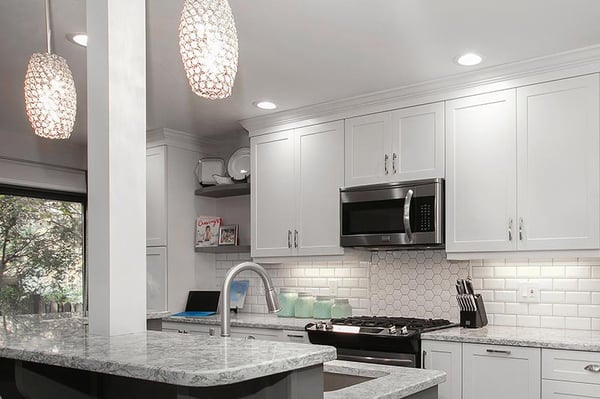 If you want to be a head of the curve, start bringing in glamorous items like the pendant lights above. Vases and other water vessels and bar stools lend themselves to Art Deco style, as well.
Curves for days
Retro style furniture has been dominant in the trends, and will continue to thrive this winter—especially curvy, wooden pieces. Choose rounded chairs, banquettes, stools, or tables for your kitchen like those shown below. Atypical shapes in shades of retro will achieve this 2019 trend perfectly.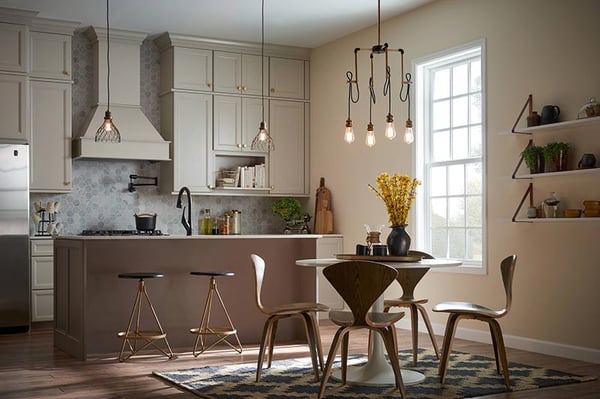 Good-vibal tribal prints
Geometric prints are almost always in style, but every decade or so their culturally inspired counterparts step into the limelight. This is their time and tribal prints will be big this winter. They are a wonderful way to bring unique style and contrast to your kitchen space.
These napkins are fantastic, and we can see this trend being used by way of placemats, rugs, drapes, upholstery, or anywhere that fabric might reside in your kitchen.
Handmade and sustainable items
In 2019, we're going to see a lot of made-by-hand decor pieces that use eco-friendly and sustainable materials. Bamboo, rice paper, clay, and jute are some examples. These kinds of elements bring a grounding energy into the space, and help people to feel more connected to their roots and to the earth.
Keeping it brassy
If you thought that brass' big comeback was going to be short-lived, think again! This trend has been in our reports going back to Fall 2017—and we're honestly glad to see it continue to gain traction.
This trend especially favors aged and vintage looking brass. Cabinet hardware is one way to incorporate brass into the kitchen, but what about all those nickel fixtures and stainless appliances you don't have the budget to replace right now? Not to worry, mixing metals is A-OK! And when done right, it can create very interesting visual appeal.
Just because you have existing chromes or nickels dominating your kitchen, doesn't mean you can't enjoy this trend. Play with different metals, bring in some copper, steel, and bronze, and allow them to be stylishly cohered by the fact that they are all different.
For walls, mill work will work
The bad news is that the trend forecasters have been reporting that accent walls are out. Say "so long", hopefully not for long, to that simple trick that adds a pop of color to a room. The good news is that there are new (and some old), exciting ways to add interest to your interior walls. Wainscoting, traditional mill work, or rustic shiplap are some of the ideal ways to get your walls in line with this trend.
However, those are admittedly some work intensive options. For a simpler solution, check out this kitchen, donning a synthetic wall covering engineered to look like reclaimed wood! There are also some great textured wallpapers out there that will do the trick. "Having nice textures is one of the best ways to achieve a sense of coziness in the home. Textures like fluffy pillows & carpets are just things that people like to touch.", suggests Suzy Cacic of BetterHouseKeeper.com. You can find textured décor items at their decorating blog, CozyDecorStore.com.
We hope these ideas inspire and help you to bring your kitchen into the new year with the latest trends in kitchen decor. Everyone at Kitchen Magic wishes you and yours a happy, healthy, and prosperous 2019!