You can maintain your kitchen at on-trend status, without overhauling the entire room. The trick is to start with a timelessly designed kitchen to serve as a neutral backdrop, and then update the kitchen's style by way of transient decor.
In Vogue Ideas to Decorate your Kitchen for the New Year
We asked our designers, reviewed the trend reports, and hand-picked these ideas from the top home interior trends that experts foresee for the first quarter of 2018. Here are the trends we found that particularly lend themselves to the kitchen as non-bank-breaking accent pieces and decor.
White kitchen, schmite kitchen
According to those in the know… all-white kitchens are on there way out (we'll believe it when we see it!) White kitchens have been the most popular kitchen color for decades, and it's been forecasted to dwindle a few times now, but it has yet to be a reality we have seen.
That being said, if you have an all-white kitchen, and you could use a little update, we suggest adding a few pops of color, or even pops of neutral beiges, grays, and creams. You can do this with a variety of relatively simple options, including but not limited to:
Paint the wall
Decorative table and countertop items
Display items in a glass-front cabinet or open shelving
Change out the hand towels and throw rugs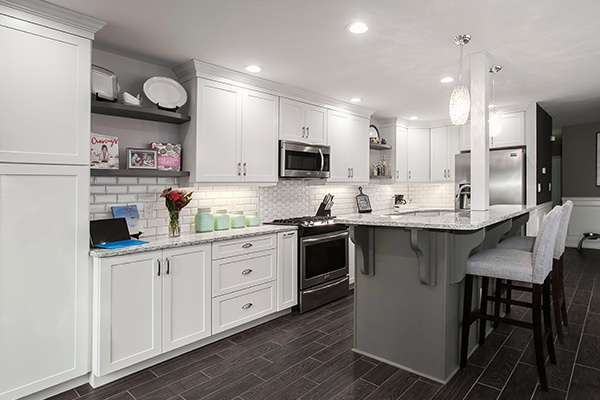 Which colors should you choose? Well, we were just getting to that!
Saturated in jewel tones
Back in Fall, we reported that hues of deep and jewel toned green we all the rage. They still are, and the trend has expanded to other jewel tone colors. Pantone recently declared their Color of the Year for 2018 as "Ultra Violet", a jewel tone purple that is sure to spice up any bland kitchen.
But, if you're not big on purple, as some may understandably not be, Navy Blue is the next best option that is still very on-trend for 2018. Incorporate jewel tones into your kitchen by way of the modalities we listed above.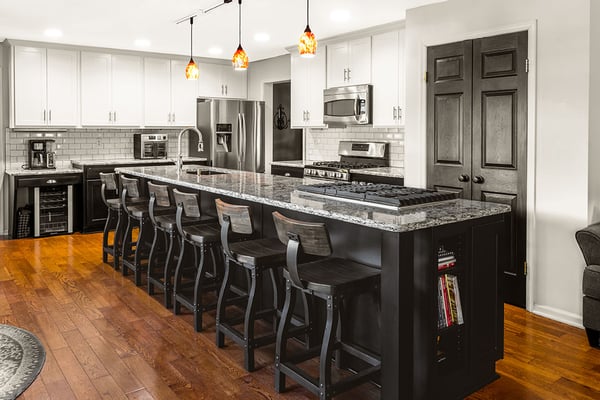 Keeping it brassy
Another carryover trend from Fall 2017 is brass, and warm metals. This trend especially favors aged and vintage looking brass. Cabinet hardware is one way to incorporate brass into the kitchen, but what about all of those nickel fixtures you don't have the budget to replace right now? Not to worry, mixing metals is A-OK! And when done right, it can create very interesting visual appeal.
Just because you have existing chromes or nickels dominating your kitchen, doesn't mean you can't enjoy this trend. Play with different metals, bring in some copper, steel, and bronze, and allow them to be cohered by the fact that they are all different…. Which is the PERFECT segue to our next trend!
Wabi-Sabi… what?
Wabi-sabi is a minimalistic design principle that originates in the Japanese tradition. This concept is most well-known for finding beauty in imperfection. Wabi-Sabi can be executed in any kitchen's décor with ease, and a little creativity. You can decorate with hand-made items that feature individualistic imperfections, or place items in an atypical manner, or you can add a little Wabi-Sabi by just arranging decorative pieces together that would normally not be considered to coordinate. The trick is to not over-do it, keep in mind that the basis for this style is minimalism. This kitchen features a great example of Wabi-Sabi design by way of the items displayed on the kitchen island shelf, and the traditional styled chair in a very modern room.
Out with the words, in with the prints
Word art has been popular in home design for a while now, and it's time to say goodbye to this on-the-way-out trend. Instead of being so literal, you can express yourself this winter with the on-trend options of bold florals, or black and white prints. Be they pillows, slip-covers, vases, or placemats—romantic and vibrant floral patterns will warm up your kitchen through the stark winter months. Likewise, if you're not a floral person, choose expressive black and white designs over word art to enhance your kitchen's appeal.
Make a statement with storage
For the longest time, having a neat, clean, and stylish kitchen meant not having much storage space, and it also meant not having easy access to regularly used kitchen tools & appliances. A trendy kitchen can't have all of that countertop clutter, now can it? This common problem is met with the solution of functional storage in the form of style. Fashionable storage furniture is going to be big in kitchen design this year, and we recommend you take advantage of this stylish way to make your kitchen more functional.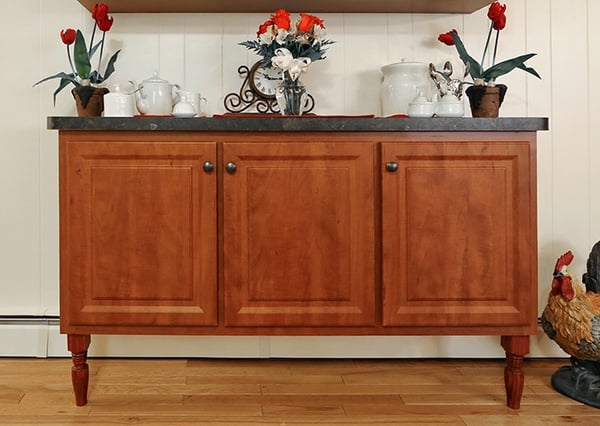 Accenting the language of natural
Here we have another carryover trend from Fall, with some new aspects. Back in September, we noted that woven baskets and natural textures were a big trend. Nothing's changed there, but the idea's been extended to wooden bowls, plates, vases, and decorative items. This Los Angeles kitchen fits this trend with wooden bowls and rustic candle votives, adding a naturalistic touch to the Mid-Century Modern design. What a beautiful way to add a little sylvan charm to any kitchen style!
For walls, mill work will work
The bad news is that the trend forecasters are reporting that accent walls are out. Say so long, for now, to that simple trick that adds a pop of color to a room. The good news is that there are new (and some old), exciting ways to add interest to your interior walls. Wainscoting, traditional mill work, or rustic shiplap are some of the ideal ways to get your walls in line with this trend. However, those are admittedly some work intensive options. For an simpler solution, check out this kitchen, donning a synthetic wall covering engineered to look like reclaimed wood! There are also some great textured wallpapers out there that will do the trick.
Appliances are back in black
Stainless steel has been on top of the appliance material game for quite some time now, and as we all know, all things that go up—must come down. That's not to say Stainless is out of style. But, for those of you who are considering new appliances this winter, black and slate colored appliances are making big waves in the kitchen design community. LG recently released this line of appliances in a new "Black Stainless Steel" finish, which we think looks pretty awesome!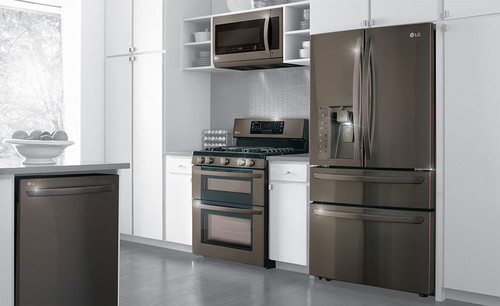 The shape of furniture to come
The style of the 1970's is dominant in the trends this winter. That goes especially for furniture. Choose shapely chairs, banquettes, or stools for your kitchen like those shown in the kitchen below. Atypical, rounded shapes in shades of retro will achieve this 2018 trend perfectly.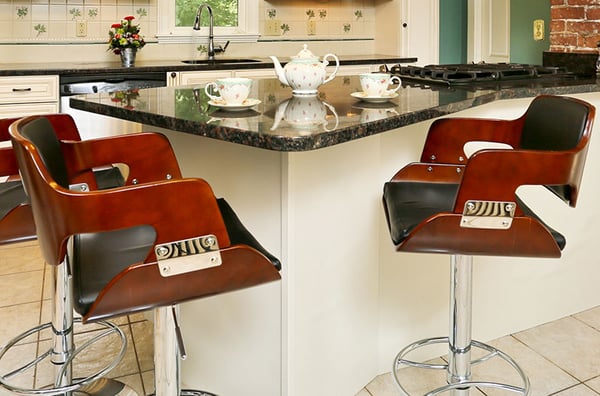 We hope these ideas inspire and help you to bring your kitchen into the new year with the latest trends in kitchen decor. Everyone at Kitchen Magic wishes you and yours a happy, healthy, and prosperous 2018!