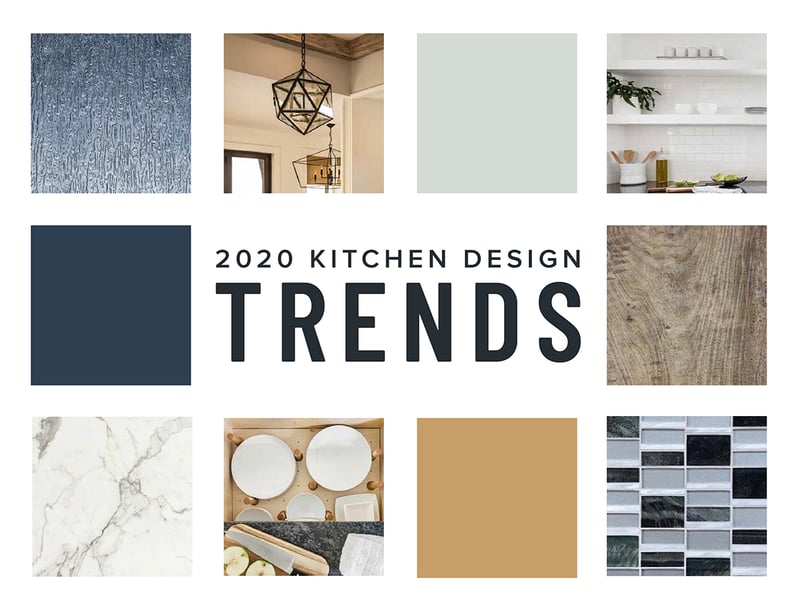 Winter is a great time to put your kitchen remodeling plans into action. Partly because people tend to spend a lot more time indoors when the days get shorter and colder — and partly because the year's newest design trends are coming out — kitchen style, color and function in the kitchen get a closer examination in the winter months.
No matter what kitchen design style you have, we've got two important elements for you to consider while you plan: color and materials. Don't be afraid to get creative or include some personal flair, either. Personalizing your kitchen design can give the room a warm and welcoming feel.
There Are a Lot of Great New Design Trends for Your Kitchen
If you are wondering what's new and exciting in kitchen design, we've collected some of our favorite trends that are emerging for 2020 and beyond.
It's All About Color
Photo Credit: Rayon Richards, 2019; Keia McSwain, Principal Designer
Expect to see natural, comforting and serene hues this year. And homeowners are not simply reserving splashes of color for small decor items and appliances either. They are going bold and applying color for impact throughout their kitchen designs. Smart color choices in cabinetry, flooring and backsplashes are creating warm, inviting and beautiful kitchens, many times without even changing the existing footprint of the kitchen.
Materials Matter
Hints of nature are appearing in surprising places in the latest kitchen designs. Homeowners are taking inspiration from the rich wood grains available in kitchen cabinetry and flooring, as well as the textures and natural patterns of granite and quartz countertops and tiles. Thanks to major innovations in high-quality vinyl surfaces, homeowners now have affordable alternatives to hardwood and stone products that enable more people to achieve the natural looks that are trending. More and more homes are using these beautiful, low-maintenance, and budget friendly offerings in 2020, and we expect this trend to continue for many years to come.
Kitchens to Reflect Your Lifestyle
In 2020 the focus is on comfort, functionality and self-expression. We are seeing a surge of more personalized decor, and in custom storage solutions that can be seamlessly integrated into kitchen designs. In today's kitchen, there is a place for everything, and homeowners are embracing creative alternatives, including open shelving and statement lighting fixtures.
Download our free 2020 Kitchen Design Trends below to read more and access our exclusive expert tips!
We hope these ideas inspire you to transform your kitchen into in the new year. Ready to get started? Schedule an appointment with Kitchen Magic today. Our consultants will work with you to create a new kitchen you'll love.