The kitchen island has been a popular design choice for many years. And why not? It's useful, practical and aesthetically pleasing. A well-designed island will transform your kitchen into the efficient and functional space you deserve.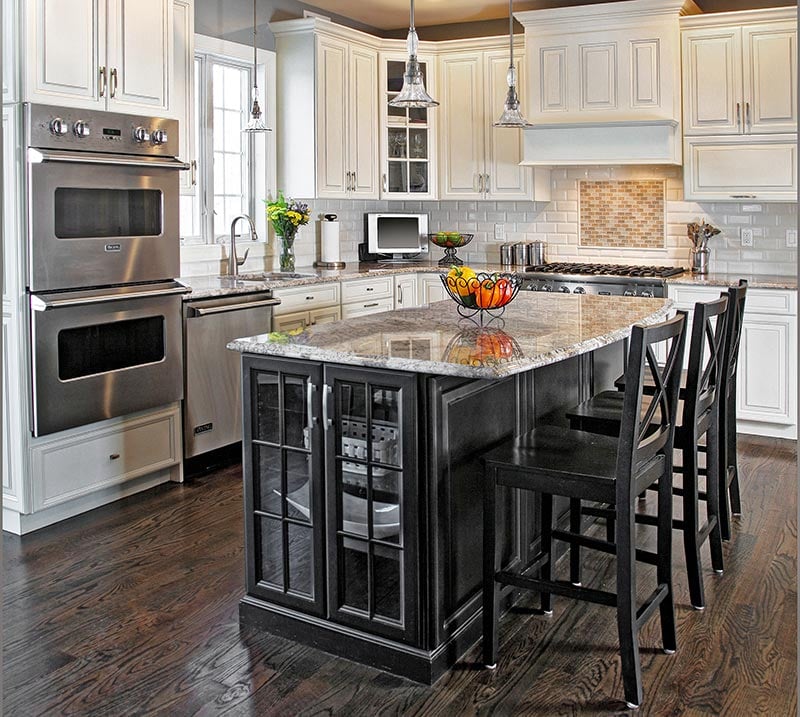 Creating a Functional Kitchen
Kitchens are many things to many different households. But as the heart of your home, it should always be a functional place that works with you so you're able to complete all your tasks. Design a useful space by adding an island that meets all your kitchen storage and convenience needs. When your kitchen is everything you want it to be, you can focus on the important things— like enjoying time with friends and family.
Food prep areas
If you like to cook and entertain, then you'll be spending a lot of time standing at your countertops and stove. Anyone who's hosted a party knows that it takes a lot of hard work to prep and cook a meal for all your guests.
Don't go it alone! Solicit help with your endeavor. An island is the great place for all your sous chefs. That's why you should incorporate everything you'd need to get the job done at your island area, too. Run your kitchen like a pro chef and earn your Michelin stars in no time!
Add appliances to your island
You'll want space for small appliances that fit in with your lifestyle. Here are a few that we think work seamlessly in the island design.
Kitchen island sinks
The first thing you'll want to think about is adding a sink. It's essential for any kitchen food prep. Reserve the main sink for the heavy duty washing and dishes and use a smaller island sink for rinsing food items like vegetables and fruits.
Creating additional work stations gives you the opportunity to get more done. Serve the food to your guests faster and you'll get back to hosting that party instead of sweating away in the kitchen!
Microwave in the island
A microwave is another item that's suitable for the kitchen island. It can serve many purposes—the first being that you can jump on the trend of concealed/integrated appliances. Putting the microwave under the countertop and at the island moves it out of eye sight, keeps it accessible for everyone (old or young) and frees up room elsewhere.
It's practical to put it at a lower level too. Most designers place the item too high in the upper cabinets. Raising your arms above your shoulders to remove hot food is not the safest way to operate. When it's under the countertop it's easier to maneuver and results in less risk of spills and burns.
Island refrigerators
Many homeowners are interested in adding wine, beverage or mini refrigerators into their kitchen designs. The island is the perfect spot to do this. There are multiple benefits too—the first of which is convenience. No need to miss any part of the conversation when you're entertaining guests. Just pop to the side of the island and pull out a perfectly chilled bottle of wine for a quick refill.
If you choose to add one of these refrigerators, then you'll also have an opportunity to create a little textural contrast in your kitchen. Give it a glass door which breaks up the space but is also aesthetically pleasing.
Allow easy access for your young kids with a fully stocked smaller refrigerator in the island. They'll be able to help themselves to whatever they need without assistance or worry.
Kitchen island storage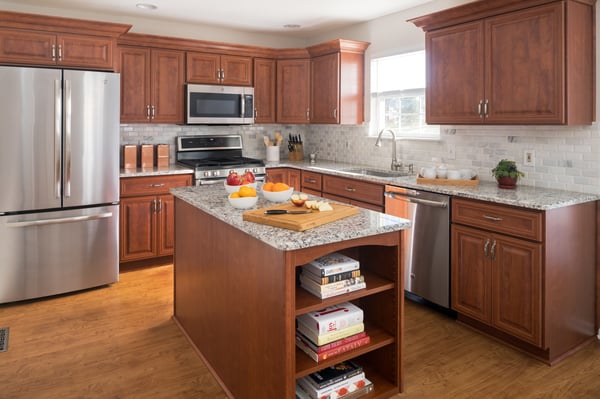 If you're not looking to include appliances in the island that's OK too. Now you can focus on your storage needs. There's ample space to incorporate drawers or base cabinets in your design. Even consider some open shelving to display your recipe books or other decorative knick knacks.
Pull out drawers are perfect spots for your bigger pots or serving trays. Have your tools on hand for the party in easily reachable areas. The best thing about the island cabinets is that they are not as tall as upper cabinets. With all the storage solutions you'll be able to grab whatever you need with ease. No more straining or step stools to find what you're looking for!
Kitchen island as the gathering place
More and more the island has become the gathering place in the kitchen. Everyone ends up in this room anyway so why not have a space that's visually appealing and offers the spot to converse and celebrate. Let everyone grab a seat to share some laughs, eat some good food and make some lasting memories.
Countertop choice
Choosing the right countertop for your needs is essential for a functional kitchen. If you plan on getting the most out of your island, then you'll want a durable choice like quartz—which is sturdy for all your prep work but also hygienic. It's non-porous so you don't have to worry about any bacteria or the spreading of germs.
Maybe you're more of a baker—then a marble countertop is perfect for rolling out all the dough and desserts you can make. Bring on all the sticky recipes because you'll be able to handle them with ease on a marble countertop
Ready to make your kitchen more efficient? If you want the perfect functional island for your family, schedule a consultation with Kitchen Magic today.