Cabinet refacing is one of the most popular kitchen remodeling options because, in addition to gaining high-quality updated cabinetry, you pay a fraction of the price. For this process, you choose the door style and finish, and we do a thorough job of reinforcing the cabinetry's structural components and applying the new surface. The end result is stylish cabinets that look brand, spankin' new.
But—what about the inside of the cabinets? What happens there?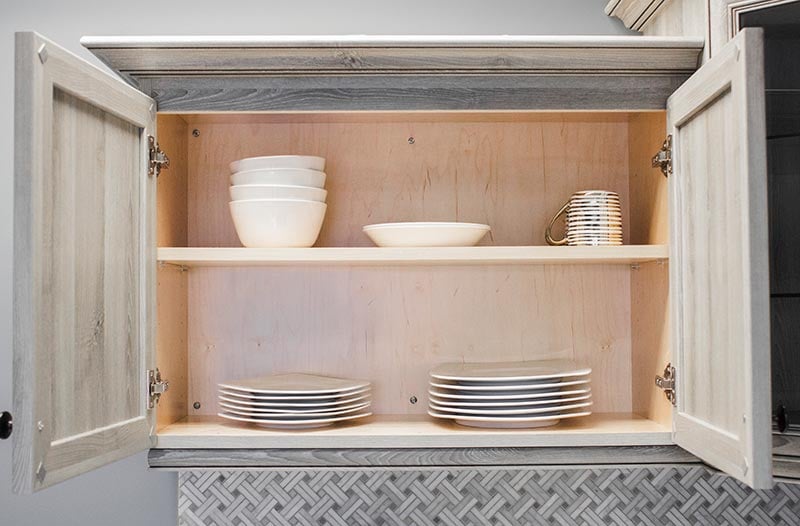 Refacing Updates the Exterior, Not the Interior of Cabinetry
When your cabinets were originally designed, built, and installed—there's a chance the interiors matched or were similarly finished to the exteriors. Then again, that might not be the case at all. Either way, when you opt to update cabinets on the outside, you may find that the cabinet interiors no longer match. Perhaps the interiors were light and now you're going dark, or vice versa.
Here are some of the options available to you when you're updating the exterior of your cabinetry.
Don't get caught up in kitchen remodel minutia
When homeowners start a kitchen remodel, they often find their perspective becomes obsessively focused on things that don't actually affect the big picture as much as they might think they do. Step back from the micro-view for a moment and evaluate your kitchen from the big picture perspective. How much will your interior cabinets be seen or inspected?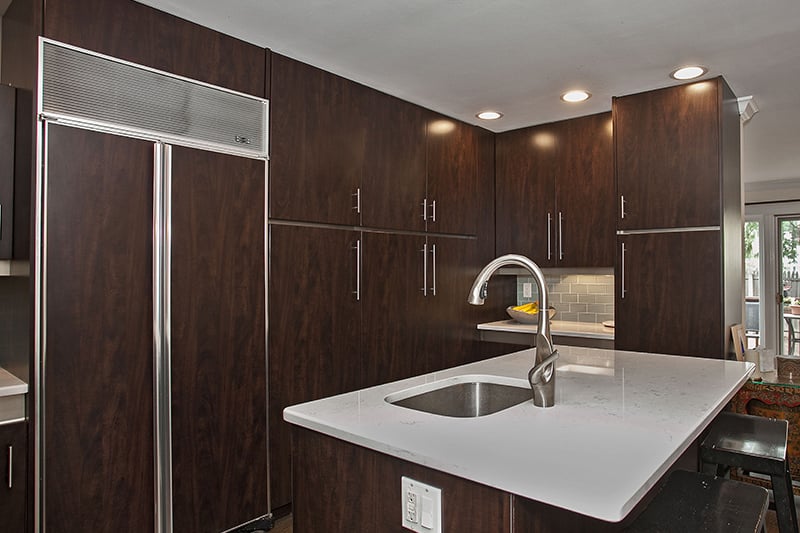 Embrace the interior contrast as a design element
Also, keep in mind that contrasts are an important element of good kitchen design. That dark/light contrast you have going between your exterior and interior cabinet surfaces may not be a bad thing at all. If the interiors are in good shape, some homeowners and designers even welcome those contrasts. Also, remember that once the cabinets are all loaded up again, there won't be a whole lot of visible interior space remaining, so this concern may be a non-issue when all is said and done.
Refit your refaced cabinets with storage upgrades
If you're refacing, odds are your cabinets are 10 years old or older—and cabinet interiors have come a long way since then. Nowadays, storage solutions abound. From pull-out shelving to the custom pot, pan, and dishware storage spaces, the newly installed storage solutions will automatically improve the way your cabinets look when they're open.
Focus your creative energy inside the cabinets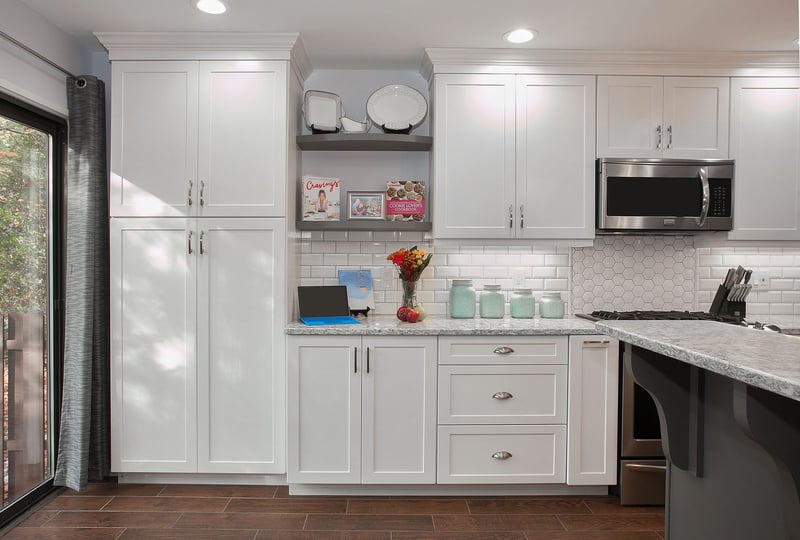 Along those same lines, re-configuring cabinet interiors can make it possible to eliminate some of your kitchen cabinetry altogether, allowing room for some of the kitchen remodeling extras you didn't think you had room for. You may find there's now a corner space available for a breakfast nook, a family message center, or open shelves.
Have some spare time and a knack for crafting? You could get creative with a DIY solution, like lining the back and walls of the inside of your cabinets with decorative self-stick patterns. This is especially attractive when paired with glass cabinets but can make for a unique and stylish design element on inside of any cabinet.
When refacing just won't cut it…
If you simply can't find a way to accept the cabinet interiors being different, then it may just be that refacing isn't the best option for you. All new kitchen cabinetry will be able to provide you with the consistency you crave for both the exterior and interior. Sure, this will entail a higher price, but at least you'll be truly happy with the final product.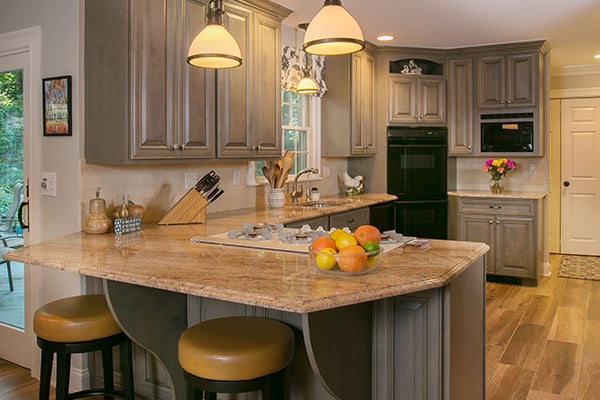 For expert advice on the optimal remodeling solution for your kitchen, schedule a free in-home design consultation. We'll help you design a stylish kitchen, whether your cabinet interiors match or not!