We're doing more in the kitchen now than ever before. Not only are we prepping, cooking and baking, but we're also socializing, working and entertaining in the kitchen. And kitchens have changed dramatically over the years. From small galley or L-shaped kitchens to large open layouts that meet other rooms in the home, kitchens have become all about empty, airy space. So, with new looks, layouts and uses, it's no surprise that work triangles just don't work the way they used to.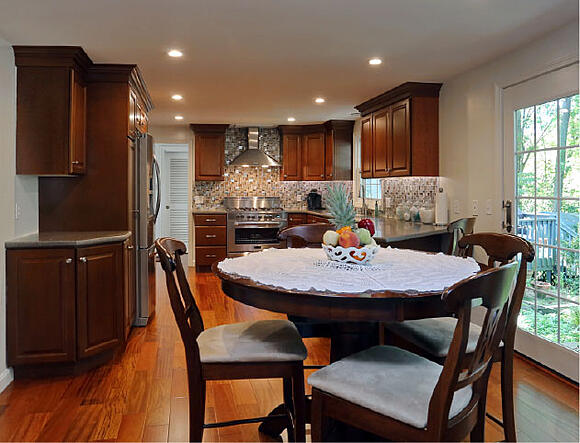 Work zones are all about creating task specific work areas, and a proper work zone should contain everything you need in order to complete a specific job without running all around your kitchen.
Most likely, your kitchen has more appliances and accessories than your mother had in her kitchen. And it's just not possible to fit all of those appliances into one triangle without bumping around.
So rather than group your appliances all together, group your appliances based on use. For example, to make kitchen cleanup a breeze, install your sink, dishwasher, compost, garbage and recycling all in the same place and close by to one another. Another great trick is to make designated "cool down zones" right next to your stove and near your table or entertaining space. This way, once you're ready to take that hot tray out of the oven, you don't have to run around looking for a place to set it down to cool, or risk damaging your countertop by placing a hot tray on your cool granite.
You also want to group your accessories based on use. For example, keep all your coffee machines, your K cups and your favorite coffee add-ins all together in one storage solution close to where you like to make your coffee in the morning. You'll never have to search around in the dark morning again.
Photo from Pinterest.com
Also, create designated spots for all of your non-kitchen related activities. If you like to work in your kitchen, make a desk just for yourself. If your kids do their homework while you make dinner, make a fun kid-friendly space with some storage solutions for their school supplies and maybe a fun chalk board where you can leave a to do list.
If you don't have enough space to make designated work zones for each task you do in your kitchen, make some rollout zones. Love to bake but never have the space for it? Purchase a bakers island on wheels; you can easily store all of your baking ingredients and accessories, and simply roll it in when you need it, and roll it out when you don't!