Time is a great equalizer. And in a fast-paced world where we're used to instantaneous results, it can be a tough pill to swallow when things take some time. And home improvement projects, especially kitchen remodels, can be a great example of that.
So, if you're looking into professional kitchen remodeling, it might be a good idea to go to your computer and find out how long the whole process actually takes. One of the best answers you might find with no definite metric is…it depends. While that can be true to an extent, you deserve to know exactly why the options you choose will bring your timeline up or down. Let's dive right in!
What is the average time frame for a kitchen remodel?
Home improvement shows tend to make it look like a fast and effortless process, but it's important to keep reasonable expectations and know that a kitchen renovation will be a minor disruption to your everyday life.
Today, we'll get to the root of how long some projects take and why you might find yourself ordering more takeout than usual.
Consider these factors before you begin
First, let's consider some factors that will influence the timeline of your project:
Overall size of your project

: Will you reface or replace? Or are you looking to strictly update your countertops

and backsplash? Understanding exactly what you'd like out of a remodel will help to determine how long your timeline will be.

Production of materials and delivery: While this will be dependent on who you decide to work with on your remodel, we at Kitchen Magic have in-house manufacturing for all of our cabinetry and deliver directly to you from our HQ in Nazareth, PA. Most companies buy their kitchen cabinets or other materials outside of the US which often delays the start time of your installation as you wait for the oversea delivery of your project elements.

Your availability:

From scheduling your first appointment to the drafting process


and scheduling a date that works for your installation, this can be drastically different from home to home. If you find yourself in a serious position about renovating your kitchen, make sure to communicate with your project coordinator or sales consultant about dates that work for you for the duration of an installation period.
Late Changes and adjacent projects:

Whether it's new appliances, last minute add-ons, or additional renovation projects taking place in your home at the same time, these factors all influence the length of time it takes to complete your kitchen. Therefore, it's important to have open communication with the team handling your project requests and let them know about any additional projects or conflicts that might affect their work.



Introducing your remodeling roadmap
Remodeling your kitchen is a 'trip and a half', so consider this your timeline map. Let's now break down every step of what getting a remodel looks like:
1. Initial consultation
Whether you filled out an online form or reached out directly to a remodeling company, the first step is always setting up a consultation to meet with a designer to explore your options as well as take a list of all your wants and needs to draft up a game plan and quote a price. Here at Kitchen Magic, from the moment of your initial inquiry, we strive to respond to your request as quickly as possible and immediately schedule your appointment within 48 hours. Of course, we also realize that life happens and are flexible with scheduling to find a time that works best for you. Whether you know exactly what you want in your new kitchen or want assistance exploring all options, it's the designer's job to help you realize your vision.
2. Taking measurements
Like your initial consultation, measuring may delay the completion of your remodel based on your availability and flexibility. While this process includes many steps, a simple breakdown is a drafting technician coming to your home to make confirmations on the work to be done as well as do an overall inspection of the kitchen space. This is an opportunity to bring up any questions or concerns you might have before installation begins.
This process would include anything from your technician bringing physical examples of selected products to confirm style and color selections to taking photos of the area to be renovated. It may also include confirmations that items such as accessories or appliance models will fit, in terms of measurements, with your renovation plans. Depending on your project, specifications and material lists will also be made during this consultation in preparation for your project.
In terms of timeline, the sooner the drafting appointment is scheduled, the faster your project will get started. At Kitchen Magic, our goal is to work efficiently around your schedule, so it's important to have flexibility with your team and communicate what times work best for you.
3. Production &

d

elivery
So, you've finalized an agreement, your mea
s
ure has taken place, and you're ready to get your new kitchen. But this step requires you to play a bit of the waiting game. Production and delivery of all the elements of your remodel will differ but the average is 3-6
weeks from measure to delivery. Additionally, it's important to note that your new countertop will not be measured and templated until your project begins but installers will try and take this 7–10-day delivery period into consideration by installing your cabinets during that waiting period.
Installation:

Reface or replace? Both have diverging timelines, so understanding that a reface will have a drastically shorter timeline than a full remodel will help you prepare for your installation, and it might even be a deciding factor in which option you choose. If you consider a strict reface with no additional steps, this can take up to 7 days.

However, as you add on to your project, you're also adding on days and sometimes even weeks. From a new countertop (3 weeks total), a new countertop and backsplash (4 weeks total), and a countertop, backsplash, and flooring (4-5 weeks total). While new cabinetry also follows a similar timeline pattern, it's important to keep in mind how additional steps such as initial demolition and removal of that debris after your project is complete will tack on days.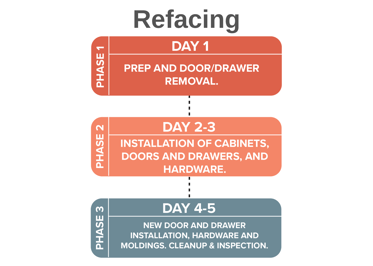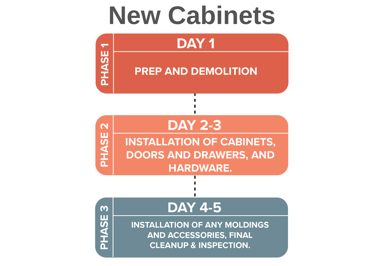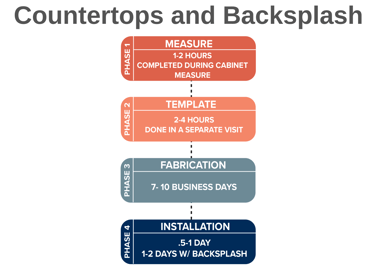 Debris Removal:

Unless stated otherwise, debris removal is almost always included in the agreement you sign for your kitchen remodel and, while cost will differ on the scale of your project, will usually be around the cost of a small dumpster rental for comparison. This removal would only include any elements that were involved in your remodel, not additional pieces such as old appliances. Debris pickup happens 5-7 days after your project is complete.
Downtime:

It's also important to keep in mind that every project will have some scale of downtime and while we use ranges such as 2-4 weeks, some of this time range involves waiting to begin the next step, whether it be the arrival of your countertop or working around an adjacent project.
Where can I find the experts in kitchen remodeling?
So, what will your timeline look like? We hope this breakdown has given you a better idea. While no two projects are the same, these general ranges are a great starting point. However, if you want to make your experience efficient without sacrificing quality, we're the company to call.
Kitchen Magic has a team of the finest kitchen designers and offers a wide range of custom-fit solutions and installation services, including cabinet refacing, countertops, flooring, and backsplashes options for your kitchen space. Get in touch with us at 866-525-7999 or schedule a free design consultation here!