Have you found yourself at a loss with your kitchen remodeling research? You're not alone, and it can be best described as a long, uphill journey. From inspirational DIY tutorials promising you professional results with a Can Do! attitude, to the multitudes of unique styles and renovation options, it can start to feel more like a hassle to get the kitchen you want than an enjoyable experience of freshening up such a vital piece of your home.

But at the end of the day, one of the most essential elements when it comes to any home renovation project is…Cost. Dread it, run from it, but it's inevitable. Of course, you want a remodel that fits within your means and meets your style expectations. But where to start?

I will be your guide on the journey through one of the most cost-effective options for your home: Cabinet Refacing. From a step-by-step process to common myths and more, by the end of this article, you'll be equipped with the knowledge you need to decide if cabinet refacing could be the best thing to happen to your home.
What is cabinet refacing

So, is your preferred style traditional, contemporary, farmhouse, or transitional? Which palette works best for your desired result and personal preferences? Our kitchen designers share three simplified steps on coordinating kitchen countertops, cabinets, and floors—the main focal points of every kitchen.
A kitchen facelift
Cabinet refacing can best be described as a facelift where the "good bones" of your kitchen are used as the starting point for what will be a refresher on the style of your kitchen. While the process of refacing your kitchen will vary depending on the company you use (or if you decide to go the DIY route), the following is a general step-by-step guide:
Cabinet doors and drawer fronts are removed.

The cabinet frames are sanded down to a fresh wood surface.

Laminate (and in some cases a ¼" luan plywood subsurface) is applied.

New accessories, trim, doors and drawer fronts are installed.
It's also important to note that the steps are not always identical, depending on your kitchen's needs or the craftsperson you work with. For example, before your cabinets are sanded down, some refacers may apply a 1/4" plywood material on all sides of the cabinets. This added layer will reinforce the structure of your cabinets. The downside of that process is an aesthetic one; it adds a 1/4" layer to your cabinetry that will be visible when opening your doors. This step depends on the type of cabinetry you have and, of course your personal preference.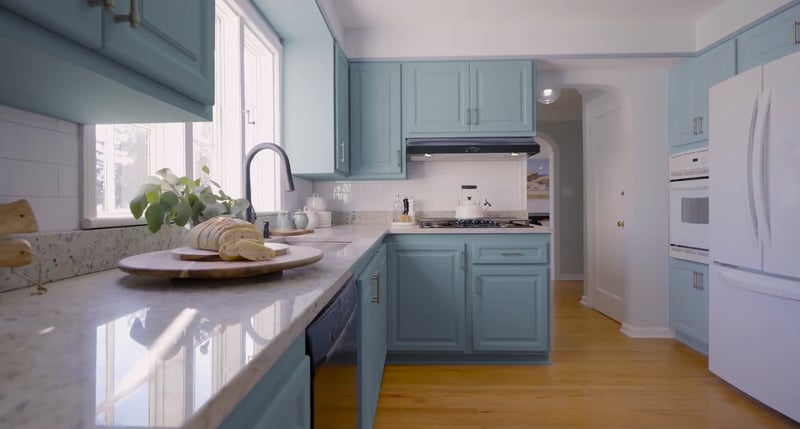 A refaced kitchen by Kitchen Magic featured on HGTV's "Inspector Joe".
What is refacing not? Common myths
The two most common misconceptions about refacing are: "It's just a contact paper being applied" and "It's a quick fix." For one, refacing involves the use of specific, decorative overlay materials that are used to create a permanent solution. When installed by a skilled craftsperson, refacing can last a lifetime. James Mayers, Manager of Continuous Improvement and Compliance here at Kitchen Magic, had this to say about these myths:

"We've had kitchens we did (refaced) over thirty years ago that still look like we just walked out of there yesterday…It's really meant to be that easy to maintain, long-lasting solution for your kitchen."

This longevity can be attributed to the rubber and water-based adhesive used to apply the laminate. Regular glues lose their effectiveness over time; however, this adhesive gets stronger, ensuring your laminate stays intact. When considering a reface, check with your craftsperson or designer on the kind of adhesive they use.
Factoring the Costs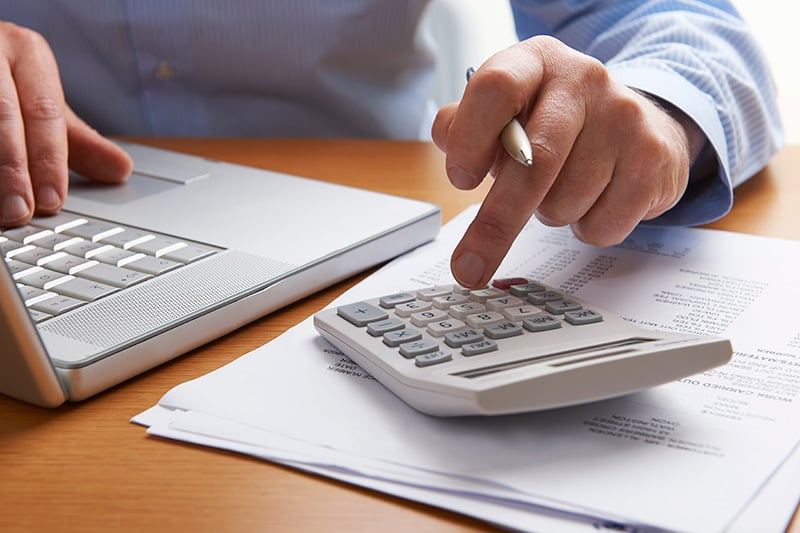 When it comes to any home renovation project, one of your first thoughts might be, "How much will this cost?". Luckily with refacing, you are afforded the luxury of a stress-free, more affordable way to refresh your kitchen while knowing it will hold up well over time.
While cost can be daunting when considering any purchase, keeping these major factors in mind when looking at a kitchen remodel can help put things into perspective for you:
How big is your kitchen?

Are you planning on refacing or replacing your cabinets and redoing your countertop or backsplash?

What materials are you looking to work with? (For instance, a laminate countertop and backsplash will be less expensive than wood, quartz, or tile)



For example, at Kitchen Magic, the typical cost to reface an average sized kitchen (about 25 cabinet units) will range from $12,000-$22,000. Any additional renovations such as a backsplash and countertop will bump your cost up into the $20,000-$35,000 range, depending on the materials you choose.

If you opt for all-new cabinetry, depending on which line of cabinetry you choose, the cost will increase to a range of $18,000 to $40,000, on average. Kitchen Magic manufactures two lines of cabinetry, the Barwen and Classic lines. Barwen cabinetry is an affordable replacement cabinetry option, with a high-density particle board construction, and available in limited colors. The Classic line is our original line of custom manufactured cabinetry, built from a ¾" North American birch ply.

The cost of refacing or new cabinetry is also influenced by the door style and construction you select.

Adding a backsplash and countertop in the case of new cabinetry will land your range around $24,000- $58,000.
Quality and brand names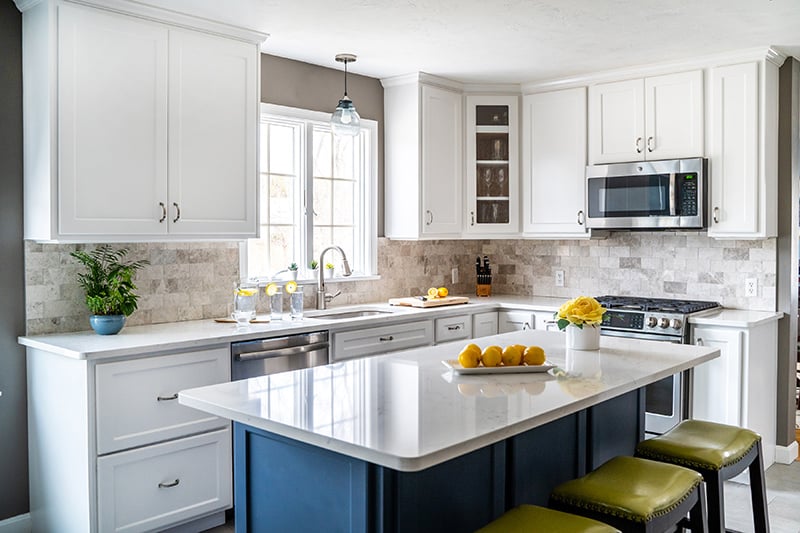 Variables abound throughout the options for your kitchen remodel, including the countertop and backsplash products and color series you choose. Right now, it's also important to keep in mind the volatile price of lumber and raw materials. In our current market, the pricing of these materials has been changing from month to month and will ultimately affect the overall price of a kitchen renovation.

Remember, the higher the grade or brand of materials you choose and the more 'bells and whistles,' such as storage and decorative accessories you add, the more your cost will increase.

This is where the guidance of a kitchen expert, who will help you navigate your choices and decisions, is so crucial.

Are these costs reasonable? Remodeling Magazine publishes an annual Cost v. Value Report evaluating the national cost average for a wide range of home improvements including kitchens. The Cost v. Value Report also breaks down averages by region of the country. This research provides homeowners with a reliable guide to answer that question. Here are the results of the 2022 Cost v. Value Report for both minor (refacing) and Major kitchen remodel for the Middle Atlantic / Northeast Region (Kitchen Magic's service area):

How long will you be without a kitchen?
While a full remodel can leave you without a kitchen for 4-6 weeks, refacing is typically completed in just 3-5 days of installation time, accessories included. However, this period will be extended if you are also getting a new countertop, backsplash, and/or floor.
What else is possible with refacing?

Refacing also offers options that allow you to completely recreate your kitchen space. Unclutter with organizer inserts for pots, pans, and cutlery, or keep your trash hidden with slide-out trash inserts. Anything from new shelving to slam-proof hinges is at your disposal. However, if you're looking to go all out, there's always the possibility to add on to your project with additional cabinetry, a pantry, or even an island if space allows.
Refacing vs. Refinishing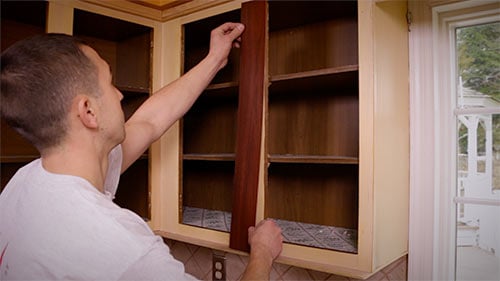 Many people tend to get refacing and refinishing mixed up. So here's the difference: while both involve sanding down cabinets, that's where the similarities end. With refacing, all new decorative laminates are applied to the exterior of your cabinetry, along with brand new doors and drawer fronts, expertly installed.

In contrast with refinishing, existing doors, drawer fronts, and cabinets are removed and sanded down, then a stain or paint is sprayed, or hand applied. The biggest takeaway here is that with refacing, everything you see on the exterior of your cabinetry is brand new and as a new product you should expect a strong warranty, as it is a permanent solution. Meanwhile, with refinishing, every part of your cabinetry is essentially rehabbed and repurposed.
So reface or remodel?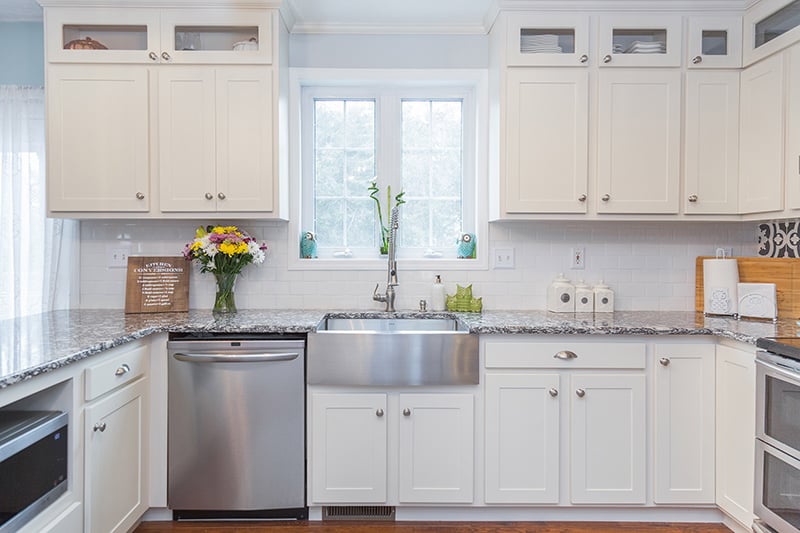 Debating between refacing or a remodel? The best way to determine your wisest choice is to have a kitchen remodeling expert look at your cabinets to assess what kind of shape they're in.
Most kitchens simply have wear and tear on the doors, cabinets, and drawer fronts while their boxes are intact and have 'good bones.' If that's the case, refacing is a perfect option. With refacing, what you are getting is a stylish and complete transformation. On the other hand, if your cabinet boxes are unstable or damaged, or if you want to completely alter the footprint of your existing cabinetry, it may be better to consider a full remodel, remove your old cabinet boxes and countertop and start all-new. A general rule of thumb is the better quality of your existing cabinetry, the more likely that refacing is the way to go. But it will differ from kitchen to kitchen and getting expert advice is the best first step.
Do I need a permit when I reface? Permits are a less obvious but very important consideration. The permitting process (as many homeowners have experienced) adds time and cost to your project and may impact your taxes by triggering an assessment of a higher property value. If your project is more involved, check with your local municipality.
End of the journey
At the end of the day, a quality job will come from diligent research, planning, and a kitchen professional with years of experience that can offer you exactly what you're looking for. So, when considering a kitchen remodel, be it a reface, a full remodel, or DIY, it's important to understand your options and the differences so you have the best possible outcome and know exactly what you're buying.

Now that you're better equipped in all things Refacing, knowing all the major components of this process, consider if it's the right option for your kitchen. And even if it's not, I encourage you to explore all your options until you find the best fit for your home.
Are you ready to design the kitchen of your dreams and find creative solutions to your kitchen design dilemmas? Contact Kitchen Magic today to schedule a free in-home consultation. As a company, we strive to create aesthetically pleasing kitchens with practicality and functionality in mind. Give us a call at 800.272.5490 to request your free design consultation today!