There are many options when it comes to choosing the perfect kitchen sink. The Farmhouse style has certainly been one at the forefront because of its functionality and aesthetically pleasing design. But equally as important as the style choice is what material will be the best for your kitchen? We'll tell you why quartz sinks offer an option that meet the main concerns of most homeowners: functionality, affordability, maintenance level and design fit.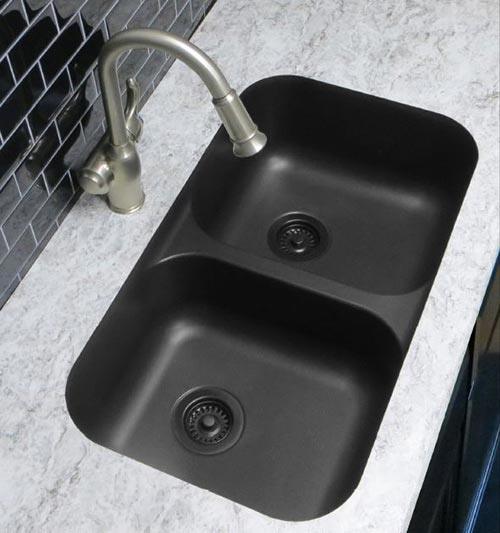 Photo by Karran
Quartz Sinks: It's More Than A Countertop
Many people prefer quartz in the kitchen as their countertop option. It's got the look of natural stone—like granite— but without all the high maintenance. It's a practical choice because it's made from one of the hardest minerals on earth. It's not 100% natural though, rather an engineered product.
The same can be said for the quartz sink which is made from a composite material composed of a combination of quartz crystals and acrylic resin. The result is a sink that's built to last through all the wear and tear your family will throw at it. If it's good enough for the countertop, then it only makes sense to use it in the sink too.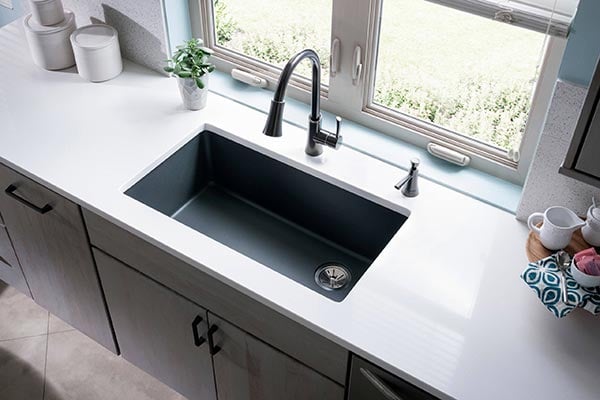 Quartz kitchen sinks: the pros
To pick the right sink, you want to consider a few things. The size, layout and design style will play a part in your decision. It's nice to be have the room to wash all those big pots and pans so a deeper sink might be a better option for you.But will it fit in your space? You may want to include two bowls instead of one to have that division because it's more functional for you. Which kitchen style are you trying to achieve—rustic, farmhouse, traditional? Are you looking to go flashy or simple and how much do you want to spend? These are all considerations you want to take into account when deciding or discussing sink options with your design expert.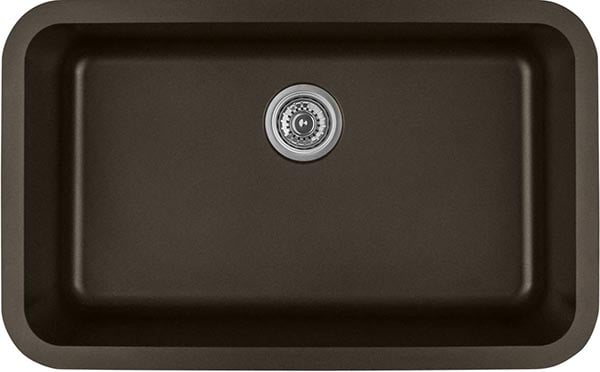 Quartz is an eco-friendly product that is practical and adds unique character in your home. Here are some of the pros of choosing quartz sinks:
Durable: Resistant from scratches, stains, chips and heat up to 530 degrees.
Low-maintenance: Smooth surface that's easy to clean and maintain.
Hygienic: Nonporous so bacteria from food particles will not spread. It's also odor resistant.
Affordable: It may be a more affordable option depending on the style you choose.
Versatile: There are multiple color options.
A quartz sink—like the ones offered by Karran—will be a lasting addition to your kitchen for many years to come. You'll want a low maintenance sink like quartz because it's easy to clean and especially hygienic. Another plus is that the sink absorbs vibrations and noise for a quiet dish washing experience. The bonus— If you're matching a quartz sink with countertops of the same material, you'll have a seamless, sleek look that adds a level of sophistication to your kitchen.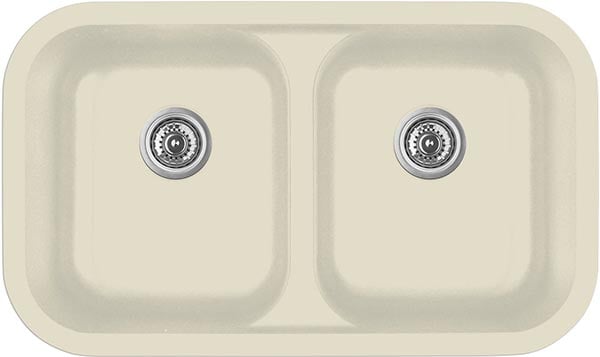 Karran sinks come in various styles and layouts as well, including the single and double bowl, with undermount installation. You've got options for your design which makes it perfect for any kitchen style.
Quartz kitchen sinks: the cons
Now on the flip side, here are some of the cons of going quartz:
Accidental Breakage: It is unforgiving if you drop your dishes or glasses.
Limited Choices: Composite sinks are not available in pattern variations or glossy finishes.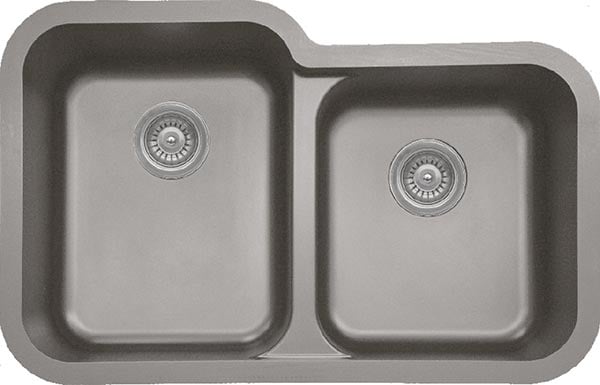 While the sink itself is durable be careful when washing your dishes because if you accidentally drop one it's unforgiving to fragile items and you may lose part of your collection.
As noted, composite sinks are made with a combination of materials. One major downfall as a result is the limited color choices. Although there are solid color offerings, quartz sinks have a matte finish only and don't come in patterns. If you're looking for the shine of a stainless steel or metallic sink, then this is not the choice for you. But the good thing is that matte colors and finishes in the kitchen are trending right now so you can be on the cutting edge.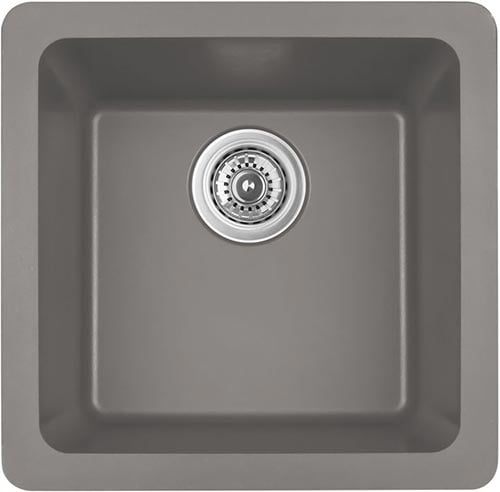 The perfect fit for your kitchen
The quartz sink is perfect for all kitchen styles and designs. It can fit into a traditional or contemporary style but then again, mixing and matching is a staple of any well-thought-out design plan so it can go with just about any kitchen you can dream up. If you've got an island include the smaller sink made for that space shown above. Quartz is a versatile choice, you'll love the way it looks!
Including metals in the kitchen is always encouraged in your design. Copper is a popular choice right now because it has a lighter, homey feel. A copper sink might add a rustic appeal and character to your space but it's more expensive to purchase and for upkeep. It's also a heavy sink that requires additional cabinetry reinforcement, so you must be sure it fits into your space before making that purchase.
Stainless steel is also a low-maintenance sink option that is durable and will fit into a modern design. However, you'll have limited options for finishes and color. Whether it's glossy, sheen, or nickel, the color will always be silver.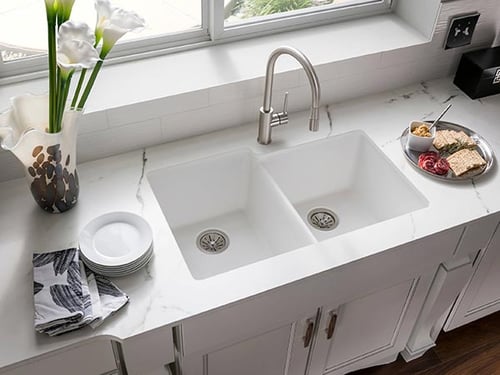 You want to consider every detail when remodeling or updating your kitchen. A low-maintenance, affordable and functional quartz kitchen sink can help you achieve kitchen greatness. Whether you've made the choices or need some help, you can schedule a consultation with Kitchen Magic today.