After a professional team of refacing specialists have completed your renovation, removed any construction or installation debris and cleaned your kitchen to perfection, the next thought on your mind is likely: "How do I keep my refaced cabinets this clean and make the veneer last?"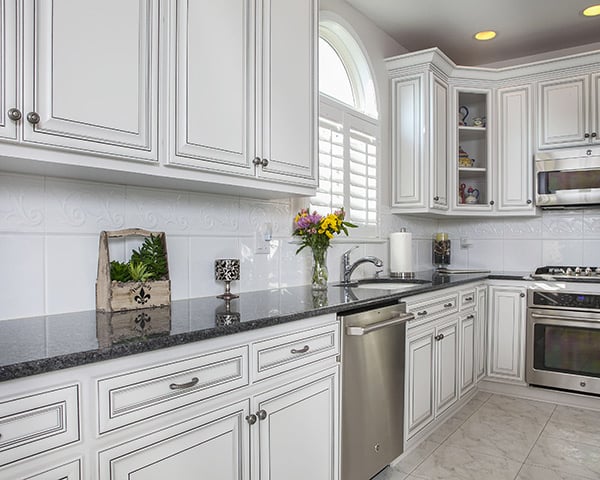 Refaced cabinet veneers consist of a wood bottom layer and a natural wood or laminate top layer. You maintain the top layer the same way you did your original cabinets:
~Limit cooking element exposures~
Extreme heat, water and smoke may damage refaced surfaces. To prevent damage, turn on your oven hood fan when cooking to draw these elements outside away from the kitchen and your cabinets. Additionally, if you decide to use candles for lighting during a power outage, place them on a table or island away from the cabinets.
~Handle with care~
Although durable, wood and laminate veneers suffer the same types of damage -- scratches, cracks and indents -- as any wood or laminate surface. As a result, never open cabinet door or drawers while holding a knife, abrasive cleaning pad or any sharp or abrasive objects, as doing so can cause scratches or deep nicks. Additionally, never allow young children or teens to kick repeatedly as a habit against lower cabinet doors when standing casually at your kitchen counters.
~Clean surfaces regularly~
Dust and other particles often combine with water and grease as condensation forms when cooking. Over time, these materials can create a thick, unsightly film on refaced cabinets that dulls wood or laminate. To keep surfaces shining, wipe down your cabinets every two weeks with a damp cloth sprayed with a wood- or laminate-approved cleaning agent. Never use harsh chemicals, such as acetone, ammonia, bleach, or abrasive powder or gel cleaners. Scrub a tough stain gently with a moist non-abrasive cleaning pad and a cleaner. When finished, rinse away the cleaner with a soft, damp cloth and then dry the surface thoroughly.