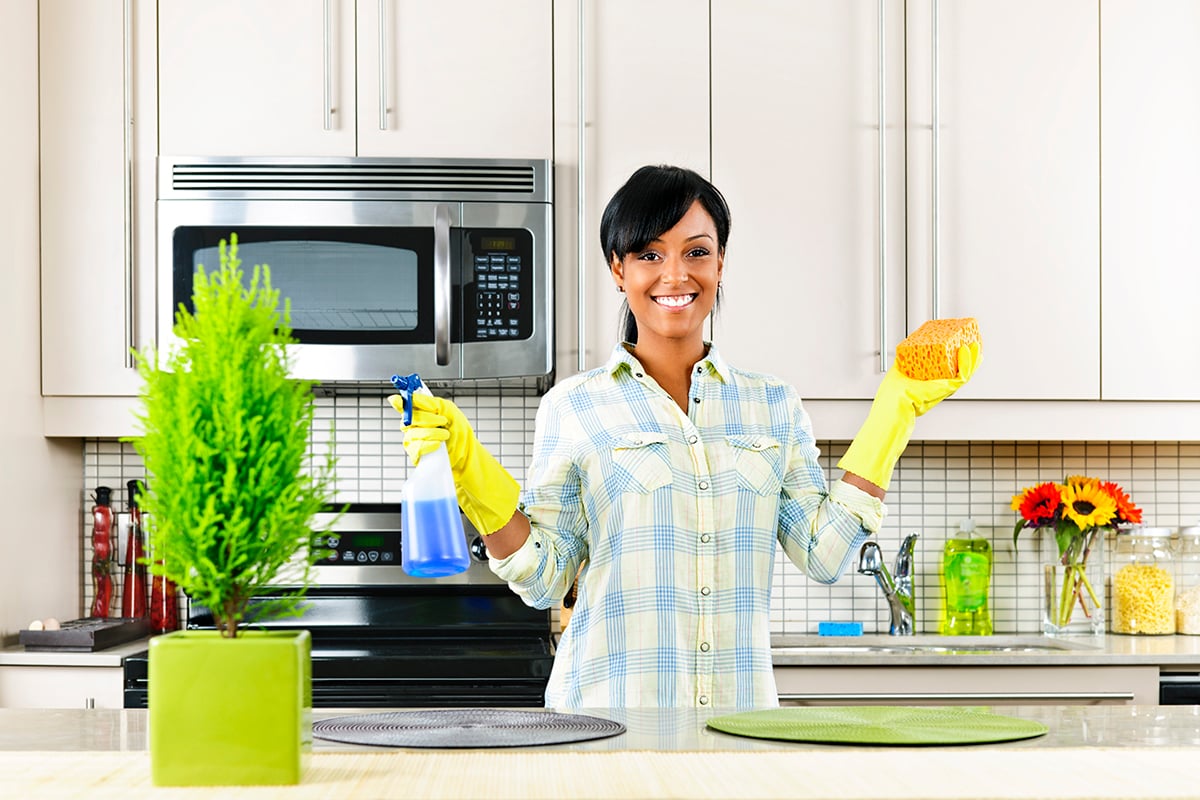 Although kitchens have long-been thought of as the heart of the home, they have become even more critical and central to daily life as we've been staying-in more due to the globally impacting, hard-to-kill COVID-19 virus. Shortly back in 2014, the United States Department of Agriculture cited that Americans over 18 years of age spend 37 minutes in food preparation and cleanup. Given time to compile meaningful data from 2020, the increase of kitchen activities is sure to be notable. The bright side of current circumstances is that we are, in-fact,spending more time at home with family and loved ones, dedicating more of our time to a task that, for most of us, gets pushed to the end of busy days as a necessity – cooking!
If the recent focus on home makes you to think about improving your kitchen and how to make this central gathering spot more conducive to your lifestyle, we also recommend considering how to create a space that resists bacteria and stays clean longer.
How to Keep Your Kitchen Clean (and Healthy!)
Kitchen Faucets
So, what are some of the options in the realm of antimicrobial surfaces? Starting with one obvious mitigation point in a kitchen - your kitchen faucet - touchless, or touch-activated, faucets offered by Delta, Moen, Pfister and Kohler, along with numerous other manufacturers, are the most efficient way to get your hands into warm water and soap without adding potential bacteria to the same surface used and touched by others.
Kitchen Counters
In countertop surfaces, there are a couple of good options that offer antimicrobial properties and great looks as a standout feature in a stylish kitchen:
Quartz or quartz-blend countertops such as Corian® Quartz by DuPont™ offer a nonporous surface, which means it's naturally resistant to bacteria. As an engineered surface comprised of crushed natural stone along with recycled ceramic, glass and quartz and bound with a polymeric or cement-based binder—this option comes in myriad colors and is environmentally green, having been produced by waste by-products of other quarrying or manufacturing processes.

Copper * countertops and backsplashes are a naturally microbial-resistant and along with that, the warm patina that comes with age is an added artistic benefit that can add longevity to the look of your kitchen. There are no off-gases stemming from copper and the antimicrobial effects of it have been known for centuries, according to the American Society for Microbiology. Cleaning is simple, mild dish soap and warm water are the best option for this relatively soft metal. Harsh abrasives will scratch the surface, so for tougher stains, the recommended solution is lemon juice in salt water followed by soapy water on a soft cleaning cloth.
The presence of Wilsonart® in kitchens goes back a while, but today their offering goes well beyond laminate countertops. However, our favorite feature is the enhanced antimicrobial protection built into the decorative layer of their laminate options. It is highly durable and intended to protect the surface against odor and stain-causing bacteria, mold and mildew. It will not wash away and the antimicrobial protection is built into all Wilsonart® HD® Laminate countertop designs.
Kitchen Floors
Flooring materials are wide-ranging today and although the floor is not the space we're most concerned with, when it comes to the spread of germs, there are optimal solutions for bacteria mitigation in this space too.
Bamboo*

grows rapidly as a sustainable, eco-friendly natural fiber which technically resides in the grass family. It is inherently resistant to bacteria and even as it grows, bacterium that would attempt to attach itself to the surface will be eradicated upon contact. Introducing bamboo flooring into your kitchen will not eliminate the need for cleaning of course, but by nature of the material, the surface will be resistant to germs and bacteria. Bamboo is beneficial for other reasons as well, such as its strength as a natural fiber, its shock resistance as a flexible floor surface and its long lifespan when maintained properly.

Epoxy*

can be used as a sealant to flooring and while this is typically seen in commercial settings, it can be applied as a seamless floor that offers antimicrobial protection for residential use too. The less openings and crevices in a surface, the less opportunities for dirt and bacteria to gather and live in the surface. Linoleum and vinyl flooring support this approach as well as budget-friendly options. The array of colors and textures available make it a viable option with great adaptability style-wise.
The priorities of today's kitchen, and kitchens of the future include sustainability, clean-ability and affordability. Interestingly, some materials that have been around the longest, such as bamboo and copper, are leading the way in healthy kitchen surface materials. Pair these with materials that have contemporary engineering, and homeowners can achieve a balance between a high-end look and hardworking functionality.
To explore how you can transform your kitchen, request a FREE virtual or in-home consultation, including a quote today! Our Kitchen Magic design consultants will help you design a functional kitchen that you'll love for years to come!
*Kitchen Magic may not partner with all manufactures and/or offer all products represented in this article. Please ask your Kitchen Magic design consultant for details. The information in this article is presented in good faith and believed to be correct at the time of publishing. Persons receiving this information will make their own determination as to its suitability for their own purposes prior to use.