Cooking can indeed be a messy affair, and it's inevitable that your newly revamped cabinets will require some upkeep. The good news is that maintaining their freshness is just as straightforward as it was with your former ones. Regardless of whether they boast a lacquered, stained, or laminated finish, these surfaces are often designed for effortless maintenance. If you're uncertain about the best care practices, keep reading to discover the simple methods to ensure your kitchen cabinets remain beautiful and enhance the overall look of your NJ home.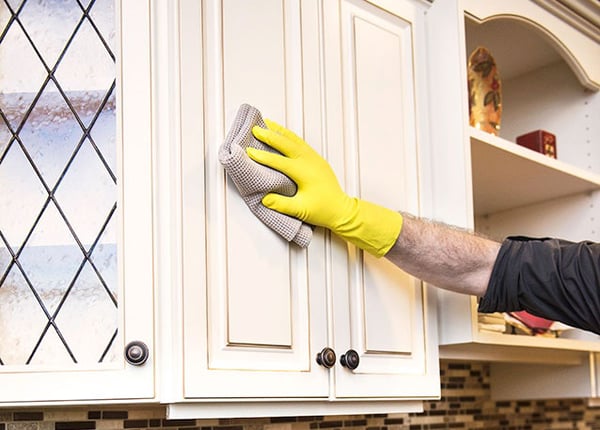 What is the best solution for cleaning refaced cabinets?
When deciding on the best solution to clean cabinets keep the cabinet's finish in mind. Cabinets with flat paint or simply bare wood can be more sensitive to cleaning and easier to damage. In this case, cleaning solutions that are gentle or chemical free are the best way to prevent damage when you need to clean or de-grease your cabinets. In comparison cabinets with lacquer or high-gloss paint finishes are more durable, and you can use stronger cleaning solutions. Here are four of the most common cleaning solutions.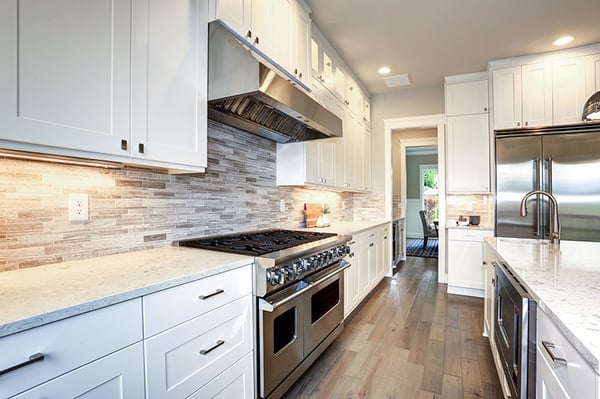 A Sponge & Hot Water
If a stain is fresh, then you may not need a cleaner at all. A sponge soaked in hot water is an easy way to clean cabinets that have just become dirty. This is a very safe cleaning method, and due to a lack of chemicals, safe for all types of refaced cabinet surfaces. Soak a sponge in a bucket of hot water, wring it out, and wipe down the cabinets. If stains are not being removed a scrubbing pad can help loosen them. Once the cabinets are clean, dry them with a clean towel and apply wood wax if desired for a nicer finish.
Common Dish Soap
When cleaning grease from your cabinets, dish soap can help cut through the grease. A few drops added to a bucket of hot water creates all the soap you'll likely need. Once cleaned, wipe your cabinets down with a clean wet towel and then dry. This prevents drying soap from damaging or staining your refaced cabinet surfaces.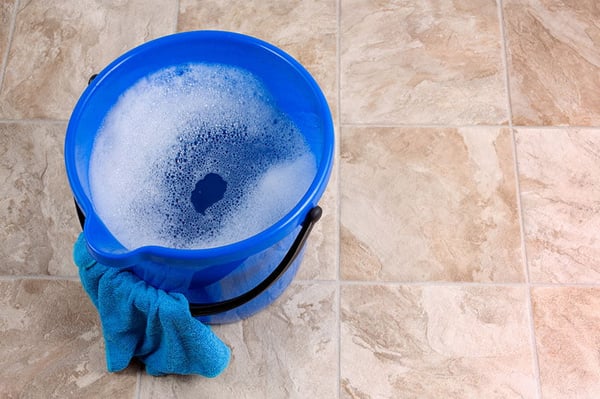 All-Purpose Commercial Cleaners
If dish soap can't remove stains from cabinets, consider a more powerful commercial cleaning product. However, be careful and be sure to test this product on a small part of your cabinet surface. This is because while a commercial cleaner can be an effective product to clean grease off cabinets, they can also cause the paint to peel or strip it off of your refaced surfaces. Always apply commercial cleaner directly to the sponge and not the cabinet surface. After cleaning wipe the cabinets down, rinse with clean water and then dry with a clean towel.
A Homemade Cleaner
When you need to remove stains from cabinets don't overlook the idea of making your own cleaner. A simple mix of two parts vinegar to one-part water is a common and easy to make homemade cleaning solution. Apply it to a clean cloth, wipe down the cabinets, and wipe dry with a clean towel. Cabinets in a particularly busy kitchen often have white marks or water stains to remove these stains, apply a small amount of mayonnaise to them and let it sit for a few minutes or overnight for more stubborn stains. After waiting, remove the mayonnaise with a clean damp cloth. The oils found in mayonnaise removes the stain and helps restore a shine to your cabinet surfaces.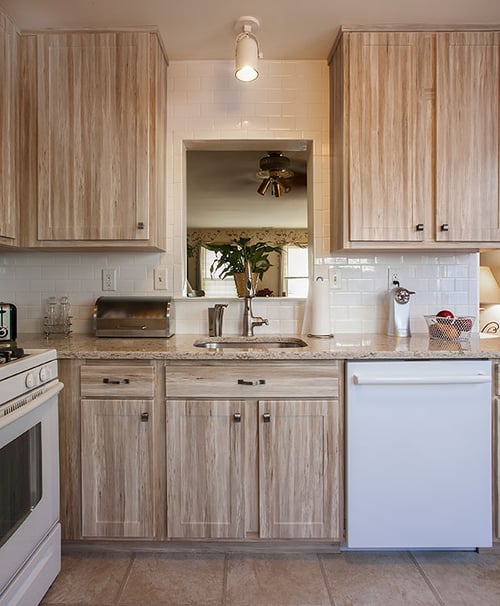 Who provides expert kitchen cabinets in the NJ area?
Looking for a kitchen upgrade? Our team specializes in giving your cabinets a complete makeover or crafting brand new custom units that perfectly fit your home's style. We've transformed countless kitchens across New Jersey, breathing new life into old cabinets and delighting our customers with personalized, quality workmanship. Why not see the difference for yourself? Contact us to arrange a free in-home estimate and let's talk about giving your kitchen the glow-up it deserves.
In case you need some more kitchen cleaning ideas and hacks, check out these relevant articles: