It may be dark outside during winter, but it doesn't have to be dark inside your kitchen.
One of the biggest challenges homeowners face is inadequate kitchen lighting that makes it hard to perform daily tasks, such as reading recipes, preparing foods and cleaning up after cooking and meals.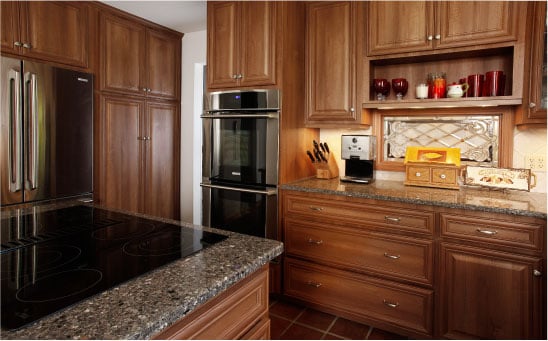 In kitchens with or without upper cabinets, the sink and nearby counters are often the most poorly lit areas. If there is light, it typically comes from:
An outdoor natural or artificial light source through a window
A fluorescent tube unit positioned on the wall above the sink
Recessed floodlights positioned too high to provide enough light, or that don't shine directly on the sink
A central lighting fixture that is the only light for the entire kitchen
Under-Cabinet Lighting
Whether you need more light while cleaning or cutting fruits and vegetables or washing dishes, you should consider under-cabinet lighting for your next remodeling project instead of ceiling lights.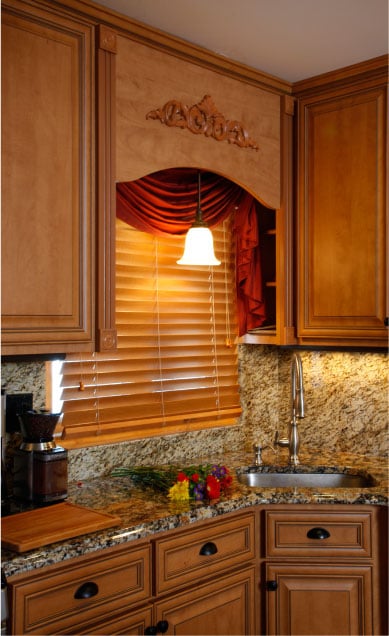 Why?
- Upper cabinets cast shadows across anything located under them. These shadows not only darken counter surfaces, but also a sink located directly below them or adjacent.
- Under-cabinet lighting brings the light source closer to the sink so light won't disperse outward as much as it would from a ceiling position. The closer the light fixture, the better the distribution of the light.
Types of Under-Cabinet Lighting Fixtures
Puck: Shaped like a round hockey puck or an oval and mounted on a cabinet's under surface or recessed within it
Eyeball: Shaped like a puck or mini floodlight pot, but contains a movable bulb holder that allows you to manually adjust the light to different directions
Strip: Flexible strip of mini-bulbs
Bar: Panel or box with a covered or uncovered fluorescent bulb, a strip of bulbs in a plastic tube, or bulbs evenly spaced out to look like puck lighting
Types of Light Bulbs
You can use any type of light bulb you prefer as long as it isn't too hot. Various types of incandescent, fluorescent and LED light bulbs are available for under-cabinet lighting. With newer technologies and bulb covers, any one of these types can give you warm to cool light as needed to match your kitchen's design and color scheme.
Diminishing Glare
An under-cabinet light is less useful if it produces glare and any under-cabinet light can cause direct line-of-sight glare or indirect glare from light bouncing off shiny surfaces, such as glossy counters, painted objects and ceramic tiles, metal appliances or cookware and glass of any sort. To diminish glare, consider:
Light Lenses: A lens covers the bulb and redistributes the light so it's less direct and intense.
Light Rails: A piece of molding installed along a cabinet's bottom front and sides blocks light from direct view and point it downward. This trim also helps hide unsightly fixtures and wires.
Final Note
If you're concerned about over-bright under-cabinet lighting, set up each under-cabinet light source with a dimmer so you can increase and decrease the illumination level as desired.