You don't need to completely renovate your kitchen to shift its mood from spring/summer to fall/winter. We're full of ideas for using your current kitchen design as a backdrop for seasonal - or annual - changes made via transient decor.
Start With a Timeless Kitchen Design and Take it From There
A timeless kitchen design is always a good place to start, because it serves as a neutral backdrop for inevitable decor changes homeowners desire along the way. Significant changes can be completed in less than a day, swapping out outdated light fixtures and switch plates, or changing out area rugs and window treatments.
With that in mind, we have ideas to update any kitchen, for any style.
Add sumptuous velvet for texture galore
Does your kitchen need a textural boost? Forget about wood or stone; why not create softer surroundings using velvet or velour textiles and furnishings? You can add a sumptuous feel to the kitchen area with velvet upholstery on chairs or decadent velvet-inspired or patterned drapes, and then top it off with beautifully-framed art.
Think brass or aged metallics for warmth
Copper is beautiful but it's bright affect doesn't blend with every kitchen. Instead, look for brass or aged-brass metallics when replacing lighting fixtures, switch-cover plates, and cabinet hardware.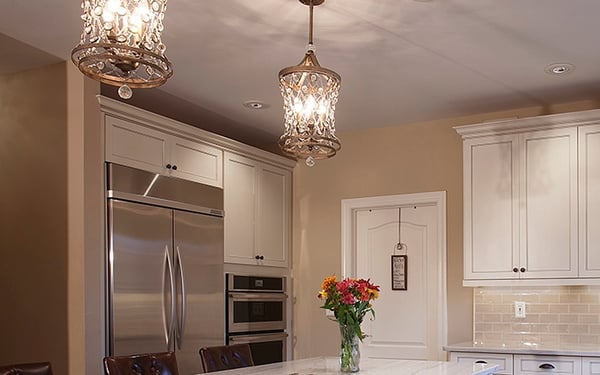 Weave style with natural textures and baskets
Woven baskets are a versatile design tool. They can be mounted on the wall in artistic arrangements, used for storage on open shelving or countertops and we've even seen them used as light fixture covers, dappling the kitchen space with warm, diffused lights. Area rugs made from jute or other natural fibers will compliment this effect, as do bar stools or dine-in seating with woven seat covers.
Head into winter with some natural greens
Do you get cabin fever during the winter? Bring a dose of Mother Nature indoors via hunter, forest or spruce greens in accent pieces and countertop appliances. You can repaint bar stools, add a few knick-knacks and add live plants to the mix for an extra burst of energy.
Warm your winter kitchen with terracotta and earthenware
Terracotta floors are back in a big way, but there's no need to tear up your flooring to align with this trend. Instead, bring the warmth of terracotta in via vases and flower pots (planted with kitchen herbs, perhaps?) as well as tile-accented furniture or wall hangings.
Bone-inlay adds an eclectic touch
Bone-inlay in furniture and furnishings - ranging from hutches and tables, to end tables, sideboards and so on add an eclectic touch. Bone and mock-bone accents have a luminosity to them and offer fun brown- or black-on-white contrast.
Matte-black offers classic contrast
Speaking of contrasts, it's always a sharp design that utilizes the color black for accents and drama. However, some clients find the typical, glossy finish off-putting (and difficult to maintain). By selecting matte-black finishes, via chairs, chalkboards (or fun chalkboard paint) you can enjoy this timeless color with a softer effect. These chairs, in particular, bring in both the matte black and the aforementioned woven trends.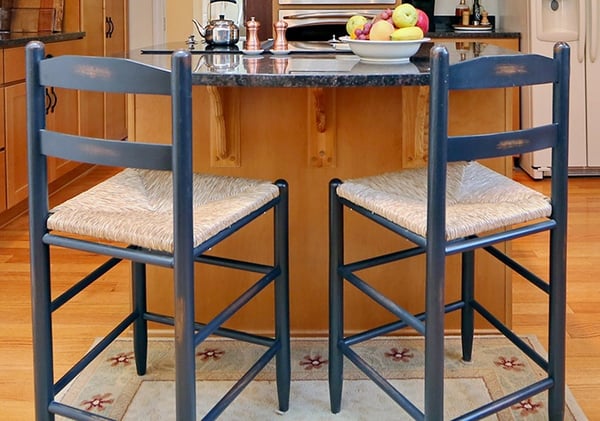 Extend the outdoor season
Does your kitchen live adjacent to a patio space? Extend the outdoor season by using chunky-weave quilts, outdoor space heaters, a chiminea or fire pit and cushioned chairs. It's a perfect place to enjoy crisp mornings or evenings with a pumpkin spice latte in hand.
These no-construction-needed updates will keep give your kitchen a much needed update and add a bit of uplifting cheer as we head into the colder, darker seasons.