Does your kitchen have space for technology? Sure, appliances are more high-tech than ever, but we're talking about the smartphones, tablets, and gadgets that are cluttering up your countertop and raised bar spaces. We're talking about that hodge-podge of stuff that's accumulating on the end of the counter near the garage entry, never mind that you need that space for food prep.
5 Tips to Make Way For Technological Gadgets In the Kitchen
As much as we all said they wouldn't be, smart devices such as tablets and phones are the center of our lives - and kitchens are the hub of the home - which means it's time to create specific spaces to safely accommodate our gadgets. No more marinara spotted iPhone screens, no more gadgets ruined by overzealous, dish washing children - it's time to evolve your kitchen design to meet the technological realities of our time.
Here are five ideas that will help you create the smart space your need for your smart gadgets.
Choose the location wisely
Think about the flow of your kitchen when you decide where the gadgets should be docked. You want to make sure that a rushed teenager can grab or charge a phone without getting the way of the meal prep or interrupting the kitchen's main activity area.
Docking stations
Many homes now include a designated cabinet or drawer that is used as a docking station. This way, gadgets can be stored out of sight and under protection. Hidden electrical outlets at the rear of the drawer eliminate unsightly cords (and the risk of electrocution). In smaller households, one drawer may be enough. Larger households may find it's more efficient for every member of the house to get a designated drawer, or to divide a drawer or two into designated slots.
Tablet holders
We all have friends who are holding on to recipe cards and printed recipes, but most of us have turned to our tablets when it's time to consult new recipes. This can be a problem if you don't have tablet holders in place. The holders are usually installed in the bottom of the upper-cabinets in a convenient location - accessible to you but out of the reach of most water spray, steam or sauce splatter. This will keep the tablet at a comfortable reading height and will help to keep you as hands-free as possible while you prep and cook. The holder will fold up and out of sight when not in use. If you do this, consider the best lighting source for that area to prevent screen glare.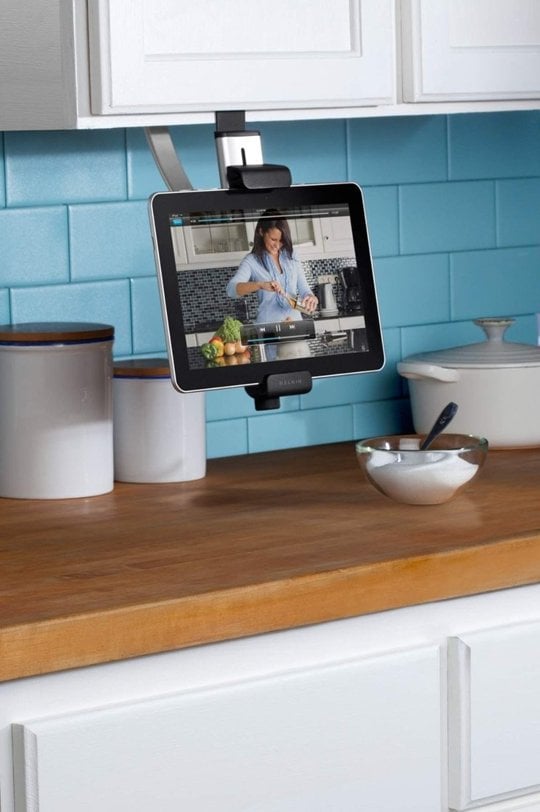 Belkin Kitchen Cabinet Tablet Mount - $35
GFCI
In order to charge, those devices need an adequate power supply. Make sure there are enough outlets for everyone to be charging at the same time. Also, it's smart to make them GFCI outlets, even if they aren't part of the countertop electrical supply. The power will shut off if exposed to water. It's always better to be safe than sorry.
Consider building a message center
Now that open floor plans are all the rage, many households find it makes sense to create a message center or small home office as part of the kitchen footprint. In many cases, the message center is built at the end of a wall or countertop, next to the adjacent living space. This is a smart way to create room for charging gadgets, and to enjoy a personalized organization area that doesn't impede kitchen flow.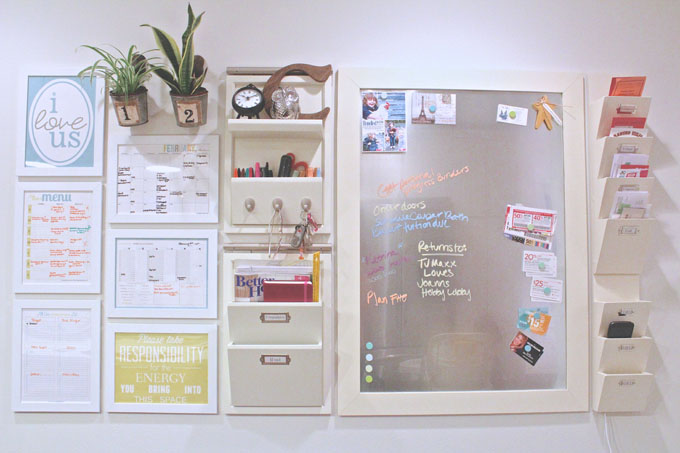 Image via Un Original Mom
Do you want to design a kitchen that goes a step further than normal kitchen function? Work with the design team at Kitchen Magic to explore a lifetime's worth of features.