When it's time for a kitchen remodel, it's tempting to take on an "out with the old, and in with the new" mentality. This is understandable, but do take care. Sometimes that "old" is actually high-quality, beautiful craftsmanship that deserves to be reconsidered in a new light.
Thankfully, a not-exactly new kitchen can still look lovely without doing a full redo and spending a fortune on it. Here's how to bring your kitchen to light and give your home a whole new lease on life with expert cabinet remodel specialists.
Why Choose Maple (And You Can Too)
Case in point? These 10 kitchens incorporated maple cabinetry into beautiful, contemporary designs. Some still lend themselves towards the traditional, others are transitional, and a couple even took a modern approach.
While maple is considered outdated by some - especially custom cabinet manufacturers who prefer replacing rather than refacing - we think it's worth finding new ways to embrace high-quality maple cabinetry whenever you can.
1. Upscale look
Maple has clean, streamlined grains, making it ideal for those who like a more modern or contemporary kitchen design.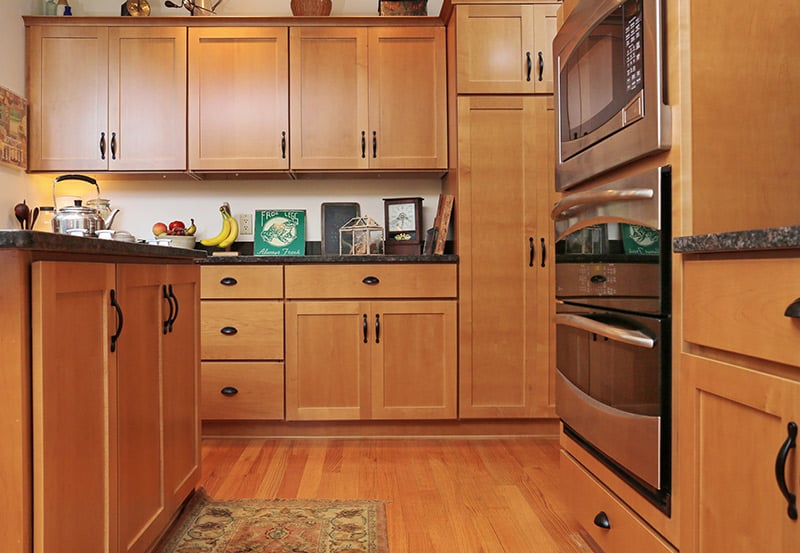 In this home, the sleek, overall look makes you wonder whether you're in the U.S. or in one of Europe's upscale design studios. We like the blend of open shelving over the sink counters with full cabinet banks elsewhere.
2. A warm, eye-catching aesthetics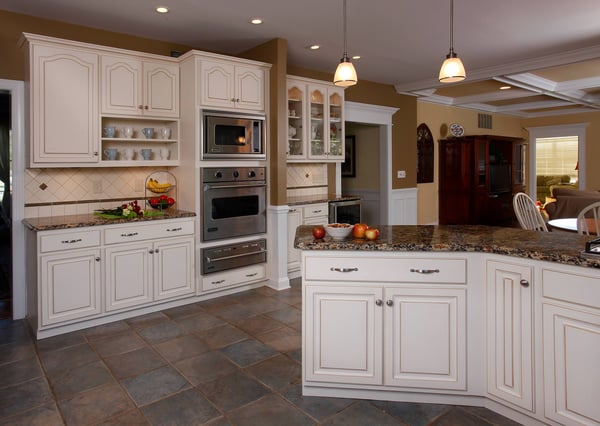 If you like the look of a frosty white kitchen, you'll love the look of white maple wood. It adds just enough warmth and color to provide visual interest, but without interrupting the overall color scheme.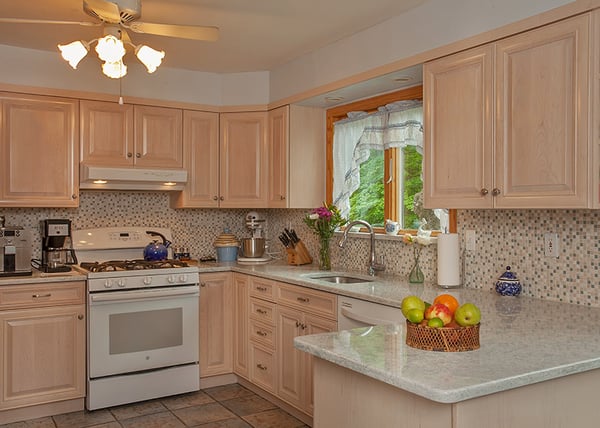 Notice the uniform grain patterns achieved by the quartersawn maple in this kitchen. The linear grains are echoed by the subtle, raised panel cabinet style.
3. Give off a rustic, organic feel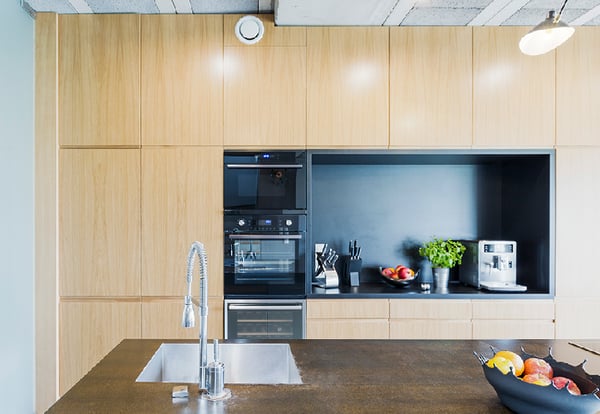 Like the look of finished wood but worry it will make your kitchen seem even smaller? This kitchen proves how maple straddles both worlds. It's light enough to prevent a cave-like effect, but its natural color adds warmth. Notice how the homeowners chose a unique maple pattern to give it more personality. Also, that coffered ceiling works wonders to make the kitchen feel more spacious.
4. Works with a variety of kitchen styles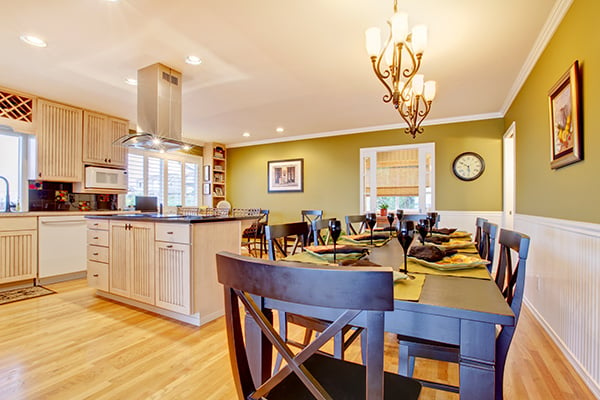 One reason Europeans like maple is that it's clean, fresh and timeless. It looks resonant when bathed with natural sunlight and can support any color scheme, even one with bright, citrusy hues, like those in this kitchen design infusing an organic feel.
5. Distinctive design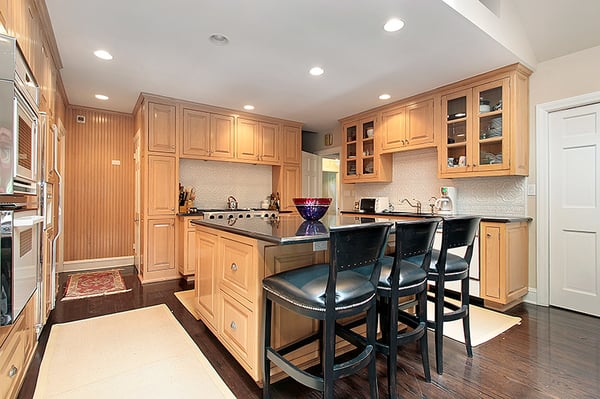 The maple cabinets in this kitchen's design punctuates a textural highlight. As you can see, these homeowners were savvy when it came to mixing up the elements and textures in their contemporary kitchen. Note how the living room's open floor plan features an expansive island, complemented by dark stone counters. The wainscoting wall panel and leather bar stools further add to the traditional-transitional design of the home.
6. Keeping the balance between light and dark
Can't quite decide whether you want a dark or light kitchen? Then choose a multi floor palette, adding contrast into the design. Maple cabinetry is pale enough to provide the "light" in the mix, allowing you to go darker with countertops, floors and walls.
We're guessing the designer of this small kitchen used clever storage solutions, allowing the homeowner to gain extra room on the kitchen end wall, where the tantalizing breakfast nook is featured.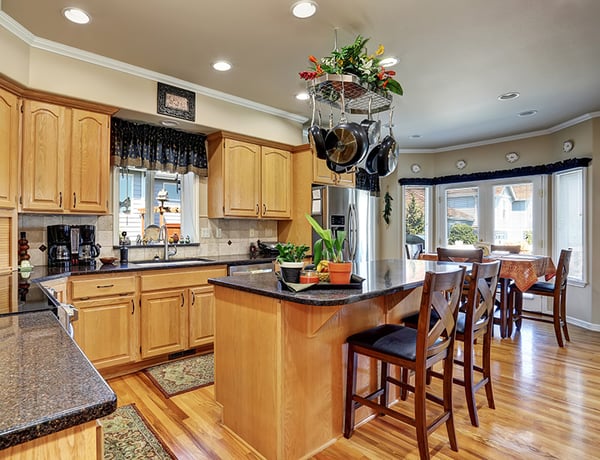 We're guessing the designer of this small, kitchen used innovative storage options, allowing the homeowner to gain extra room on the kitchen end wall, where the tantalizing breakfast nook is displayed.
7. Mixed-and-matched wood tones
Not sure how to incorporate your mix of wood textures and finishes?
Take your cue from this kitchen's sleek tile floors, varied maple hued cabinets, and vast island that comes harmoniously together. Choosing a more varied maple pallett was a smart move to incorporate different finishes into one kitchen.
8. Stylish transitional look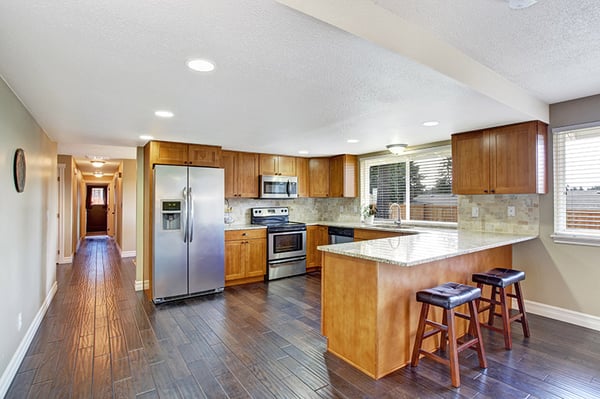 We'll continue on the mix-and-match theme with this transitional kitchen. They went all out when it came to choosing a warm, cafe au lait color palette, with plenty of varying wood themes. We appreciate how the flowing wood grain in those raised flat-style cabinets are echoed by the swirling patterns in some of the natural stone backsplash tiles. Another major style bonus: check out that textured floor around the perimeter that creates a bold, clean boundary and backdrop.
9. A soothing effect of gray stained, monochromatic maple
Monochromatic kitchens offer multiple benefits, such as a timeless background for ever-changing design trends and color accents.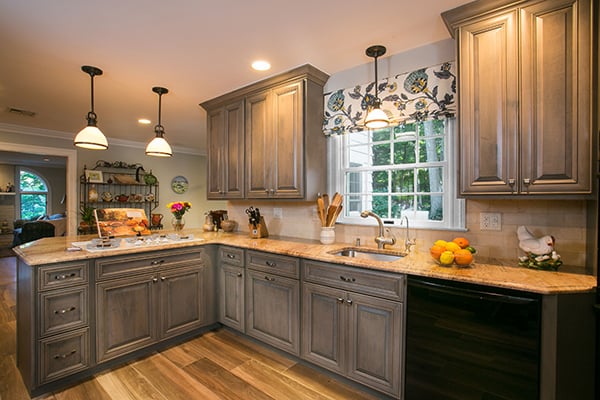 We love the way this Bird House kitchen used a gray stain, which was absorbed well by the maple cabinets. The natural wood grains have a driftwood-like appearance. Note the beautiful arched tile hood, faucet, and bar, adding that extra special something.
10. Brings together contemporary & traditional style
Yes, there's a place for both contemporary and traditional kitchen styles, as this kitchen demonstrates.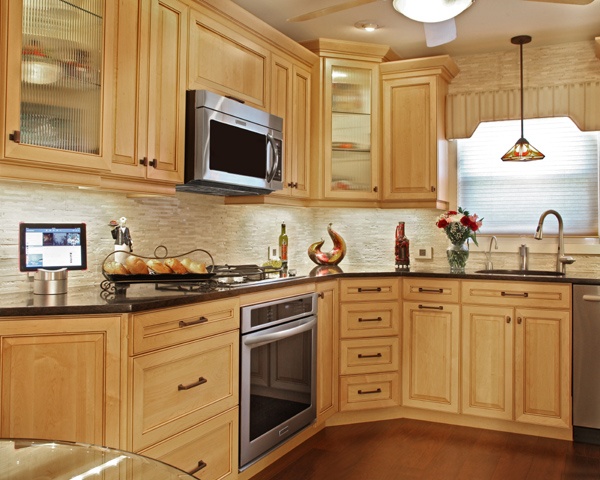 Prestige Plain cabinet doors offer just enough relief (especially when they're glazed) for traditional decor but are sleek enough to remain in the contemporary category. Their complimentary, monochromatic countertop doesn't compete, and the delicate, mini-subway tile backsplash plays with the subtle color variations inherent in maple grains.
Speaking of subtle, maple is a perfect choice for a monochromatic kitchen in gray, black or white because it offers a subtle contrast with a natural sophistication. The maple ends up becoming a focal point. Again, we see how oil-rubbed bronze hardware adds a little style pop.
Who offers high-quality kitchen cabinet remodel in Milford, CT, and the vicinity?
Ready for a maple kitchen? Are you re-inspired to use beautiful maple cabinetry in your contemporary kitchen? Thanks to years of industry experience, our company has extensive knowledge of every aspect of kitchen remodeling. Stop by Kitchen Magic or schedule an in-home consultation and we'll show you plenty of examples that will make your Momma (and you) proud.
No matter if you live near Great River Golf Club or elsewhere in the Milford area, we're at your disposal at all times. Give us a call and we'll be happy to discuss popular kitchen cabinet styles and your preferences in detail!